Ep. 166 – Riggs Eckelberry "If you want to transform an industry, find the people who don't have access to it—like Uber or Airbnb."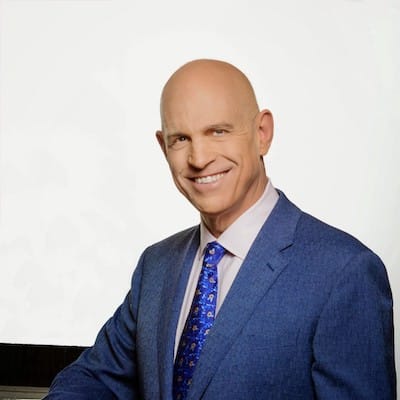 Riggs Eckelberry doesn't look like a bomb-thrower. And yet, he's driving the disruption of a trillion-dollar industry that has fallen behind the times and is affecting the health of millions. That industry is Big Water. Simply, those billion-dollar centralized water systems aren't coping with demand, and water quality is getting worse. The answer? Instant InfrastructureTM. Businesses are doing their own water treatment, using modular, prefabricated systems that are trucked right on site. They get better water quality, lower rates through recycling, and even improved environmental grades!
Ten years after launching public company OriginClear, Riggs and his team are offering those truck-in-place modular systems in the USA, while licensees are building products internationally using OriginClear's low-energy, chemical-free innovation.
Most passionate about
I've been working in the industrial water industry, which is an enormous, trillion-dollar industry. Yet, it's not doing its job; only one-fifth of sewage is treated worldwide.
Two-and-a-half billion people worldwide have no direct access to clean water. And the change is very slow; the water industry is falling behind the population growth. The Coronavirus brought a sense of urgency to this industry.
If you want to transform an industry, find the people who don't have excess to it—like Uber, which allows people who don't have access to taxies and the transportation industry to become part of it by using their own cars. It's the same as Airbnb, which allows people to use their homes as hotels.
This opens up dramatically new markets without killing the old market. Both Uber and Airbnb transformed their sectors by allowing more people to play in them. That's what we've done with the water industry.
One of the main questions here is: How do you find a global solution? And you must always sell the global problem with a local solution that can scale up.
So, the idea that came to mind was to use our big, very healthy investor base of 10,000 shareholders. Why don't we let them invest in water projects directly, as opposed to the company?
All of a sudden, instead of pushing the rock up the hill, we found the rock on downhill.
In this post-virus economy, we have three priorities for investors. One is yield—they must make a good percentage on their money. Two is liquidity—they must be able to convert to cash easily. The third is safety.
We established Investor Water, a global marketplace that connects everyday investors to water projects. We are now in the process of running three projects as proofs of concept.
The marketplace for water projects has become one of our global priorities in the decade to come. That's why it's so exciting.
Riggs's career and story
I was raised as one of six boys. My father was an international businessman and we stayed for many years in countries like Canada and the Caribbean. We spent many years in Europe. We always had a non-American viewpoint.
After high school, I was supposed to go to all kinds of colleges, but I chose instead to get involved in the non-profit space. For years I was paid almost nothing but was in that 'save the world' kind of mentality.
In those years, I had many kinds of fun roles, like being a sailor, a skier, and a marine officer. When I needed to choose my direction, I chose technology because I thought that it was the only way to break out of how things are: the fossil fuel world, the minimum sanitation world, and the like.
I ended up in New York doing some pioneering computing work. Fast forward to the early '90s. I was on the West Coast and got involved with the new dot-com industry. I experienced some amazing 10 years, including the dot-com I learned so much about disruptive marketing, which I called Mistake-Based Marketing, in which you learn by mistakes as a strategy.
I finely got enough experience that a fund invited me to be their CEO but they said, "It's not going to be tech. We are doing this new thing called algae. We think that algae can be the next fuel because it was the original oil." So, in 2007, I launched, with their backing, a company called Origin Oil. That was fun. However, in the next years, the oil price went down, so algae became only a side experiment.
So, I could not run a company on the algae concept. Normally, we would have just shut down the company, but our technology proved to be portable to water treatment.
Riggs's best advice for entrepreneurs
I think when I first started preparing to be an entrepreneur was when I was on a holiday from my non-profit job (that didn't pay) and I needed to make some money. I went to a meat wholesaler in LA, loaded up my car with frozen meat, and drove down to South Central LA, to the slums, and started to sell meat door to door.
I was amazed to find that the people were interesting. They were lovely people and very welcoming. I learned that markets are pretty easy to get going.
My best advice to entrepreneurs is, first, you've got to jump in the pool. Don't hesitate because this thing by itself will teach you so much. The second thing is that once you are in the pool, quickly find, among those in the pool already, people who offer to help and guide you. Take this help and use it to create your advantage over the competition.
Biggest failure with customers
It was the first learning experience from the '80s, when I had my computer company. I didn't understand the long lifecycles of computers, which is that once you acquire a business as a customer, you will still have that customer 20 years later if you do a good job. It's a long-term thing.
I was then a pioneer, converting businesses from paper ledgers to computer systems. It was extraordinarily hard, and I could not find profitability. So, I ended up giving the business to my best salesman. This young man became a millionaire just from continuing the business that I had begun, because he had these long-tails. That's how computer businesses built: : from the long time relationship.
So, I learned a lot. First of all, I now know, having done what I've done over the last decade with this business, that there is no real reason for failure. You can persist. Failure is just a failure to persist. I could think of a dozen ways I could have kept going at that time, but instead, I threw it in the middle, gave it to my friend the salesman.
Continuing from there, I went on to learn how different industries work. I spent a year working in film, then direct marketing and more. Then I went back to LA, started working in the software industry, and … had a win! By 1995, I had a very strong product success.
Biggest success due to the right customer approach
This company, Origin Clear, has been in the market for many years and went through some challenging times when it got down to credit cards. On these occasions, I had to find ways to bring in money, including my personal loans, as most entrepreneurs experience in their companies.
I think that around two years ago, we started to realize that we knew how to get funding. I feel the strength is in our relationships with the investors. I consider many of them to be friends.
I can say that my biggest success to date, which is the strength of relationships and expertise, will enable me to do what I think is going to be the most important thing I will do in my career. That is to promulgate a global funding marketplace for water projects.
Most recommended technological tool
In terms of the most effective tool, I adopted email as a weapon to execute on strategies. For me, it's an extremely important tool, both in terms of managing the business and in terms of communicating. And unlike with telephone calls, you are not expected to answer emails right away, so you can manage your priorities.
I spend a great deal of energy so that the email is almost like a short story. It communicates very concisely, yet with impact. It has to be pointed and result in compliance. It desires a fact.
Email, to me, is something that you can't do too well! It's such a powerful tool.
Riggs's key success factor
The love for physical challenge and danger. I was a sailor for many years, I'm a big skier, I love climbing mountains. I think we don't have enough adventure in this modern world. I think that if you can engage with some obvious physical adventure, it invigorates you for the less obvious yet dangerous business and family challenges that are out there.
Riggs's Mountain
Because we believe that the best way for entrepreneurs to get fast, big, and sustainable success is by leading your (new) market category, and the entire entrepreneurial journey reminds me of mountaineering, or conquering a mountain, I want to ask you: Is there a mountain you dream of climbing or a mountain you have already climbed?
I've never been a mountain climber. As a skier, I use mountains to slide down and then I take the lift up. However, in 2013 I was invited by a friend to climb Mont Blanc in Chamonix, and we climbed it for two days. But I have to tell you, it's such a slow process, especially going down.
So, I would happily climb mountains but I definitely prefer skiing down.
The best way to connect with Riggs:
Join our Facebook Groups
More resources for Entrepreneurs
Don't Miss – Customer Focus Strategy & Execution: Market Analysis for Fundraising
Hayut Yogev's Latest post: Is the magic that helped entrepreneurs like Jeff Bullas (570K Twitter followers) or Douglas Burdett become leading successful influencers happening again?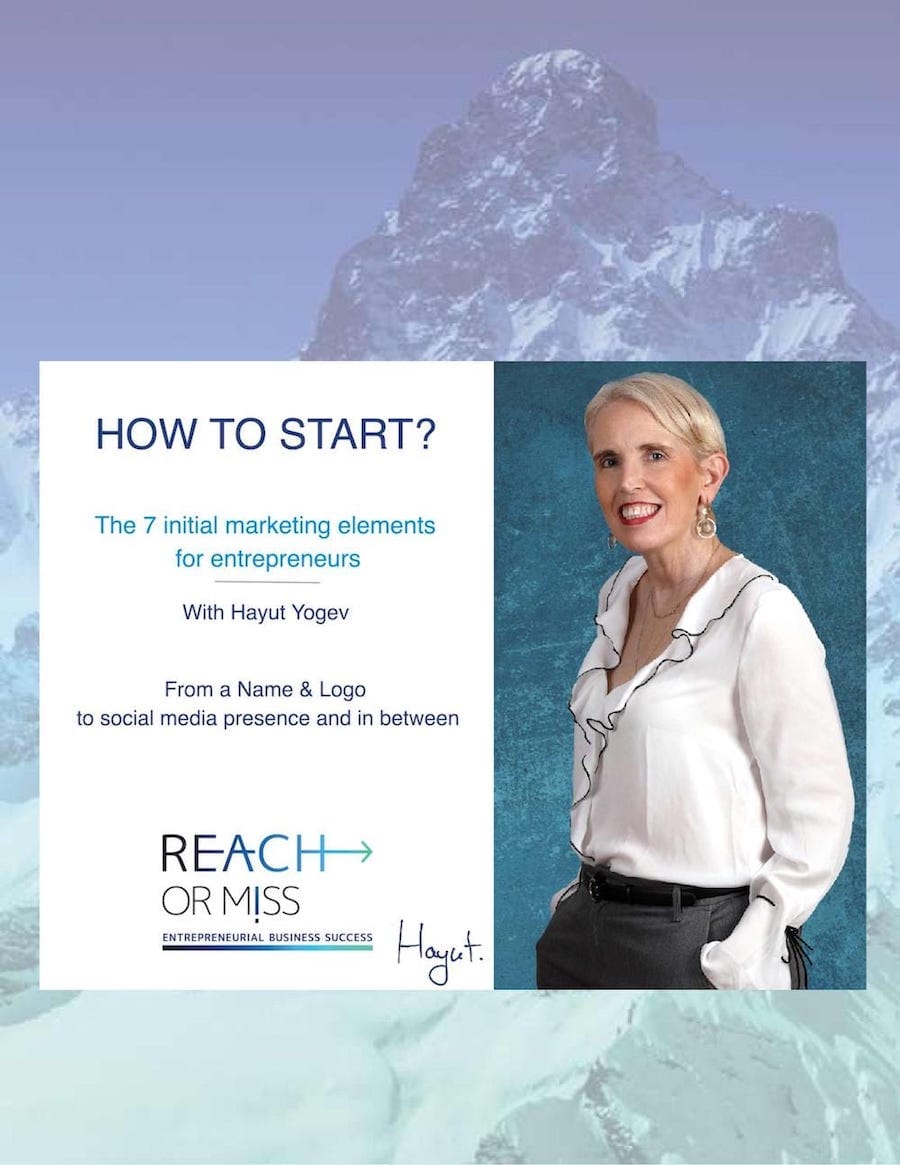 Want to learn how to start your Entrepreneurship?
Download for Free
HOW TO START ?
Want to learn how to choose the best Name and Logo? Not sure which customers to focus on right now and where they are? Want to build your website, or trying to figure out how and what content to share on social media?