Ep. 165 – Justin Goodbread: I had so many people tell me 'No… But whenever I hear the word NO it fuels my success!
Justin Goodbread, CFP®, CEPA®, CVGA®, owner of FinanciallySimple.com, is a nationally recognized financial planner, financial educator, wealth manager, author, speaker, and entrepreneur. He has 20+ years of experience starting, buying, owning, and selling businesses. Justin is a two-time winner of the Investopedia Top 100 Advisor award and Exit Planning Institute's Exit Planner Leader of the Year.
Recently, Justin published his first book: The Ultimate Sale. In it, he shows business owners how to create long-term value and accelerate growth in their company with the ultimate goal of selling the business for top dollar when the owner wants to retire.
Justin already wrote the first draft of his second book, and is on a mission to publish a book per year aiming to publish 10 books before the age of 50.
Most passionate about
I'm most passionate about trying to change the future for so many business owners, here in the US and around the world.
A study by the Exit Planning Institute says that out of 5.6 million Americans who have small businesses and entrepreneurships, only 4% will sell their businesses for the price the owners think they're worth.
That's amazing, especially because, for most business owners, their largest single asset is their business. What I'm into today is changing the narrative and the outcome for business owners, so that whenever they desire to exit, they are ready for it financially and are emotionally prepared to walk away from their business.
To increase a business's value, you need to know where you're headed.
The main difference between a business that will be able to make an exit and a business that won't is called 'owner dependence.' It's when the business is completely dependent upon the owner—the owner's mind and the owner's ability.
The one thing the owner needs to do if they want to make the business ready for a very profitable exit one day is to remove themselves from the business, to make the business owner irrelevant.
They should build a dynamic team, a dynamic process, dynamic multiple systems, to the point where the business can function and thrive without the owner's involvement.
We are working with the owners not only to build the team that will be able to lead and run the business without them but also on how to let it go.
I'm young, I'm 42. When I sold my first business, I was 22. I found myself trying to figure out: What's next? The reason for that was that I made the same mistake that so many Americans and business owners around the globe do: Our identity becomes our business.
When our identity becomes our business, it becomes tough on us to sell or transition, or perhaps leave the business for any reason: death or divorce or disability or disagreements. When I leave it, what's next in life?
Justin Goodbread's career and story
I started my first business when I was 16. We had a landscaping business. It was in the '90s and my mom and dad, who homeschooled us, wanted my brother, sister, and me, as part of our education, to learn how to work, to learn how to be business owners, to learn to be entrepreneurs.
My mom and dad—who were not business owners or entrepreneurs—invested their life, their resources, their savings, their time in teaching my brother, my sister, and me how to think like business owners.
By the age of 18, my brother and I were in landscaping and made more money than my mom and dad did.
My brother and I were landscaping together. We bought our own equipment, found our own customers, serviced the customers, and positioned it. Ultimately, we both went to college, so we walked away from our business, selling it for a nominal fee.
After that, my brother and I started separate businesses. He went into the pool business, building high-end swimming pools, while I started a business in finance. I sold it, then started a business managing companies. I sold that business, too.
Then, in 2009, I found my passion, which was teaching business owners how to double their net worth every three or five years. You can do it if you work hard. We teach business owners how to do that and we started running our own three companies.
This world of business has been in my blood for some 25-plus years and I'm enjoying it.
Justin's best advice for entrepreneurs
There is a legend about Spanish conquistador Cortés, who had to burn the boats to win the battle. Entrepreneurs need to burn the boats. You need to burn these things that are going to hold you back from success—whether it be pride, ambition, money, or fear.
Whatever it is that's going to hold you back from success or from reaching your goal, you're going to have to burn that boat and not look back.
As it relates to customers, there is a saying: 'If you care for your team, your team cares for your customers.' I agree with you that most people do not market their businesses properly. Marketing is one of the weakest areas of most of the companies we work with.
However, what I don't see the same is to view our customers as the ones who are paying our bills. I view the customers as the people whom we have the honor and the privilege to serve.
But to serve your customers, you need to serve your team. You need to remove yourself from being at the center of your business, as we talked about earlier.
The most important thing in caring for my team is vulnerability. I think that, as business owners, oftentimes we don't allow ourselves to be vulnerable. Some of the most successful business owners that I work with are very open. They're very open with their team about what they are feeling, how they are thinking, how they are moving, and they get buy-in.
You have to create some vulnerability as a business owner, as an entrepreneur, to trust that the team has the vision, the out-worth, and, ultimately, the championship that you have for your business. If you aren't going to be vulnerable, if you are not willing to trust, then you will never reach the full potential of your business.
Biggest failure with customers
Someone asked me, "How many mistakes have you made in your business career?" I said, "I could write a full book about all my mistakes." They asked why, then, I was successful. I answered, "I don't consider myself successful. I consider myself blessed."
The greatest failures with customers are lack of clarity, lack of communication, lack of understanding, lack of buy-in.
One of the mistakes I made in my first company, the landscaping company, was that I would quote a price and not take the full scope of the job into consideration. Then I would feel frustrated when a customer paid me and I felt that I had done more work. Many times, I placed the blame on the customer or a team member.
The reality is that everything rises and falls on leadership. As a business owner, I have to own the mistakes but I have to give all the credit to the team.
One of the hardest failures was with a business partner, when the information I had was inaccurate and I made the decision to not listen to my gut. Ultimately, this decision let me into a seven-year lawsuit that cost me over $300,000. It cost me a lot of pain and suffering, a lot of heartaches.
But it also became a great teacher. It was the greatest time of opportunity. It strengthened my marriage with my bride, it strengthened my relationships with my deepest friends, it strengthened my core convictions of who I am today and what I strongly believe.
I have a hard time with the term "failure" because we all fail. Everybody will be facing a hard battle. I had a hard time finding a story of a failure because the failure doesn't matter. What matters is how you respond to that failure.
Biggest success due to the right customer approach
My greatest success was being able to take care of my mom and dad's money. When my father passed away, it was to make sure that my Mom is cared for, for the rest of her life.
Most recommended technological tool
You must have an unbelievable customers' CRM base. It should be a true system that engages the customer's wishes, desires, and ambitions. It should also communicate with them consistently, to nurture them to the point where they are not only a client but a raving client, sending their friends and colleagues to your services.
Justin's key success factor
The word no. The simple word NO. So many people in my life told me NO. In high school, I failed English—my only failure, because I can't spell. I can do algebra in my head, I can run advanced calculations in my head, but I can't spell. In college, my English teacher told me, "You will be as dumb as a box of rocks." I said, "No, I won't." She asked, "What will you do?" And I told her, "I'll have a New York Times bestseller. Watch!"
Ultimately, I had an Amazon bestseller and I sent her a copy of that book. She wrote me back and said that it was amazing and how proud she was.
My first book, called "The Ultimate Sale", was Amazon's bestseller for business. It was first on the chart for a very long time. It was amazing. And we already have the first draft of my second book. We have to publish a book per year. That's my goal: I need to publish 10 books before the age of 50. And I'm going to get to a New York Times bestseller because I need to prove to my teacher that I was right!
So many people tell me, "No. It can't be done. It has never been done. You can't do that." Whenever I hear the word NO, it steams my success. Too many people have invested too much in my life—from parents, to friends, to family, to teachers, to pastors—for me to not get my best!
Justin's Mountain
Because we believe that the best way for entrepreneurs to get fast, big, and sustainable success is by leading your (new) market category, and the entire entrepreneurial journey reminds me of mountaineering, or conquering a mountain, I want to ask you: Is there a mountain you dream of climbing or a mountain you have already climbed?
We live in the Smoky Mountains of East Tennessee, on top of a mountain that overlooks the Tennessee River. I can see a mountain range outside of my house. It's beautiful. And blessed.
Two years ago, I went to do some hunting with friends and a guide in the Rocky Mountains in Idaho. We rode horses while climbing the mountains. It was amazing to see the creation out there. Then the guide said that we had to reach the TOP. It seemed like a not-very-high 600-foot elevation. It took us eight hours. We were exhausted and sweating, all our muscles hurt, but we reached the top and stayed there for a week.
We reached the top at sunset and it was amazing. But! I have to tell you, there was not much up there. There weren't trees or rocks or water; most of that stuff was down in the valley. It's beautiful to be on the mountain top, but the mountain top is so narrow and small. And it's very lonely up there.
So, it's fun climbing mountains and I have plans to do it again, but the sweeter fruits—the animals, the trees, the water—are all down in the valley.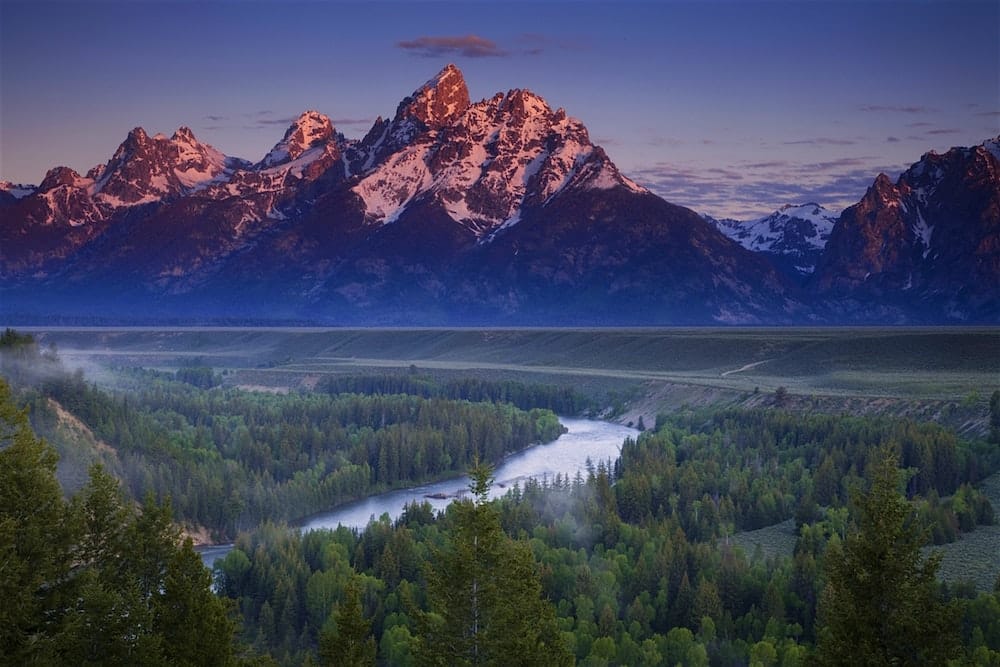 The best way to connect with Justin:
Join our Facebook Groups
More resources for Entrepreneurs
Don't Miss – Customer Focus Strategy & Execution: Market Analysis for Fundraising
Hayut Yogev's Latest post: Is the magic that helped entrepreneurs like Jeff Bullas (570K Twitter followers) or Douglas Burdett become leading successful influencers happening again?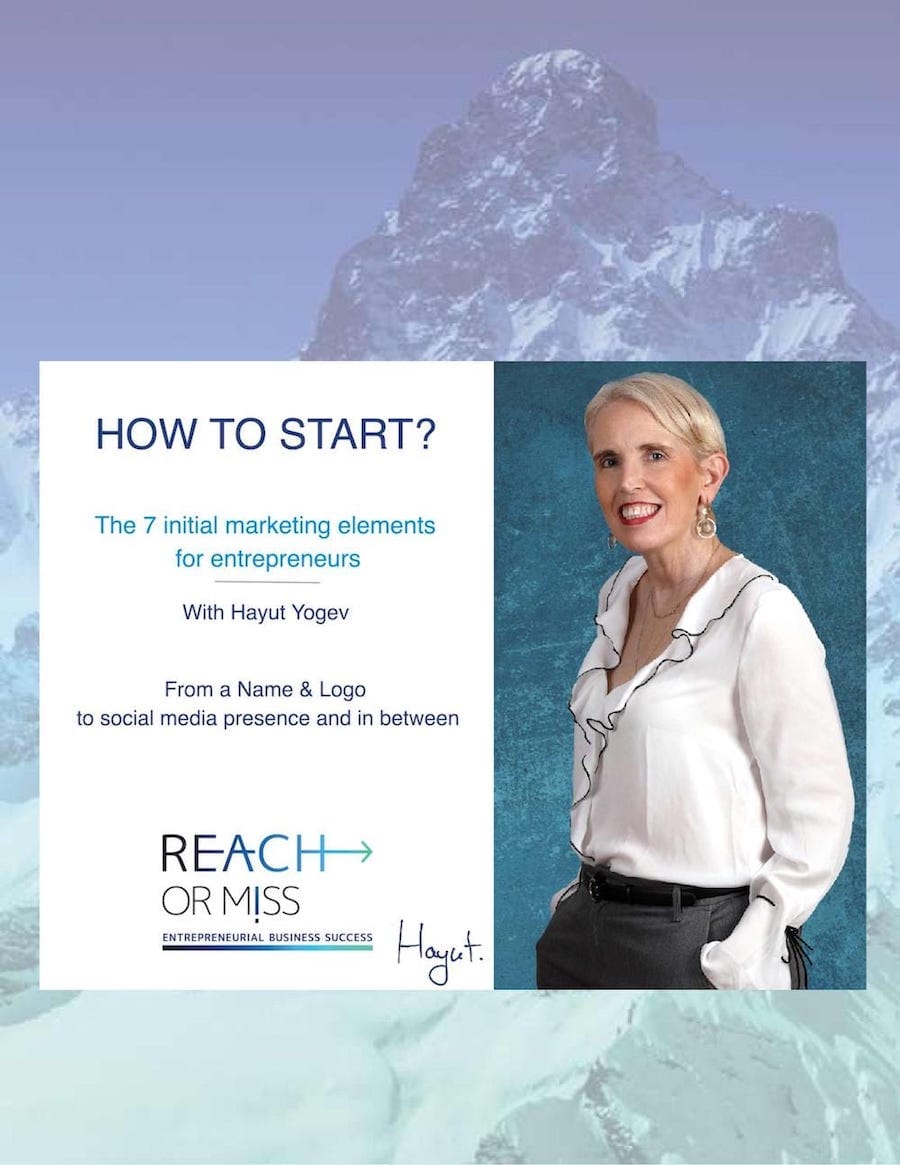 Want to learn how to start your Entrepreneurship?
Download for Free
HOW TO START ?
Want to learn how to choose the best Name and Logo? Not sure which customers to focus on right now and where they are? Want to build your website, or trying to figure out how and what content to share on social media?