Ep. 163 – Kasey Jones key success factor: "one of my biggest advantages is that I have zero professional training or education in marketing."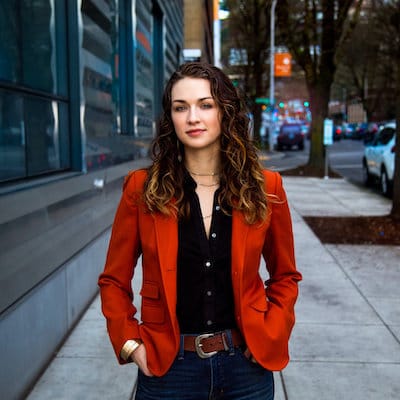 Kasey Jones, founder of A Better Jones is deeply passionate about helping people, teams, and organizations grow. She has defined her career leveraging creative and innovative methods to build long-lasting relationships with the people that matter most to your business – buyers, partners, and community.
Kasey's experience spans nearly every aspect of sales, marketing, business development, and community organizing at startups including Notion, GoodData, Postano, and even Obama for President. She discovered her affinity for the startup life by working on political campaigns where she realized she thrived in chaos, had a knack for doing big things with few resources, and loved the challenge of being perpetually in over-her-head.
A passionate advocate for underrepresented sales professionals, Kasey also cofounded The Other Side of Sales, a podcast and resource committed to evolving the culture of B2B sales to be more inclusive and to empower underrepresented sales professionals. Also, Sales Hacker has named her one of the 35 Most Influential Women in Sales and a Sales Influencer to watch for 2019.
Most passionate about
I'm the founder of two businesses. I have 'A Better Jones,' which is a growth strategy, coaching, and demand generation agency for startups in their early stage. We help startups grow faster and we have a variety of ways to do that.
Also, we just launched a new project called Our Galaxy. It's a community, content resource, and coaching platform designed to assist founders and business leaders in building authentic personal brands that help them grow their businesses and careers in what we call 'a non-icky way.'
I know a lot of founders out there who are humble or from more of the technical side, and a personal brand seems a little unappealing to them. We help them understand that building your personal brand is about getting known for the work you do and being respected in your industry in a way that helps your business grow.
It's usually among more product-led founders. They tend to believe that the product should speak for itself and they don't need to have a public role. They often say that they don't feel comfortable bragging on social media.
I'm a firm believer that everyone has a story to tell, a lesson to teach, or insights to share. When you go out there and you're transparent about the things that you're learning and the things that you're doing, then your industry and your buyers trust you more. They're more likely to buy from people and from organizations that they trust.
Another thing that I'm working on now, worldwide, is this pandemic and how it's impacting business and the economy. So, I'm working on a coaching program for startup founders who feel like their businesses are poised for growth but who don't have the right plan or resources. They need help to get deep and intensive about this, to accelerate this growth.
I'm creating an opportunity for them to get into groups and take part in the process that I usually do, but in a group setting. We also know that the founders' journey is really lonely.
I see a lot of entrepreneurs, especially here in Oregon, who are massively pivoting their companies, while others are just waiting for things to get back to normal. And I think that this isn't going to happen. Yes, things will ease and things will get a little better, but we will not go back to where things were.
There is a very big need to listen to your customers and understand what they are going through. Listening to your customers is always the biggest need, but because things are changing so quickly now, you need to be having constant conversations with your customers and learning to adopt what they are telling you.
We used to hold a lot of events with our customers. Well, that's not going to happen.
Kasey's career and story
I started my career in sales. When I got to college, I had no clue what I wanted to do with my life or what I could do. I graduated from college without any skills besides being a very good communicator, so sales was a natural fit.
I sold many kinds of things. I sold Google Ads packages; back then, it was a new thing. I sold super-high-end sports hosting packages, so if you wanted to take 10 clients to the U.S. Open, and you wanted to pay, like, $70,000, I was your girl. I sold services for an IT and telecom consultant firm.
I'm a great believer that if you are a young person who just graduated from college or finished high school, and if you don't know what to do but you know you want to be in business, the best shot you can take is to become a sales development representative—a prospector. You're going to learn so much. You're going to learn how business works.
I really wished we had talked about it more in business. Taking an entry-level sales role is the perfect jumping-off point. You can wind up going into HR, you can get sales success, or you can go to marketing, which was what I wanted to do.
My biggest recommendation to founders at that point in the business is that every founder needs to sell their products, at least for a little while. Getting experience is absolutely going to pay dividends in terms of how you run your business later on.
I made the transition to marketing when I was in sales. I partnered a lot with marketing and I fell in love with it. I had pretty much every role that you can have in marketing.
Then I was the head of marketing for a very early-stage startup. I was asked to go to Beirut, Lebanon for 10 days to run and moderate a series of workshops. It was the first partnership between UNICEF and a startup accelerator. I was on cloud nine … I was so energized and excited to be working with all these startups.
On the day I came back, I found out that the startup that I'd been working for had run out of money.
I didn't feel ready to go out on my own yet but I thought that maybe I've been pushed toward it. And I had a phone call with a woman I'd worked with on some projects in the past. She had a startup and she said, "Well, if you go out on your own, I'll hire you. I need your expertise."
Since then, I've worked with different startups. I've been mentoring residents in the oldest and largest accelerator here in Portland, Oregon.
I love working with startup founders. I love the excitement and I love the fact that you can help them make small adjustments that have a huge impact on their business. That's so satisfying.
Kasey's best advice for entrepreneurs
At their early stages, entrepreneurs and their teams look at customer research as a one-and-done thing. They do a bit of research at the beginning, they create their buyer personas, and then they never check it again.
I think that founders and entrepreneurs need to be constantly talking with their customers, asking them a lot of questions, doing research about what they care about, what changes are going on in their industry.
One of the problems is that, often, entrepreneurs solve a problem that they once had, so they think that they know everything there is to know about their ideal buyer. But, after a year or two of developing, planning, and preparing their product, they are only one of their ideal buyers, so they are no longer their ideal buyers. Two years is a lifetime in business today.
You should be obsessed with learning about your customers and kind of falling in love with them and with the problem that you are solving. A friend of mine said, "Fall in love with the problem, not with your product."
Biggest failure with customers
My biggest failure was something I figured out quite recently. I stopped paying attention to what my real strengths were and started chasing where I thought the money was.
Just as you need to listen to your customers, you also need to understand what you can and cannot do. For a while, we got some big clients and my team became their entire marketing team. We were pretty good at that, but I hated it.
My strength lies in coaching entrepreneurs and helping them learn how to do their marketing themselves—doing deep strategies for shorter periods of time. But if we are the outsourced marketing team for an established company for a year and a half, it means they don't care enough about marketing to build their own team. It means they aren't learning how to do it themselves and how to make marketing a core part of the work that they're doing and a part of their success.
I just didn't enjoy that. By the end, I wasn't as excited and passionate. As a result, the quality of our work declined and those companies' results weren't as good as they could have been. I felt that I had done them a disservice by allowing them to push off making the needed investments and strategy to do their own marketing as a strength of their company.
I had this ah-ha moment at the beginning of this year and made the pivot to doing more of the strategic engagements, coaching our clients so that by themselves, after six months, they don't need me and are ready for their next stage.
Biggest success due to the right customer approach
This question is hard for me because we've had a lot of little successes. I think my biggest success that I focus on is building long-lasting, positive relationships. We don't have a single customer that we don't still have a very close relationship with.
What I'm most proud of is … the entrepreneurial journey is a very lonely one, and I work very hard to not only build strong relationships with those I work with, but to also connect them to others.
I feel very proud that anytime a client or anybody else who reaches out and says, "I really struggle with this and this. Do you know anyone who can help me?", nine times out of ten, yes, I know someone who can help them. Having that 'kind of family' in this community is incredibly rewarding, and I wouldn't trade it for the world.
I believe that the biggest change we are going to see in response to this pandemic is less spam and email blast, they don't work. What matters is how you build relationships that scale.
Most recommended technological tool
It's like spreadsheets but in a much more impactful way. We run our whole business on AirTable. This is how we plan content and track everything we do. I have personal uses. I track every book I read on it. You can do forms and surveys using AirTable. I'm kind of obsessed with it.
Kasey's key success factor
I'm disciplined and I'm super committed to things. I feel that there is always a way to solve the problem. The second thing I often say is that one of my biggest advantages when it comes to marketing is that I have zero professional training or education in marketing. That means every time we are facing a marketing problem or challenge, I never think that there is a specific way to solve it according to the marketing laws, or books, or what everyone in marketing did before to solve it. I take a fresh look at any problem and ask, "What is the smartest way we can solve this problem?"
As a result, I've managed to think through some strategies and come up with ideas that other marketers just don't.
Kasey's Mountain
I live in Portland, Oregon and we are surrounded by mountains. I love this question because I think about it a lot, particularly as it relates to being an entrepreneur.
When I was in my mid-20s, I dated a guy who was super into hiking and mountain climbing. He got me very into it. I have never done a hike where there wasn't at least one step that I thought, 'What the hell am I doing? Why am I doing this?'
But I just kept going. And sometimes it's miserable and it's so hard, and you're exhausted and your eyes are burning, but you just keep putting one foot in front of the other. And you keep doing it and all of a sudden, you get to the top, and you see something that not many people have ever seen. Almost no one is going to see it on that day and in that week. It's one of the most beautiful and rewarding experiences there is.
That, to me, is the entrepreneurial journey. There are going to be so many moments when you think, 'What the hell am I doing? Why did I do that? Why don't I quit and find a job like a sane person?'
But you just keep putting one foot in front of the other. It's the staying committed to it that is the biggest difference between the people who make it and those who don't.
The best ways to connect with Kasey
More resources for Entrepreneurs
Don't Miss – Customer Focus Strategy & Execution: Market Analysis for Fundraising
Hayut Yogev's Latest post: Is the magic that helped entrepreneurs like Jeff Bullas (570K Twitter followers) or Douglas Burdett become leading successful influencers happening again?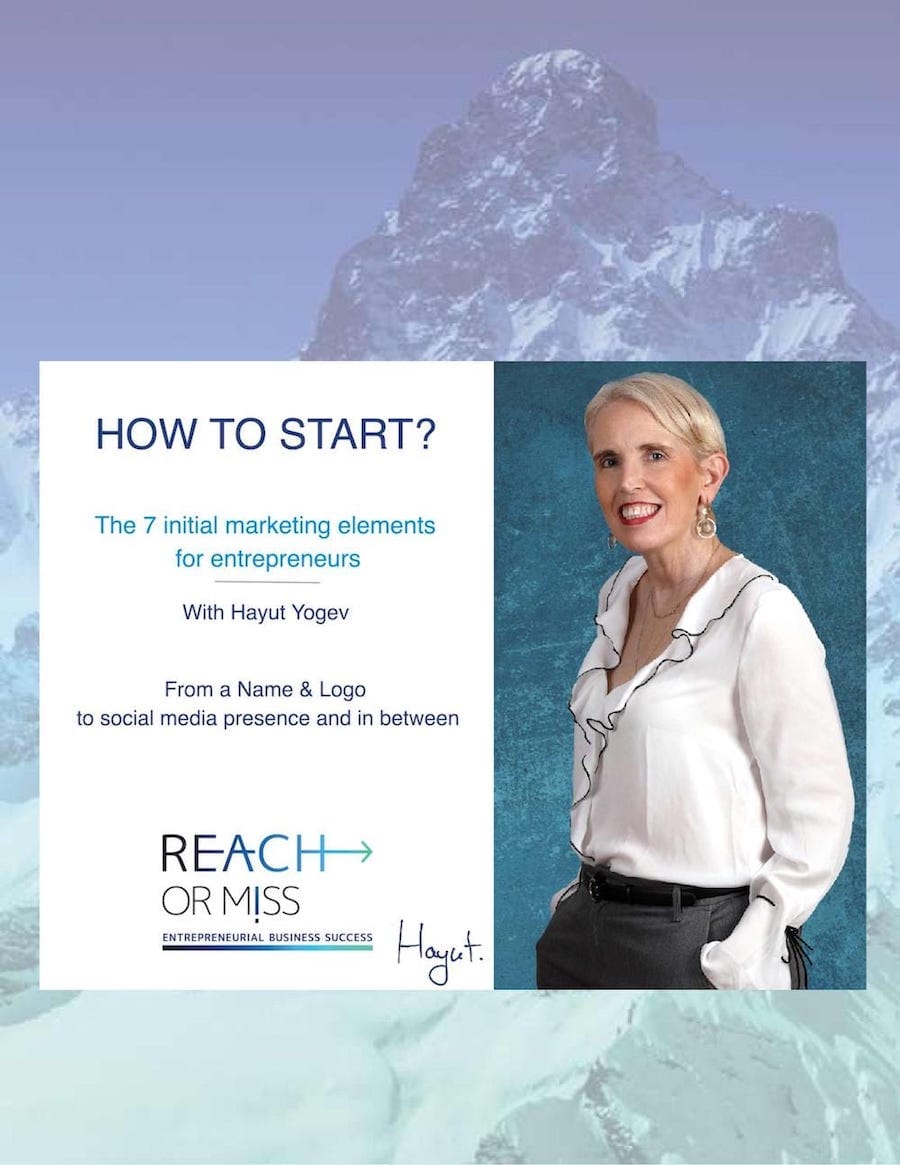 Want to learn how to start your Entrepreneurship?
Download for Free
HOW TO START ?
Want to learn how to choose the best Name and Logo? Not sure which customers to focus on right now and where they are? Want to build your website, or trying to figure out how and what content to share on social media?