Ep. 162 – Sarah Evans: "I didn't realize that I had an entrepreneurial spirit. However, I took the risk 11 years ago and haven't looked back."
Sarah Evans, founder of Sevans Strategy and Sevans Digital PR, is a digital PR strategist, consultant, global brand correspondent and keynote speaker, who works with companies worldwide to create and improve their social and digital PR strategies. Her team is able to advise on branding, marketing, advertising, and public relations.
Additionally, Sarah has been a digital correspondent for several companies including Paypal, Cox Communications, MGM International, Cisco, SAP, Wal Mart, Shorty Awards and more…
Sarah got her start by helping small to midsize businesses build their digital PR efforts. She is currently a member of the Forbes Agency Council. Previously, Sarah worked with a Chicago-area crisis center to raise more than $161,000 in three weeks exclusively via social media, and is honored to be a member of the Guinness Book World Record holding #beatcancer team.
Most passionate about
My world is all digital PR. I started my business around 11 years ago and it has gone through a lot of changes and evolutions, highs and lows. It has grown and not grown (when I had my children). However, I feel very lucky to work with the clients whom we work with in the digital lifestyle and technology space. We have customers all over the world, from Israel, and from Russia, and from across the US, and I absolutely love what I do.
I view digital PR as much more comprehensive. Of course, we do traditional media relations—getting clients sourced in TV, print, radio, and the like—but we also look at social earned organic and even some social paid components.
We help clients create their own content for their websites and we help them get placed in media outlets. We get them the opportunities to get placed in unique outlets, as podcasts, or YouTube influencers, or Instagram influencers.
We are looking for all the opportunities that a brand can use to either share their story, connect with the community, or leverage a moment in time.
I'm not technically a maker, but I test out things every day. I consider myself a tech enthusiast and a beta tester. Each day, I'm trying out 5 to 10 new products and looking at how they can resonate with consumers, how we can use them from a PR perspective, and how we can integrate them into a publicity plan or connection opportunity.
Sarah's customers
Our customers all have sorts of technology angles to their products. What all our customers have in common is that they are all technology leaders or influencers, or they have technology related to their brand.
Sarah's career and story
I was a PR major in college, so it's something that I always knew I wanted to do. When I was very little, I was hosting tea parties and putting on events, inviting everyone, bringing people together. That was really what I wanted to do with my life.
My mother was the catalyst for that. We started from: Bringing people together is my mission, so what kind of career can help me do that? I discovered public relations and went through a very traditional career path. I started with corporate public relations, then health care, higher education, and agency work.
I didn't realize that I had an entrepreneurial spirit. However, I took the risk 11 years ago and haven't looked back. I'm very, very happy.
Sarah's best advice for entrepreneurs
My advice is to make some of their own advice. Every day, I'm learning something, so I think the advice I would have given 11 years ago, five years ago, or three months ago would be completely different.
The one thing that has remained the same is that you have to have a thirst or hunger for what you do. It's very easy to get depleted emotionally, or down on yourself. When you get into the tranches, you find out how difficult it is because not everyone shares your passion.
Creating a want or need for your product can be quite difficult but it will happen with time. You just need to stay the course and maintain. Know and learn when you have to evolve and change, and fix things based on your customers' needs.
Biggest failure with customers
I've had several. I think the most compelling one was one of the times when I had to transition. I created a company around what was, at the time, a market demand. Then I had my oldest child and took some time off. When I came back, I realized how fast digital moves. The company that I created no longer had a place.
I built a company around social media support versus full digital PR. By the time I came back, most companies—even smaller shops—had made their social media internal.
So, I had to pivot and change my offering. It feels like a simple move to change from support offering to something else, but it actually took a lot of work. You have to come up with a new product offering, and you have to do your biz-dev and get clients and onboard them. You have to make sure you can provide what you offer.
I had to find a way to marry together my passion for social and digital and combine that with my background in PR to create a unique offering.
Biggest success due to the right customer approach
This question is very big for me. In my mind, reaching such a high level of success meant one thing many years ago, and now it means something completely different.
For me, success is that my business is working well and that my family is working well. It's not easy being a female founder, a business owner, a mother, a wife, a sister, a friend, and a daughter.
Years ago, pre-children, I was so hyper-focused on business and work that I sacrificed other things.
Right now due to the Corona crisis, I have closed down my office but despite working from home we really gone into a grate strive with our clients. We're bringing on new clients and helping them during this time.
Somehow, moving my office home and being here with my children has given me a new sense of meaning for everything that I'm doing. So, I guess if I had to define success right now, I'd say it's the ability to be at home with my children, and run a business, and find a new way. It won't be 9 to 5—sometimes it will even be between 2 a.m. and 5 a.m.—but I will be able to have some quality time with my children and see them in a way that I've never been able to see them before.
It's not the most solid answer but it's the new answer.
Most recommended technological tool
I have a few for three separate price points. Turbine Labs (turbinelabs.com) is my favorite for entrepreneurs. It's a bit higher-budget. It's ideal for listening to and looking for trends online. It's something that I use daily.
Another tool for social media and social media marketing, one that's a good fit for mid-level budgets, is Lately (trylately.com), which allows you to share content in social media in a very large scope.
For the lower-tier price point, I would recommend a freemium model: SEMrush (semrush.com). This is an excellent tool for search engine marketing. It's a great solution for content planning, marketing, and social planning.
Sarah's key success factor
My one key success factor would be taking time to self-reflect for five minutes every day. This is something I started doing at the beginning of 2019. I look at, maybe, something I didn't do well the day before or something I'd like to work on in the coming day. It doesn't have to be a long-term goal—just a day of goals.
Once I reflect on something, I write it out. Typically, I share it on Twitter or Instagram, so I create a legacy of positive support.
The second factor is to vibe influence to as many people as possible—like you are doing with your podcast. Look for opportunities to offer people a chance to share their voices with a wider reach. Take the time to make sure they are getting recognition as well.
Sarah's Mountain
I would definitely take it metaphorically. That started with my neighbor, who is an athlete and who has climbed three out of seven peaks. I decided that I wanted to become fit, not only for myself but to increase my longevity—to become a healthy mother and, someday, a grandmother.
So, I started creating little goals for myself. One was to do a headstand, and I can do this now. Currently, I'm working on flexibility and strength training. So, I keep setting those goals. The very strange thing is that every time I accomplish these fitness goals, other things fall into place in my life. I think that's because I've become so focused and motivated—it runs the gamut of every aspect.
Best ways to connect with Sarah
More resources for Entrepreneurs
Don't Miss – Customer Focus Strategy & Execution: Market Analysis for Fundraising
Hayut Yogev's Latest post: Is the magic that helped entrepreneurs like Jeff Bullas (570K Twitter followers) or Douglas Burdett become leading successful influencers happening again?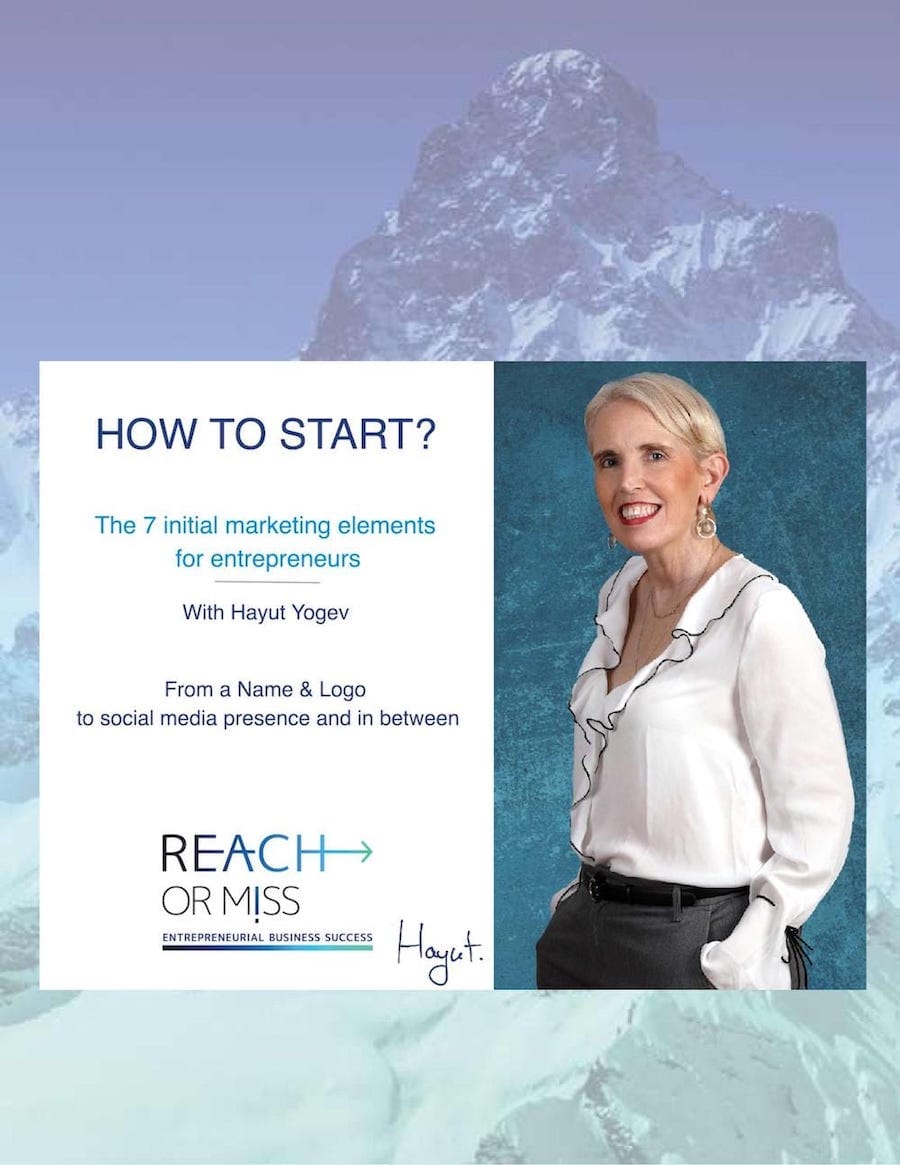 Want to learn how to start your Entrepreneurship?
Download for Free
HOW TO START ?
Want to learn how to choose the best Name and Logo? Not sure which customers to focus on right now and where they are? Want to build your website, or trying to figure out how and what content to share on social media?