Ep. 164 – Jesse Krieger: "First, let's normalize failures. The number of things that I've started and didn't work is astronomical."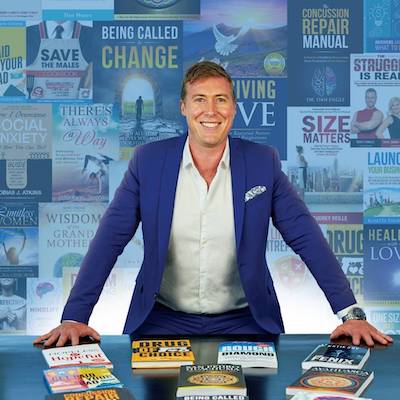 Jesse Krieger sits squarely at the intersection of publishing and promotion – having signed two publishing deals on two different continents and navigated the world of becoming a best-selling author twice.
In addition to being featured on over 50 media outlets for his best-selling book Lifestyle Entrepreneur, Jesse has been an entrepreneur his entire adult life and holds degrees from University of California, Berkeley, as well as National Taiwan University and Beijing Normal University.
It has been his honor to publish 100+ books during his 6-year tenure as founder & publisher of Lifestyle Entrepreneurs Press – The Publisher for The Passionate.
Most passionate about
Today I'm the publisher of Lifestyle Entrepreneurs Press. We are the "Publisher for the Passionate." I also run a crowdfunding platform called Publishers that connects writers to readers and finds the right publisher for them.
I'm most passionate about creative entrepreneurs who have had incredible life experiences and who want to share them with the world through a book.
I spend most of my time working with authors through the crazy process of creating, publishing, and promoting a book, which, for them, is also their business development tool. It's what they want to be known for.
It gives you, as an entrepreneur, the chance to step forward and release your work to the world. It gives you the opportunity to connect with people you've never met, in places you've never been, and have a profound impact on their lives in a positive way.
Jesse's career and story
It's all really started with my love for music. I got my first guitar at the age of 13. I wasn't interested in business growing up. I just wanted to ditch high school and play Jimi Hendrix with my band. I followed this passion to LA, where I went to music school. Then I went with friends to Europe. We played there in bars and clubs and even on the street. It ended in Nashville. I went to study sound engineering there and met my bandmate and my first business partner.
We were recording and producing music all the time and I established my first business, which was a record label, to manage our music.
I've been an entrepreneur my whole adult life. I really have never had a normal job. Toward the end of my 20s, a lot of people started to ask about my approach to starting different kinds of businesses, and traveling, and being able to travel while running a business. During 2008 and 2009, it wasn't so common "just to be an entrepreneur."
I started to write about my approach. It felt consistent to me. The act of thinking and writing about how I approached coming up with new business ideas, how I approached testing them out, how I thought about the kinds of travel experiences I wanted to have in a year—I built that into my planning.
These answers, which I wrote in the book, helped me clarify my philosophy and share it with others.
I didn't self-publish this book. It was published by two publishers. I was first published in South East Asia in 2012. I turned to Malaysia and Singapore and talked at book fairs. I signed books and kissed babies, the whole thing.
I had a business history in China and in Asia. We were doing promotional products and flash drives, those kinds of things. Then I decided that I wanted to start studying Mandarin.
I found a publisher in Asia. It was a unique story: a big white guy who speaks Mandarin and published a book in Asia about business. There weren't as many business books in Asia as there were in the Western world.
I wanted to do it in Asia before I tried to publish my book in the US. Two years later, my book was published in the US, and some of my friends were working on books of their own. They started to ask me if I could do it for them. Six years later, I said yes…
Jesse's best advice for entrepreneurs
The best marketing is educational, leading somebody from where they are now and moving them closer to where they want to be.
This idea of using words and language to mirror the dialog in our customers' minds—that's how people feel. They'll literally say, "It's like you're inside my mind, it's like you're reading my mind, you know exactly what I want."
If you care enough about your customers to actually listen, deeply listen, you will notice that they use certain language and certain words. Then it's your job to mirror that back to them so they can see the problem. Once they see it, and if you are the one who helped them see it, they will trust you to help them with the solution. That's what marketing is.
Biggest failure with customers
First, let's normalize failures, as failure is part of the process. The number of things that I've started and that didn't work is astronomical. The number of things that I've started and that worked a little bit, and then stopped working, and then became liabilities is also very high.
That's the reason why any success that I do have, I can trust. Because it's built on the backs of all the stuff that didn't work.
When I was 25 or 26, I was working mainly in consulting in investment banking. I helped put together investors and people who were doing projects or who had businesses and needed additional funding. In this type of work, it's common to work on commission only. You can work weeks or months before you know if there is going to be a deal on which you'll get a commission.
I made a huge mistake and got really involved in a deal to build an ethanol plant in Jamaica. We invested months. Months! Many hours a day, as well as some money for things that had to be done. I even flew to Jamaica and met with the team and with the Jamaican minister of energy and technology.
I was so excited that I was meeting interesting people and was going to close a deal and end up making a lot of money. But then, after nine or ten months, things started to break. Suddenly, there were some environmental reports. Then it appeared that the owner of the land hid something. Very quickly, almost a year of work unraveled before my eyes. I was making ZERO dollars from that work.
That was a huge lesson to learn. It was an unmitigated failure, but it was also an incredible opportunity to learn about the importance of boundaries and milestones. I won't let myself get so invested and so involved if there isn't some 'real-world' feedback that it's working.
And there's a take away from this failure. Yes, it's great to have a vision, and a big idea, and big potential, but what are the indicators next week or the distinct milestone next month that will keep you as excited as you are now?
Biggest success due to the right customer approach
Probably our current one. What I feel is a big success is our distribution and sales partnership with Ingram Publisher Services, which is a cornerstone of book publishing in many senses, at least in North America and also throughout Europe, Australia, and many parts of the world.
I started Lifestyle Entrepreneurs Press in a student apartment where I was living in Berkeley in 2014. Now I'm sitting here in my beautiful house in Las Vegas with the best distributor and sales partner a publisher can ask for.
And we are partners! They saw what we were doing and bought into our vision, which is to empower individuals to raise the overall level of consciousness of humanity through books. I feel very fortunate and I don't take it for granted.
It was my stated intent and goal to be in this partnership with Ingram. There are accidents, maybe, but much more than it, there are intentions, actions, and then consequences.
For two-and-a-half years, I was in some form of dialog with Ingram. I was first connected to them three-plus years ago, but we weren't big enough. They weren't ready and they weren't interested. But they said, "Keep in touch."
I learned about all the things that Ingram wanted to see in a publisher and we started doing all of them. While we were doing all of that, I rented a big booth in the center of a big book expo in New York in 2018. Six of our authors came and we were signing books and making a scene. We were very visible … and the vice president of publishers acquisitions for Ingram stopped by our booth.
Of course, I had prepared our authors. Four of them approached him at different times and talked about the amazing job we did for them. We were sitting in our booth and I updated him on what we'd done since we'd first met two years earlier. When he got up, he said, "You know what? I think it's time that we discuss putting an agreement on the table!"
Most recommended technological tool
I'm a little old-school in that respect, but I think that every business needs to have an email platform provider (I use ConvertKit) and a calendaring service (I use Calendly).
I actually run my whole business through my calendar. If it's on the calendar, it's getting done.
Also, it's important to own your own website—either e-commerce or just informational.
The technology I'm interested in is the one that builds our business.
Jesse's key success factor
This is probably my relationship with fear, which was instilled by a very encouraging and supportive father. I always had an orientation toward "just do it and see what happens."
There aren't many things I'm really afraid of, but I also have relationships with death. I'm 100% onboard that I'm going to die at some point. And I don't want any regrets.
I feel blessed. But everybody can learn that. Everyone can reform their relationship with fear. The way to do it is to go one or two steps beyond your comfort zone.
Jesse's Mountain
When I was 16, I went on a special program that included three weeks of backpacking and hiking to the Sierra Nevada mountains. After the first 10 days, we were pretty deep into the mountains. Then we started summiting these 14,000-foot peaks.
It's amazing to climb such a high mountain and get to the top. You see the perspective change from looking down at the world. It's a totally different feeling from looking at the mountain from the ground. There is something very empowering in reaching the top of such a high mountain. I never forgot the feelings of that summer of living in nature and summiting.
The best ways to connect with Jesse
Join our Facebook Groups
More resources for Entrepreneurs
Don't Miss – Customer Focus Strategy & Execution: Market Analysis for Fundraising
Hayut Yogev's Latest post: Is the magic that helped entrepreneurs like Jeff Bullas (570K Twitter followers) or Douglas Burdett become leading successful influencers happening again?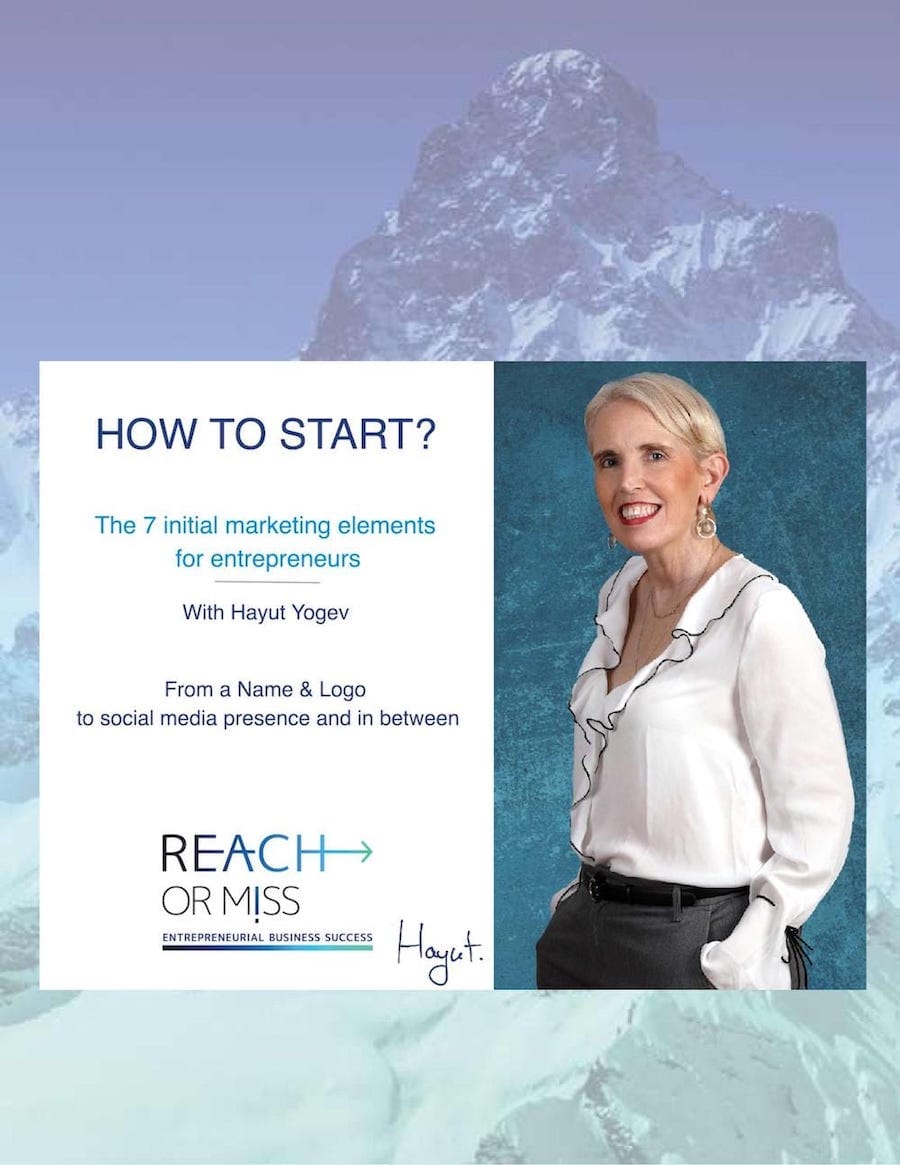 Want to learn how to start your Entrepreneurship?
Download for Free
HOW TO START ?
Want to learn how to choose the best Name and Logo? Not sure which customers to focus on right now and where they are? Want to build your website, or trying to figure out how and what content to share on social media?