Ep. 157 – Bill Cates: "For me, success means abundance in my life. Money is OK, as long as it doesn't own you – as long as you own it!"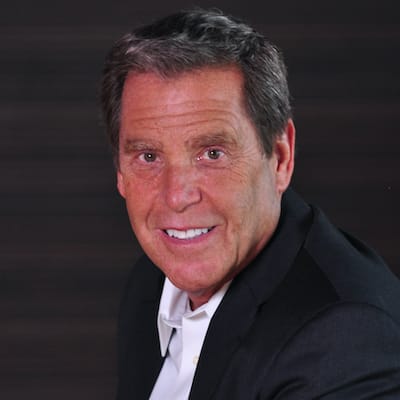 Bill Cates is an internationally recognized client-acquisition expert, author, and speaker who motivates others to take action with proven strategies.
A successful entrepreneur, Bill started and sold two book publishing companies. Turning his attention to help other businesses grow, Bill has written four best-selling books: Get More Referrals Now, Don't Keep Me a Secret, Beyond Referrals and Radical Relevance.
Bill is also somewhat of an adventurer. He has trekked through the Himalayas of Nepal and the Andes of Peru. He has lived on a houseboat in Kashmir, India, climbed Machu Pichu, reached the summit of Mt. Kilimanjaro, camped in Arctic Circle… and Bill has toured the country as the drummer in a rock and roll band.
Most passionate about
I've been in business for 40 years, always in marketing and in growing businesses. I built two book-publishing companies and sold both in 1989. Then I got into the business of writing, speaking, coaching, and helping other entrepreneurs build their businesses.
I love writing. I plan to write a book every year now for the next five years. Today I also enjoy doing a lot of videos.
Bill's career and the story of the WHWE community
I published cookbooks. I started when I wrote my own book. I worked for American Airlines, so I wrote a book about airline careers and started selling it a bit by myself. I was using direct mail, mail orders—this was long before we had the internet. Then a woman asked me to help her self-publish a cookbook, so I did that.
I realized that cookbooks were a really good business. People love to read cookbooks, and not only for cooking. They enjoy following the process of preparing a dish. People also collect cookbooks. So, I borrowed $40,000 (which was a huge amount for me) from my father.
I came back with several cookbooks that we sold in cooking stores, kitchen stores, and gourmet product stores. I published 45 cookbooks throughout the time I had my business.
After nine years, I discovered that I didn't really have a passion for what I was doing. I was looking for the next thing. A friend of mine told me, "You have built up a lot of knowledge, you've got a lot of experience, and you can help other business owners. You can write, you can speak, you can consult, you can coach."
I never really thought about that and I slowly got into it. I started helping some clients. In 1995 I began writing my first business book. It was called Unlimited Referrals and it was about how businesses can create more word of mouth. It's not available anymore.
My most recent business book is Radical Relevance, which is about how to cut through the sea of noise that the internet creates. Creating word of mouth is more relevant now than ever. You need to have the right mix of marketing and sales.
Bill's best advice for entrepreneurs
The second rule in my book, Radical Relevance, is to give your customers or clients a seat at the table. What I mean by that is to not ever develop a product or service or any marketing or sales messages without first talking to your customers or clients.
We think we know what's in their heads and hearts, and to some degree we do. We think we have empathy for them but there is nothing like talking with them. What happens is that we start learning things and getting phrases and words and expressions that we can use and that we wouldn't have thought of.
One of the great questions to ask our clients is, "What do you value about what we do and how would you describe to other people what we are doing?" When I asked that, one of my clients said, "You make asking for referrals as natural as breathing."
Biggest failure with customers
I'll give you two. The first one was my partnership in the book-publishing company. It wasn't a huge failure but I learned a lot from it.
When you are getting married, for example, you get to know someone for a few months or a few years. Sometimes you live together first. However, a lot of business partners have a lunch, maybe a dinner together. You draw a plan on a napkin, maybe you have a few more conversations, and the next thing you know, you have a business partner. You aren't able to get to know each other and learn how your partner deals with success and failure, how they handle challenges. What happened in our partnership is that we really viewed life, business, success, and failures differently. It became harder to communicate and accomplish things.
The second failure was when I didn't follow my own advice. I developed a product for the banking industry but I just didn't search enough. I did some business with the banks and I thought I knew them but it didn't succeed—it wasn't what they needed. It was a product based on CDs and DVDs. Two years ago, I threw away 60,000 CDs and DVDs that cost at least a dollar apiece. That happened because I didn't invite my customers to sit at the table.
The second success is this business. I wasn't at all sure that I could help other businesses. I wasn't sure I could succeed as a speaker, a coach, a consultant. However, my friend's faith in my abilities was so strong that I let their estimation of my abilities run me for a while. I faced my fear and started this company, which has done extremely well over the last 25 years.
Biggest success due to the right customer approach
The first one was when I had my publishing company. I didn't consider myself to be a salesperson, as I didn't like to sell. But I did push myself and managed to sell one of my books Hook Down Sea Food. Several months later, a man came into the store. He was the president of the world's largest tuna factory. To make a long story short, Bumble Tuna bought 400,000 copies of the book. That was a big success. The reason why it was such a success was because I went through a lot of fear. That's what made the success sweeter.
The second success is this business. I wasn't at all sure that I could help other businesses. I wasn't sure I could succeed as a speaker, a coach, a consultant. However, my friend's faith in my abilities was strong, so I let their estimation of my abilities run me for a while. I faced my fear and started this company, which has done extremely well over the last 25 years.
Most recommended technological tool
The tool that most helps me stay organized is a calendar: any kind of calendar. I use the Outlook calendar.
Bill's key success factor
I think that I am just driven to be successful and I love what I do. When you run a business, you will never love to do everything and you can't be good at everything that should be done in a business. I try to focus on the things I do best, which are writing and working directly with my customers. So, I try to find employees who are effective at the things that I'm not good at or don't like doing.
Consultants often like to say, "What are your weaknesses? Let's work to make your weaknesses stronger." My attitude is a bit different. I want to make my strengths stronger and find other people to handle the weaknesses.
I'm driven to be successful; for me, success means abundance in my life. I want to have an abundance of success, of relationships, of money. I want to have abundance in my spiritual life. To me, that's what success is like. It's the balance. Money is OK, it's a tool. There's nothing wrong with wanting to make a lot of money as long as it doesn't own you—as long as you own it!
Bill's Mountain
Because we believe that the best way for entrepreneurs to get fast, big, and sustainable success is by leading your (new) market category, and the entire entrepreneurial journey reminds me of mountaineering, or conquering a mountain, I want to ask you: Is there a mountain you dream of climbing or a mountain you have already climbed?
I've been to the Everest base camp, but the toughest mountain for me was Mount Kilimanjaro. It's 19,200 feet. It's not a technical climb; it's just a really hard walk. It took me six-and-a-half days to get to the top and one-and-a-half days to get down. It was a great experience, a very tough experience, but I loved it and I would do it again.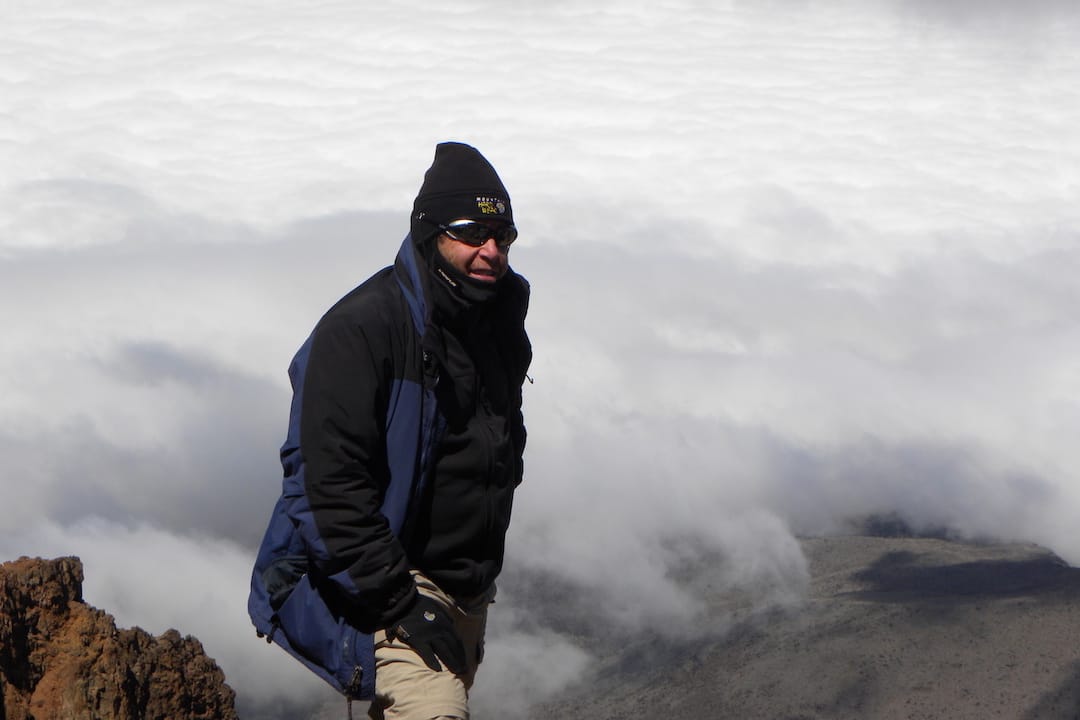 Bill's current book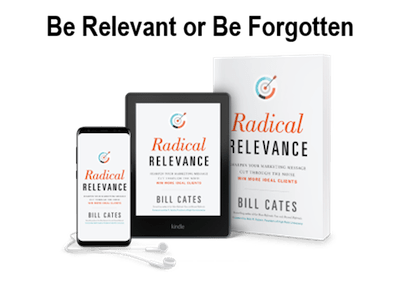 The best ways to connect with Bill and other worthy links:
More resources for Entrepreneurs
Don't Miss – Customer Focus Strategy & Execution: Market Analysis for Fundraising
Hayut Yogev's Latest post: Is the magic that helped entrepreneurs like Jeff Bullas (570K Twitter followers) or Douglas Burdett become leading successful influencers happening again?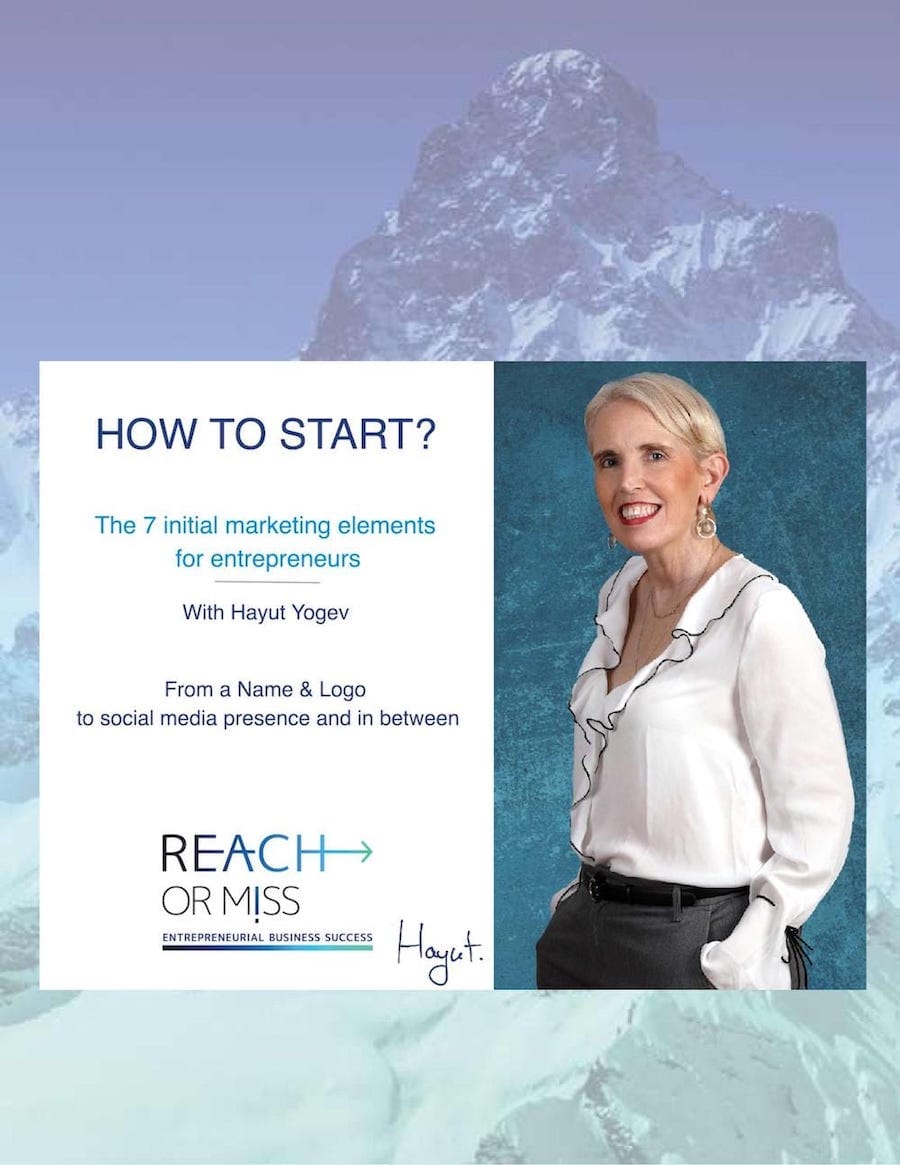 Want to learn how to start your Entrepreneurship?
Download for Free
HOW TO START ?
Want to learn how to choose the best Name and Logo? Not sure which customers to focus on right now and where they are? Want to build your website, or trying to figure out how and what content to share on social media?