Ep. 154 – Anthony Sarandrea started off door knocking and built a company to $100k+ per day helping over 1M customers a year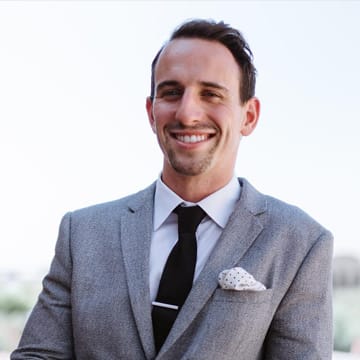 Anthony started off door knocking and built a company to $100k+ per day with over 1M customers a year. He is recognized as one of the top customer generators in the world, running a team that drives over 1 million customers each year.
Today, he runs a profitable portfolio of websites ranging from commerce to content blogs that combined reach millions of buyers every month.
He is consistently featured as one of the top "under 30 year old" entrepreneurs and was featured alongside Snapchat's founder Evan Spiegel as one of the "Entrepreneurs that are changing the world".
Most passionate about
Today we help match Americans with different financial products. We help them make more money or—more often, in our case—save more money.
We get in front of millions of people a day, online, with our advertisement and help them with the different financial problems that they are facing. We educate them and connect them to different financial partners with whom we work. We help them with their insurance programs, mortgage refunds, etc. We try to make things easier on them.
Anthony's career
It's funny how it started. I wanted to become a personal trainer, to help people lose weight and live healthier. I started down that path but I very quickly realized that it often depended on someone's financial problems. People might not have enough money to eat healthily or they might have to work two jobs. They didn't have time to work out and be with their kids.
Then I became more aware of words like "divorce," "suicide," "depression," "anxiety" … most of the time, when we looked deeper, we found that financial issues were a massive cause of that.
I don't have an advising or accountant background. However, the idea was to find what these customers needed. So, it was mainly about listening on the one hand and understanding the different existing solutions on the other.
Anthony's best advice for entrepreneurs
I believe in fail up, fail fast, fail often. I love to tell the great story about the inventing of the Palm Pilot. If an entrepreneur would decide to invent the Palm Pilot, he would probably start with the development, then go to raising money, and then creating it. He wouldn't be happy with it, would create it again, and then, after the 6th or 8th version, it's suddenly a year later.
Meanwhile, the brilliant entrepreneur Jeff Hawkins, who had the idea for the personal digital assistant (PDA) that would eventually become the Palm Pilot, carried a wooden block with him as his mockup, before taking any steps forward.
I welcome the people that tell us we didn't take good care of them. I embrace them.
I encourage listeners to learn the term "method actor" and to put themselves in their customers' shoes. When I built my business, I decided to feel like my customers who experienced financial difficulties. I stopped paying bills, I took a loan and didn't pay it back on time, I had to talk with debt collectors, I was afraid to answer the phone. It led me to take a totally different approach to connecting with my customers.
You, as an entrepreneur, should be your target market. Fully and really put yourself in your customers' shoes and really understand them.
Biggest failure with customers
The biggest failure I had was a failure with my team that directly affected our customers. Somebody on my team crushed our server. As I told you, millions of people come to our site daily, which means that, for one day, it was six-figures-plus in revenue that we were down because a code had been misplaced.
It's not that I was too harsh or mean but I wasn't exited about the issue. I still see the long-term effects of my actions that day. The individual is scared to take chances now because he is afraid to fail. He is now playing crisis avoidance versus success finder.
Fast forward to today. Just the other day, a media buyer missed a tender of $40,000 within four minutes. I remember taking the lesson away from that coder, so I said, "It's awesome!" That media buyer was so stressed about it and didn't understand. I said, these things are going to happen and this case will allow you to think more aggressively, and I love it. Keep going."
I see that this media buyer took bigger risks that enabled him to find some great holes for us—holes that allowed us to make back this $40,000, probably tenfold. That wouldn't have happened otherwise.
Biggest success due to the right customer approach
I would like to talk about my success in finding more balance. I started to experience burnout, and I felt that it really hurt my relationships, my happiness, and even my work. I started to take active actions to stop myself from working during the evenings and give myself more free time away from work.
I feel it has become a part of our entrepreneurial culture, to talk about "How little I slept tonight." But I drive a Lamborghini … It becomes a rat race.
I felt like a slave to the prison that I had built.
Most recommended technological tool
There is a site called Clarity.fm where you can get advice and talk with high-level experts for as long as you choose. You can book a 15-minute call with the founder of this $100 million company for an hourly fee.
It's a phenomenal site and a phenomenal marketplace that I highly recommend.
Anthony's key success factor
Philosophically, my focus has never been on making more money. I joke because I've made millions of dollars and I share a condo with my best friend. This allows me to play differently from my competition because while others are chasing money, I'm chasing impact, I'm chasing culture for the team. Those are the things that are more important to me.
I think that's why we have a massively successful business. By indirectly not focusing on that, we have been able to achieve it. Though I drive a nice sports car now, it was never my intention.
My motivation was to provide a job for my family and friends. Then it was about helping tons of customers. My biggest payday is when I see our Facebook messengers or support emails. Or when we call customers to get testimonials and people cry about how they were able to buy their kids' school supplies. That's where I get paid.
Recommended tool
Clarity.fm – Make faster & better decisions to grow your business. Clarity is your lifeline that instantly connects you with battle-tested advice from entrepreneurs. Find and schedule a call in minutes.
Anthony's Mountain
Because we believe that the best way for entrepreneurs to get fast, big, and sustainable success is by leading your (new) market category, and the entire entrepreneurial journey reminds me of mountaineering, or conquering a mountain, I want to ask you: Is there a mountain you dream of climbing or a mountain you have already climbed?
My mountain is employing my close friends and family. For me, that was a massive motivation. I started out, I made great money, and I had no one to share it with. Now, suddenly, the close friends and family conversation become around the work conditions.
That's probably the heaviest and hardest mountain I've been climbing and continue to climb.
The best way to connect with Anthony
More resources for Entrepreneurs
Don't Miss – Customer Focus Strategy & Execution: Market Analysis for Fundraising
Hayut Yogev's Latest post: Is the magic that helped entrepreneurs like Jeff Bullas (570K Twitter followers) or Douglas Burdett become leading successful influencers happening again?
Want to learn how to start your Entrepreneurship?
Download for Free

HOW TO START ?
Want to learn how to choose the best Name and Logo? Not sure which customers to focus on right now and where they are? Want to build your website, or trying to figure out how and what content to share on social media?