Ep. 160 – Amy Vernon's "Listen to your customers and talk to them, though that doesn't necessarily mean you have to do everything they say"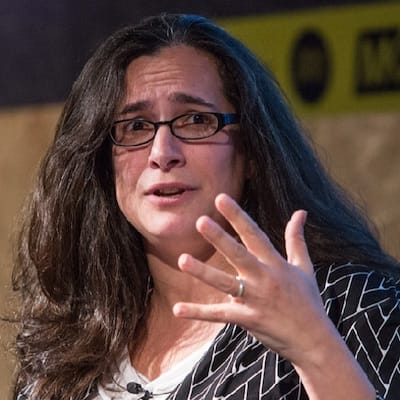 Amy is a digital Swiss army knife. Internationally recognized as an influential voice in the realm of community, audience, and content, she has worked in media, cybersecurity, blockchain, and marketing technology.
Craigslist founder Craig Newmark named her as one of 5 women bloggers to follow, and PeerIndex named her the 15th most influential woman in tech on Twitter.
She was a member of a Pulitzer Prize-winning staff at the Miami Herald and once converted a two-prong electrical outlet to a three-prong grounded outlet without electrocuting anyone.
Most passionate about
I have been working on a couple of projects with a group that worked together, and today I'm talking with a few companies about getting involved with community and audience development, which is the sweet spot where my skills intersect.
The phrase "audience development" came out of the journalism world. You first have a product, which is the journalism, and then there is the audience, which you want to develop to read and watch the product.
Audience development, as I see it, is looking at your users from a new point of view—thinking differently. On social media, companies start to look at their customers more as fans, followers, and community. It's almost like you're entertaining them today.
Customer development is similar to community management but it's more typically for media.
I believe that, as a result of these times, we are going to change in terms of the business world and workers—not only because of the Coronavirus epidemic, and not only in a good way. An epidemic is awful, but I hope we come out of this with more empathy.
Amy's career and story
I started as a traditional journalist quite a long time ago. During the recession of 2008, there were many layoffs in journalism. I decided that I wouldn't go back to traditional journalism. Social media had just started and I was a power user of Dig, StumbleUpon, and Facebook. After just a few months, I was getting around 50%-60% of my old salary as a manager. I thought, 'This is new, this is interesting. Let's see where it can go.'
As a reporter for The Miami Herald, I was recognized as the only reporter who lived in the community. I was more trusted because I was somebody who actually lived there.
The main difference between being a journalist versus the new social media publishers is that journalism is always about the news. It's commercially packaged, but its main purpose is to inform the community. Otherwise, you would lose readers, and if you lose readers, then you lose the advertises. Meanwhile, as a business, having a great blog, at the end of the day, is about the company—either for branding or marketing or sales, but it has a different purpose.
Amy's best advice for entrepreneurs
Listen to your customers and talk to them, though that doesn't necessarily mean you have to do everything they say. There is a very fine balance between listening to your customers—your clients and your followers—and being too distracted by that.
Biggest failure with customers
It's kind of a challenge because I tend to learn from failure and then put it behind me, so I don't see it as a failure anymore.
I think my biggest failure was with the company that I co-founded. I definitely learned from that. We had very different ideas about how to build the company. I think we were both aware of that but maybe we didn't realize how far apart we were.
My partner thought we had to get to a certain number of clients in 12 or 18 months, while I thought that, to get to this number, we should get just a couple and perfect the aspects that we needed to perfect. The wrong thing was that we acted like this didn't matter when, the truth was, we never could overcome the differences.
Biggest success due to the right customer approach
It was when I was working at The Daily Dot. I was Director of Audience Engagement. The Daily Dot covers a wide variety of internet things. We had a team that managed social media and SEO—those sorts of things. I used to look at the data and try to find engagement patterns. We had a reporter who covered all the memes that people used to upload, and who explained what they meant.
I started to notice that every time we wrote and published people's memes, they became very upset about it and sent many messages to our Facebook Messenger—that it was awful, we were horrible, and the like.
At some point, I started responding very whimsically to some of them. I responded with a silly Facebook sticker or something like that. They were really surprised at first. Then someone wrote to us: "You know, you are special. We send these complaints all the time to BuzzFeed and other publications and you are the only publication that responded to us." And then people started to wait for that. Sometimes they even wrote, "I sent it only because I want a sticker."
What happened next was that some people directly sent us their meme and asked us to write about it—and we did. At some point, people started to share actual news stories with us. That was great because people who used to complain and write awful words about us suddenly started to share legitimate stories with us—just because we took the time to actually respond to them.
Most recommended technological tool
This is a question I'm not sure I have a good answer to. I'm not aware of the sales apps and technological stuff. I think it's really about connecting with your customers—meeting them where they are, wherever they like to connect. If they prefer an email or a phone call, that's the tool you want to use.
Amy's key success factor
I think it's my flexibility. We are in a very fast-moving time and a very uncertain time, even before this Coronavirus crisis started. There have been a lot of economic ups and downs over the last 20 years. And I think flexibility and a willingness to change focus when necessary have really served me well over the years. Each time I had a bump in the road, I was able to turn around and find a new opportunity that I never would have been looking for.
Amy's Mountain
Because we believe that the best way for entrepreneurs to get fast, big, and sustainable success is by leading your (new) market category, and the entire entrepreneurial journey reminds me of mountaineering, or conquering a mountain, I want to ask you: Is there a mountain you dream of climbing or a mountain you have already climbed?
I might have the most unique mountain story for you. When I was much younger, my now-husband and I were moving out of Florida to outside of Phoenix. We took a couple of weeks to drive around the country and hike. We camped at Big Bend National Park in Texas. The tallest mountain in Texas is in Big Bend and we decided to climb it. It's a high mountain but the road was nice. When we got to the top, we realized that it was not the final top—there was a huge boulder in front of us. But we could see a path, and we saw a few people going down, so we climbed it. And it was totally worth it. The top was amazing. It was all rock but with small flowers growing out of it. The thing I will never forget was all these butterflies. It was incredibly surreal. We sat there for a while.
We started to go down and suddenly we realized that it wasn't the side we had climbed up and there was literally nothing below us. Nothing. To this day, all I can tell you is that we made it back down but I don't remember anything from the moment we realized there was nothing below us to when we were back at the car.
That definitely was the most serene and calm experience of my life—and then, 10 minutes later, it was the most terrifying experience of my life as well.
The best ways to connect with Amy:
More resources for Entrepreneurs
Don't Miss – Customer Focus Strategy & Execution: Market Analysis for Fundraising
Hayut Yogev's Latest post: Is the magic that helped entrepreneurs like Jeff Bullas (570K Twitter followers) or Douglas Burdett become leading successful influencers happening again?
Former interview: The worst crisis can drive the greatest success;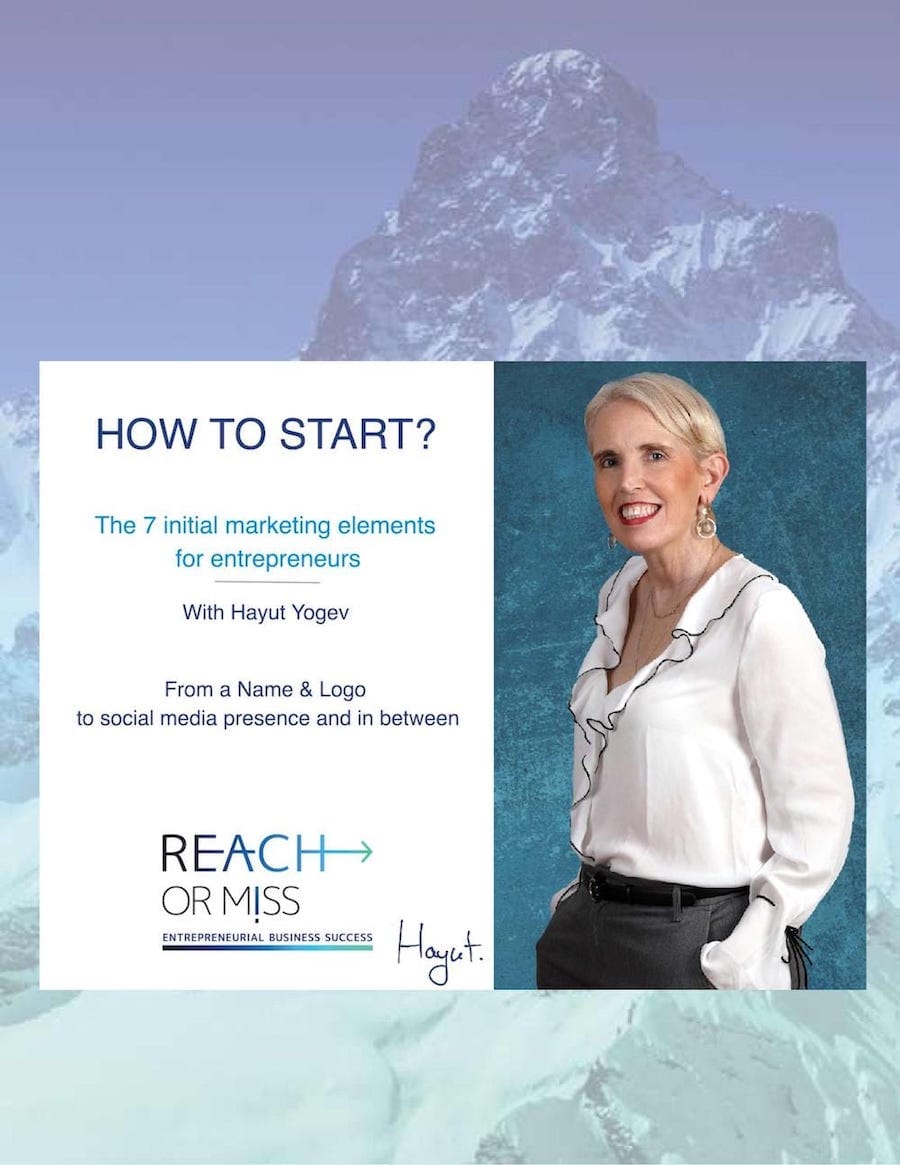 Want to learn how to start your Entrepreneurship?
Download for Free
HOW TO START ?
Want to learn how to choose the best Name and Logo? Not sure which customers to focus on right now and where they are? Want to build your website, or trying to figure out how and what content to share on social media?