Ep. 159 – The worst crisis can drive the greatest success;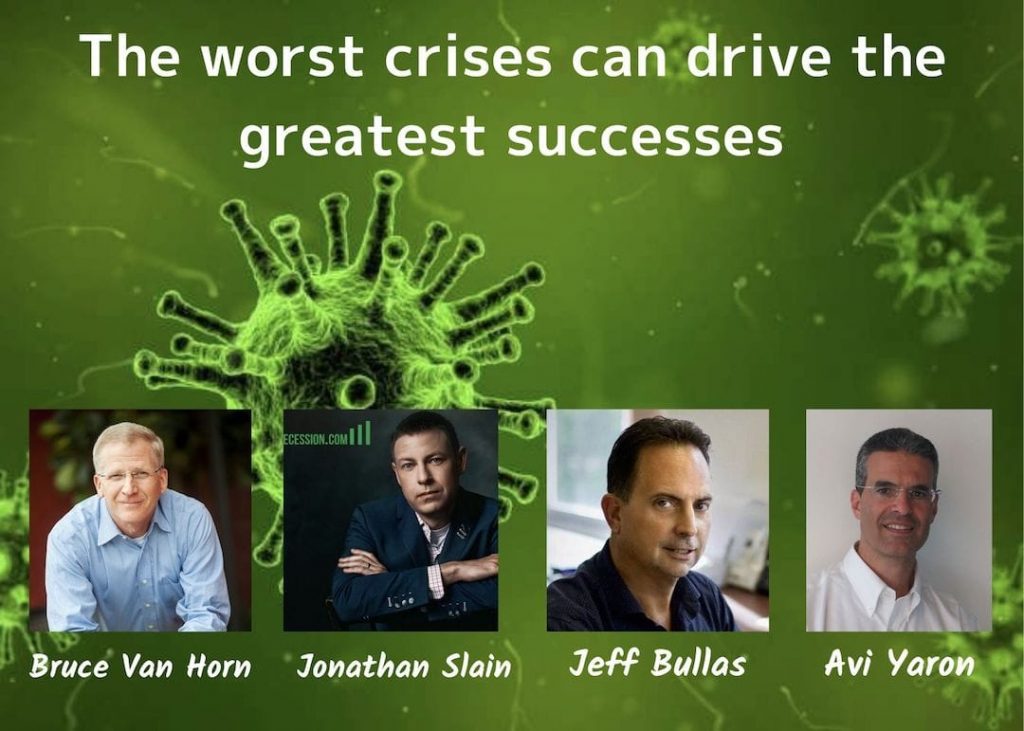 These 4 most successful entrepreneurs started their successful businesses from the lowest starting point
The worst crises can drive the greatest successes;
4 of the most successful entrepreneurs started their journey from the lowest starting point
The Coronavirus crisis is the first global destructive crisis I've experienced in my life. None of my close colleagues and friends experienced such a crisis before.
However, each of us, that is in business for more than 30 years, had experienced a few major business crises at the business or national level.
For me, the first significant business crisis started on September 15th, 2008. I was in Zurich, on my way to a big annual exhibition with one of my startup clients.
I got a call from my bank's manager. A big payment of 25,000$ that was to be deposited into my bank account that day was canceled. It was the day of the Lehman Brothers bankruptcy; the financial landscape changed forever that day.
Over the next few days, two of my biggest clients canceled their contracts.
My company was less than nine months old. I carefully built it step by step with clients I knew and could trust.
It was my first year of being independent after more than 20 years of executive marketing roles in international brands. The situation was totally new to me.
It was a painful failure, and the next few months were incredibly difficult; however, looking back, this was exactly what allowed me to grow so fast in the following years.
In 2010, we closed the first investment of 1.5 million dollars for one of our clients. Suddenly the company was growing faster than ever.
If you asked which of these cases affected my future business success most, it was definitely the failure. Not the success that came afterward.
The Coronavirus had changed almost everything we knew and got used to in the last ten years. It's a shocking, painful event that affects our total daily routine and habits in our personal and business lives.
However, as I learned from some of my most successful entrepreneurs I interviewed on my REACH OR MISS podcast, it can also be a very significant business leap.
Let's hear four entrepreneurs that were able to turn the most significant crisis they experienced to massive success, and what was their secret of getting there?  
—————————————-
One of my most surprising and exciting interviews was with Bruce Van Horn.
I think it is an amazing story, not only because the tough experiences Bruce went through, but because of his journey to reach a meaningful fulfilling level of success.
Bruce Van Horn survived stage 4 prostate cancer, the death of his daughter, a divorce, and 2 bankruptcies

 Bruce Van Horn is a bestselling author, speaker, thought leader, transformational life coach, business and leadership  , marathon runner, and cancer conqueror.
Bruce hosts the "Life Is A Marathon" podcast, which has millions of listeners in over 210 countries around the world. Bruce is passionate about sharing his life experiences and respected insight to help people overcome their negative thinking and limiting beliefs, and develop a winning mindset. Bruce loves coaching people to become the fullest expression of who they were created to be. He lives in Richmond, Virginia.
Bruce's story
I'm an executive and life coach, as well as a business and leadership consultant. I survived stage 4 prostate cancer, the death of my daughter, a divorce, and 2 bankruptcies. I had a bankruptcy that happened a couple of years after my daughter's death, just before my divorce; I was at a low point of my life and I hated everything about my life.
The change started through the process of running a marathon. I learned so much about myself and what was holding me back.
I was in total victim mode in my life. I had a long list of everybody and everything that was responsible for what went wrong with my life. And I wasn't on this list. And what I've learned through the marathon training is that if you aren't successful at training for your marathon, the only one to blame is you. Personal accountability and personal responsibility are the only way to run a marathon. You can't blame someone else. And I realized the number one problem I had was a thinking problem.
My brother, who got me into running marathons, said the hardest part of running a marathon is making the decision to do it. And he was right, but I misunderstood him. I thought it's a decision you make once, but actually this is a decision you have to make every single day of your life; to get up, to do the things necessary to become the person that you believe that you are capable of becoming.
And when I saw how it transformed my body, I started to apply that philosophy to every area of my life, so my finances started to turn around after my second bankruptcy, my relationships got better; I started to enjoy my life.
People noticed I'd changed and asked me about it, and I told them. And one day I got an invitation to be someone's life coach (which I even didn't know what that was). It worked very well and I found out that was my gift; working with people on their mindsets about their businesses and their life. That's how I got to what I do today.
I've been doing it for six years. I had to take a year off in 2014, I was diagnosed with stage 4 of prostate cancer, and the treatment and surgery had a lot of complications. I had to focus on recovery and I had to focus on my mindset.
When I was focusing on my mindset, I realized we always get more of what we focus on. It's all about what you believe you are capable of. And from that place, there are no obstacles. This is what I always tell the businesses I work with: you have to forget about competition; you have to focus on creating your thing.
—————————————
My next guest that managed to build success is Jonathan Slain.  Jonathan not only managed to win the crisis, he went through; he used the cause of the crisis he experienced to be the main idea of his successful business.
Jonathan Slain a financial expert, had to borrow a quarter of a million from his mother-in-law.

Jonathan Slain's book, "Rock the Recession: How Successful Leaders Prepare For, Thrive During, and Create Wealth After Downturns" came out in September 2019 and is a #1 Amazon Best Seller.
Jonathan coaches high growth leadership teams across the United States to implement the Entrepreneurial Operating System® also known as "Traction." He focuses on working with entrepreneurial niche/specialty firms and large corporations ($10M+ in annual revenue), spending over 100 days per year working with teams just like yours.
Jonathan was Valedictorian of his graduating class and had the highest GPA ever in the history of Shaker Heights High School, where he was also voted "Next Bill Gates and Least Likely to Lose his Virginity."
Jonathan's story
My day job involves consulting work. I started my career in investment banking, so you could say that I'm a recovering investment banker. At some point, I realized that making $80 to $100 a week for somebody else wasn't a fair play. So, over a decade ago, I left investment banking and started my entrepreneurship.
I took a trip to Denver with my brother-in-law, who wanted to start a franchised business. I was the family's "business person" and he wanted my advice.
I loved the idea and on the flight home, we decided to get into the gym business together. I left banking and we started to build gym franchises. We grew to have five locations in five years all over Cleveland and Ohio. And we kept growing; we set records for the franchises.
Then, the great recession of 2008-2009 hit. And I learned a lesson: that the worst thing to sell during a recession is personal training. Nobody wants to buy personal training in a recession and we didn't have a plan.
Fast forward: We were able to get through the great recession only because I borrowed a few dollars (a quarter of a million) from my mother-in-law. Within three years, I paid her back.
I started to help people grow their businesses with consulting. Three years ago, my brother-in-law bought me out of the gyms so I could focus on the consulting business.
I've been doing that for the last three years. Recently, I started to get nervous that my clients weren't prepared for the next recession. That's what got me into where I'm heading: I put out my book Rock the Recession. Now I'm trying to get the word out so that other entrepreneurs and business owners can rock the recession.
Biggest failure with a customer
This is an easy one for me. It was letting myself get into a position where I had to borrow the quarter of a million from my mother-in-law. The worst part was I didn't borrow it all at once. It was actually 12 phone calls. I kept calling and calling and calling every two weeks to ask for another loan.
I had a big decision to make about whether to put this story into the book. We actually wrote two versions—one with the story and one without it. Eventually, we decided to introduce the story on the front page of the book. I was worried about how it would affect my customers and potential customers. However, my customers were very supportive, and I gave a copy of the book to every new customer, so it worked out for me.
Biggest success due to the right customer approach
It comes down to several of the companies I work with having their record year this ye My biggest success is the ability to be truly honest and to deliver that perspective from outside the jar that they can't get internally.
—————————————
I heard the story of Jeff Bullas at least twice; once from Jeff himself, in his fascinating interview on my show, the same story you will hear next. The second time, I heard the story from Mark Schafer who used Jeff's story as an example of finding yourself in a low point of your life and leveraging it to the top of the world by becoming a known influencer in your field.
Today, Jeff is one of the most awarded social media experts with more than 570,000 Twitter followers.
Jeff Bullas

Jeff is a digital entrepreneur, marketing blogger, keynote speaker, digital strategist, consultant and bestselling author.

He works with companies and executives to grow their online personalities and businesses through social, digital, and marketing automation.
His blog is found at jeffbullas.com and receives over 5 million visitors a year. He has spent most  of his business career involved with information technologies, telecommunications, and the web.
#1 Content Marketing Influencer, Social Media Marketing Strategist & Speaker
Listed on Forbes as one of the "Top 10 Social Media Influencers"
#1 Global Business Blog
Jeff's story
At the time, I was actually unemployed; a few weeks later, I got a job at a digital agency where we built e-commerce sites for companies, but I continued to write and create content and share it.
My company started as a passion project. It started with reading David Meerman Scott's, "The New Rules of Marketing and PR" in 2008. He talked about the power of content to attract the audience instead of having to chase them with outbound or cold calls and other tactics that have been around for decades.
David Meerman Scott's concept of sharing content sounded like a good idea, because most businesses used cold calls. I came upon Tim Ferries, who I worked for, and he liked the idea and the last piece of inspiration came from reading a blog post on HubSpot saying that if you don't have a clue of what to start a business on, start a blog… "What's a blog…?" So I discovered that a blog was just a place to create and share ideas with the world and the topic was inspired by my observation about what was happening with social networks; everyone was obsessed with Facebook, Twitter, Pinterest, and Instagram; the topic that I started creating content around was social media and the tech world.
Three and a half years ago, I started to focus on my blog, so the "Passion Project" became a full time business and it's been growing ever since; we have been having so much fun and it doesn't even feel like work. We've built a virtual team; we have editor, we have a marketing manager, we have copywriters, a tech guy, and a marketing automation person.
—————————————
My last guest on this show is Avi Yaron. Avi is a friend who I had the pleasure to meet more than a year ago when an investor I met with told me I must meet with him. His fantastic story is probably one of the most inspiring stories I heard during my last three years interviewing amazing successful entrepreneurs for my podcast.
Hoping to find a cure for his own brain tumor, Avi Yaron Invented a 3D solution for brain surgeons
Avi Yaron is a visionary entrepreneur, Executive Chairman, and strategic adviser with extensive knowledge of medical / Neuro technology arenas.

Passionate about disrupting medicine, for enhancing life quality, and utilizing advanced technologies.
Invented, founded, and led disruptive companies targeting un-met needs. Envisioned "emotion based personalized predictive preventative solutions" (see TEDxAmsterdam talk), set strategy and led Joy Ventures, to pioneer and cultivate a Neuro-Wellness consumer product ecosystem.
Avi's story
At the age of 26 Avi got into a motorcycle crash, he rushed to hospital, only for doctors to tell him that they had also discovered a brain tumour close to the area related to movement and conscious thought.
Even if operated upon — the doctors said — the tumour would change his life, leaving him potentially paralysed down one side of his body. The best case scenario, doctors said, was that Yaron would live — but his life would be changed forever, both mentally and physically. "I was definitely in a state of shock," Yaron told WIRED2015 at London's Tobacco Dock. "But I was not sure [the doctors] were completely honest and open with me."
That's when he decided to invent his way out of the problem. "I decided to fight for my life," he said. "I went to the medical library and started learning, anatomy, biology and much more, every time I thought I understood and took one step forward I was slapped and took two steps backward. The worst part was that everyone around me thought I was insane."
Avi changed his life routine and believed the tumour would shrink. But every four months he had an MRI, and every time it showed the tumour had grown. Forced to resort to surgery, Yaron started to recover. But follow-up scans showed that the tumour remained — and doctors said that the technology to fully remove it did not exist.
The problem was that the scopes used for brain tumour operations — the instruments that allow doctors to see inside the brain — need to be small. Too small, at that point, to see in three dimensions, which Yaron said would give doctors the ability to fully remove his tumour. "Maybe someone will invent [technology] in five years," they told him.
That wasn't good enough. "I invented the solution," Avi said, explaining how he founded Visionsense in 1998 and spent nine years developing a new scope inspired by the structure of insect eyes to look into the brain in 3D. That scope contains hundreds of thousands of tiny, micron-sized elements that together produce live 3D images for surgeons, as they operate. Studies are now starting to show these 3D images can make a real difference to success rates of surgery — though other research is ongoing. "The technology works and saves thousands of lives globally now," Avi said.
VisionSense was a phenomenal success it was acquired by Medtronic and now saving many lives worldwide.
Yaron left Visionsense in 2013 had a new dream – to take a leap into the burgeoning business of "neurowellness."
During the course of his own illness, Yaron became convinced that Western medicine "disregards the emotional aspect" and that patients "who manage their anxiety and stress live longer with improved health." The future of medicine, he says, is in "developing predictive, preventative systems based on emotional factors. That's my challenge now."
While Yaron hasn't stopped innovating, he has found time to volunteer, coaching other patients with brain tumors. While he doesn't give medical advice, his condition taught him "a lot about humility," he says. "I'm here to serve."
I asked Avi what he see as his biggest success?
My team consists of 20 employees, mostly PhDs, that were able to overcome the various technological, physiological, packaging, and pricing barriers that before then were considered impossible. They made the impossible happen. I just gave them a hug and served them good espresso. If you ask me what is my greatest achievement, it's being able to orchestrate all this and to save lives worldwide.
Complementary bibliography to Avi's story
Israel21c – Hoping to save his own life man designs new surgical tool
Forbes – The young engineer his inoperable tumor
—————————————
Summary
I hope you enjoyed and got inspired by these stories.
So, If you are an entrepreneur that worries how you can recover from this crisis and ask your self is there any chance for you to reach the business success you wish for, I warmly recommend you to listen to the full interviews with Bruce Van Horn, Jonathan Slain, Jeff Bullas and Avi Yaron.
Listen to the full episodes:
More resources for Entrepreneurs
Don't Miss – Customer Focus Strategy & Execution: Market Analysis for Fundraising
Hayut Yogev's Latest post: Is the magic that helped entrepreneurs like Jeff Bullas (570K Twitter followers) or Douglas Burdett become leading successful influencers happening again?
Want to learn how to start your Entrepreneurship?
Download for Free

HOW TO START ?
Want to learn how to choose the best Name and Logo? Not sure which customers to focus on right now and where they are? Want to build your website, or trying to figure out how and what content to share on social media?