Ep. 168 – Katherine Parker Magyar is a travel writer entrepreneur who traveled to 6 continents, 63 countries, and all 50 states in pursuit of a good story.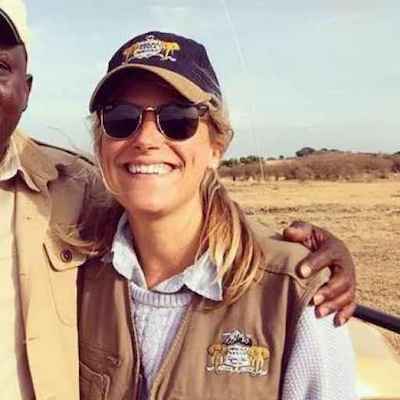 Katherine is a travel columnist for Forbes, and TripSavvy; and her work has appeared in many publications like Architectural Digest, The Week, The Daily Beast, and Business Insider, and more.
Katherine Parker Magyar is a New York-based writer with a focus on travel, culture, and adventure—and a preference for far-flung-locales.
Katherine is a travel columnist for Forbes, as well as the Caribbean expert for TripSavvy; her work has also appeared in Architectural Digest, The Week, The Daily Beast, and Business Insider, among other publications. She has traveled to 6 continents, 63 countries, and all 50 states in pursuit of a good story.
Most passionate about
Today, I'm in lockdown. However, I've had amazing experiences while I've been traveling pretty much non-stop over the past two years. I visited 41 countries in 23 months, and I saw so much and moved so quickly, it almost felt normal. Being forced to slow down and take stock of everything I've seen, what I took away from everything … it has been a fortune to be forced inside and reflect.
I tracked every single travel experience that I had. It helps give me a broader, nuanced perspective on the places I've been and the people I've met.
I think that traveling is automatically like a force for good. There is a quote by Mark Twain: "Travel is fatal to prejudice, bigotry, and narrow-mindedness…" He said: "Broad, wholesome, charitable views of men and things cannot be acquired by vegetating in one little corner of the earth all one's lifetime."
When I was traveling, I felt like I was constantly getting affirmation of the goodness of society and people. I started scrapbooking. I took all the photos, the letters people wrote to me, the stories I've been written, and started compiling them and reliving those experiences.
I think now more than ever, people need stories about the good that is happening in the world. It's easy to be pessimistic and fall into desperation about everything that is happening now.
So, what I started to do, and what I'm most passionate about today, is compiling all the stories of the last two years into a book.
I had such amazing experiences. I felt history come alive for me and I felt so inspired by it. I like to explore.
Other travel writers told me, "You need to focus. You can't go for only one morning, or only for a week to Kenya. You need two weeks, or you need at least 10 days to go to China. You can't go to China for only five days." But I disagree.
At the end of the day, you have only one life. If you keep waiting to have the perfect time, and the perfect amount of money, and the perfect schedule, you'll never go.
Katherine's career and story
I hope my story inspires people who think, 'Maybe it's too late for me.' I had always wanted to be a writer. I just love writing. I feel it comes naturally to me.
Travel is another passion of mine. I always wanted to share my travel experiences with people.
I'll tell the story of how I started my entrepreneurial journey. In college, I was an English major and I loved it. After college, I wanted to become a teacher and a professor. I wanted to become a poetry professor, an American Poetry professor.
I didn't want to start teaching right away after college, so I got a job in advertising. It was 2009, at the end of the recession, and it wasn't easy to find a job. That was the first step, and I think that every step along the way makes sense ultimately.
There were advantages to working in "corporate America" and to making money, but I wasn't passionate about my job. I guess that's why I wasn't so good at it. I was afraid that I wouldn't reach my dream of becoming a writer. After a year, I was fired because, as I said, I wasn't passionate about it and wasn't good at doing it.
I applied to my master's degree in English Literature. Of course, everyone told me, "This is so 'down.' Why should you do it?" But I knew that this was the right thing for me. I started to study at The New School in New York City.
When I graduated, I was writing a book and I got a job at Audible. However, I felt that I had to leave my job and try to concentrate on writing. Otherwise, for my whole life, I would regret not giving it a chance.
I left my apartment in New York and moved back home to live with my parents. I applied for different jobs as a writer or editor. I didn't get the jobs but they were telling me – "You can write for us."
I started to write for different publications, and It was so right for me because I made a name for myself by my own hustle and motivation which was driven by passion. Every time I had my story published, I felt immense satisfaction. So, two years later, I'm traveling around the world as a travel and culture writer and editor. I've been published in Architectural Digest, The Week, Forbes, The Daily Beast, Business Insider, TripSavvy, and many more.
Katherine's best advice for entrepreneurs
My first piece of advice: Some people think they have to fake it until they make it and that part of faking it is to act like they have to be someone else or like they are very important already.
I respond to every pitch email that a publicist writes to me, to this day. I respond to every one, and I'm open and excited and polite. That goes so far in terms of making people want to work with you.
You want to be someone whose work people like—which is, of course, a huge part of it—but also someone whom people feel comfortable connecting with.
People can tell if you care, and that starts with doing your job properly. Seventy percent of that is being someone whom people like to be around. Be excited by the opportunities that are given to you.
My second piece of advice: if you want to be a writer (or anything else), don't let anyone else decides if you'll be a writer or not. And nothing is too small; don't be discouraged if you are writing for a blog that only 25 people read. Maybe one of them will be a publicist who will open a huge opportunity for you.
That's what happened to me. I was discovered by the travel world because a travel magazine editor read an article I wrote about break-up messages. She went to my site and saw 70 stories I had written about traveling (and I was writing most of them for something like $10), and then she asked to meet with me. I mean, don't wait to start only when The New York Times knocks on your door.
And my third piece of advice: If you are going to become an entrepreneur, make sure it's a space you love. There is a risk and maybe some sacrifice, to give up your comfortable nine-to-five work.
Biggest failure with customers
That's easy. My failure was not taking the first step. I wanted to become a writer. I was such a cliché; I was a writer who denied it. I was working in advertising and I thought, 'This job is for me. Writing is less glamorous and without the big ad fees.'
I couldn't imagine myself being a writer, even though on some level I knew that I was good at it. I had a feeling that no one would read it. In the past, I wrote about poetry; in college, I wrote like a poetry major and not everyone wants to read about poetry.
I think that people get embarrassed by their dreams because they are afraid that they will never achieve them. At least that's what I felt. But I also thought it was embarrassing to not be doing what I wanted to do.
Biggest success due to the right customer approach
I just started travel writing. I went to Hawaii and Mexico, I went on a couple of trips. I would take any trip. When you are an entrepreneur starting your business, I recommend that you take anything to build your name and reputation.
I already knew that travel writing was what I wanted to do. I talked to a woman who works in travel—she is a mentor of mine—about our dream trips. I said, "I'm dying to go to Kenya." She said, "Oh my God, I work with Kenya Airways and we are just about to take journalists and bloggers on a trip from New York to Nairobi."
I had just started and I wasn't sure how I could join this trip. Then I got the trip invitation and was so excited. I went to Kenya and it was the most spectacular trip of my entire life. When I came back, it was very important to me to use this Kenya opportunity to lift up my entire business as a travel writer.
My piece about Kenya was very successful and got a lot of feedback. Then I started to get emails from people who work in travel. I cried when I received these emails.
Most recommended technological tool
Squarespace is great.
However, I think that for every and any entrepreneur, building your own website is a must. Your website is you. It's a footprint to your life. Having a professional or enthusiastic website will open doors for you.
Another thing I would like to recommend is to color-code every email from a new sender according to its connection—like a color for clients, a color for providers, another color for your family stuff, for your personal life, etc.
My last recommendation is Grammarly—a grammar app that edits and corrects your writing. It's a God-gift.
Katherine's key success factor
My key success now was my key lack of success earlier in my career. The career I'm in now is a place where my natural personality is appreciated. The corporate world wasn't natural for me. That's why it didn't work for me like being a travel writer does.
Katherine's Mountain
Because we believe that the best way for entrepreneurs to get fast, big, and sustainable success is by leading your (new) market category, and the entire entrepreneurial journey reminds me of mountaineering, or conquering a mountain, I want to ask you: Is there a mountain you dream of climbing or a mountain you have already climbed?
Growing up, we used to go camping in the Grand Tetons in Wyoming. On top of the glacier, there was a frizzing lake that was zero degrees. My mom just took off her clothes, went into the water with her swimming suit, and then called me. She said, "Kathi, come to the water. You don't want to be the girl who doesn't get into the water." (I keep thinking about this sentence every time I need to overcome some physical challenges.) My mom and I lay in the lake, with the mountains above us, and my mom said, "It's moments like this that you believe that God exists." And I have never forgotten that—that sense of childlike wonder and joy. I think it's the happiest, purest, and most rejuvenating moment in the world.
Katherine's recommended travel articles:
The best way to connect with Katherine:
Join our Facebook Groups
More resources for Entrepreneurs
Don't Miss – Customer Focus Strategy & Execution: Market Analysis for Fundraising
Hayut Yogev's Latest post: Is the magic that helped entrepreneurs like Jeff Bullas (570K Twitter followers) or Douglas Burdett become leading successful influencers happening again?
Former interview: The entrepreneurs that choose to make this world a better place
Want to learn how to start your Entrepreneurship?
Download for Free

HOW TO START ?
Want to learn how to choose the best Name and Logo? Not sure which customers to focus on right now and where they are? Want to build your website, or trying to figure out how and what content to share on social media?