Ep. 148 – Dr. Ai Addyson-Zhang key success factor: "Action! Taking action. There is nothing more powerful than taking action."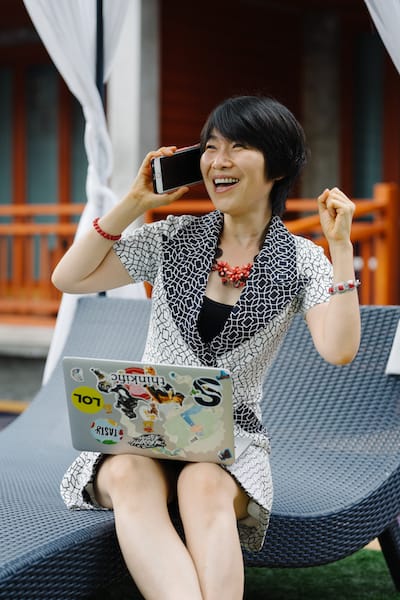 Dr. Ai Addyson-Zhang is an educator and entrepreneur. She received her MA and Ph.D. in Communication from Syracuse University and the University of Maryland in the U.S. Ai is the founder of Classroom Without Walls, an independent and progressive school that helps young adults become future-ready. She is also an Adobe Education Leader, HubSpot Academy Instructor, and SEMrush webinar host. Ai's work has been featured in Forbes, Inside Higher Education, Pearson Education, and Mark Schaefer's book, among others. Ai hosts two weekly live streaming shows, in which she interviews thought leaders in social media and education, such as Seth Godin, Mark Schaefer, and Neil Patel. She frequently speaks at academic and industry conferences including VidCon, Global Marketing Day, Global Digital Marketing Summit, Social Media Week Lima (the largest social media marketing conference in the Midwest), and others.
Most passionate about
For 10 years, I was a professor of communication and public relations at a few universities. Later, when social media became more popular, I started to teach more social media and personal branding classes.
In May 2019, I resigned from my associate professor position to build my own school. That's what I'm working on now.
After teaching in higher education for so many years, I started to notice that our educational system is not really preparing children for the future. In that educational system, we are using a very old model to prepare our children. That hurts me as an educator. I love learning. I love reading.
I feel like I can better prepare the next generation based on what I have learned from my personal experience as an educator, from the books I've read, the conferences I've attended, and the people I've worked with.
There are many important missing links that aren't being emphasized in the traditional model. Like, for example, digital storytelling—our ability to talk to the camera, talk to a computer, engage in a podcast interview, clearly articulate ourselves in the digital age.
To me, that's as important as reading, as writing, as sport. Our students are using technology at only a very superficial level. That's how I started and was inspired to build a better school.
School Without Walls
The best education takes place outside the classroom. If we think about our students … they feel so lost. That's something I hear a lot from parents, who are my target audience. They tell me that their children have no idea what to do, even though they spent a lot of money on their kids' education.
Students are learning facts and information but that's not where transformation is going to happen. Transformation happens through applications. And most of the time, in real life, applications happen outside of the class room.
We believe—the coaches and I—that the best education happens outside the classroom. A big part of Classroom Without Walls is utilizing technology and digital devices to break down the learning barriers.
My official starting date was last year. I brought Google students to Singapore for an immersion program. It was a life-changing experience for the students, for the parents who came, and for the speakers. We cried every single day—tears of joy, tears of pride. Seeing the transformation in the children, in front of our eyes … it was a very emotional experience for me.
I'm an advocate of taking action. I think that planning is important but how much can you plan? I had the idea of making the immersion into my school. From ideation to implementation, it took only four months.
The next program will be a three-month program, including the immersion in Singapore.
Dr Ai's best advice for entrepreneurs
I love this question! My piece of advice is to really get to know your customers. I made so many mistakes. I thought that because I knew the students, I knew the parents.
This year, I'm trying to get to know my customers. What do they love? It's not about what I love. Now I interview parents regarding their top frustrations and their concerns about their children's future. I'm learning so much to the extent that I'm giving my program a different name. The original name was Entrepreneurship Immersion. However, I learned from parents that they don't care if their children are entrepreneurs or not. What they want is life skills training. They told me, "I don't care if my kids are an entrepreneurs or not. I want them to be happy, to have the important life skills," So now my program will be "Life Accelerating Program."
Biggest failure with customers
I think the biggest one is undercharging myself. Education is a service industry, so I never felt comfortable talking about money. Now I have to charge money for my work, which is very hard.
I didn't charge what my work was really worth and I did work for free, saying yes to anyone who asked for free help to the extent that I was hurting my business. I need to bring income into the family, so I'm learning to say to people, "I don't want you to tap my brain but you can book me. This is what I charge." I'm learning to feel OK with saying that.
Biggest success due to the right customer approach
I've been hosting my live streaming show for a while and the content I'm sharing is doing the marketing for me quite effectively. People who listen to my show regularly come to me to ask for coaching services or to book me to host a live streaming event for them.
Understanding what I'm good at—which, in my case, is being a live streaming host—helps me position myself and attract the right audience, especially people in the education space who ask me to host live show events for them, or talk about using technology to break down traditional school and learning physical barriers.
Most recommended technological tool
For me, one thing that works well is video content. Thanks to video content, I get clients and speaking gigs. Brands like Adobe and HobSpot … they all came to me. Without video content, and especially streaming video, I wouldn't have been able to grow as fast as I did.
We want to work with human beings. What a better way to humanize your brand than through live streaming and video content?
Dr. Ai's key success factor
Action! Taking action. There is nothing more powerful than taking action. Action has given me so much clarity. We all want to plan and make it perfect the first time but action brings us closer to perfection. Action is our best teacher. You can learn so much from reading a book, from listening to podcasts, from taking a course from an influencer, but if you don't start implementing, nothing will happen.
Dr. Ai's Mountain
Because we believe that the best way for entrepreneurs to get fast, big, and sustainable success is by leading your (new) market category, and the entire entrepreneurial journey reminds me of mountaineering, or conquering a mountain, I want to ask you: Is there a mountain you dream of climbing or a mountain you have already climbed?
I think that right now I'm actually building a mountain and climbing it at the same time. This mountain, to me, is the solution to many educational problems and encourages people to love learning. What I'm doing is not something that is there yet. I don't see many others doing what I'm doing, and it's so new, so there is no mountain for me to climb. I'm building my own mountain.
The best ways to connect with Dr. Ai
Dr. Ai's shows:
One show focuses on social media marketing. It airs every Wednesday at 5 p.m. EST. For all of my shows, I go live simultaneously on YouTube, LinkedIn, Facebook, and Periscope.
My second show is inspired by my interview with Seth Godin. It's called "What Is School For." It's every Friday at noon EST on all of these channels.
Dr. Ai Social Media pages
More resources for Entrepreneurs
Don't Miss – Customer Focus Strategy & Execution: Market Analysis for Fundraising
Hayut Yogev's Latest post: Is the magic that helped entrepreneurs like Jeff Bullas (570K Twitter followers) or Douglas Burdett become leading successful influencers happening again?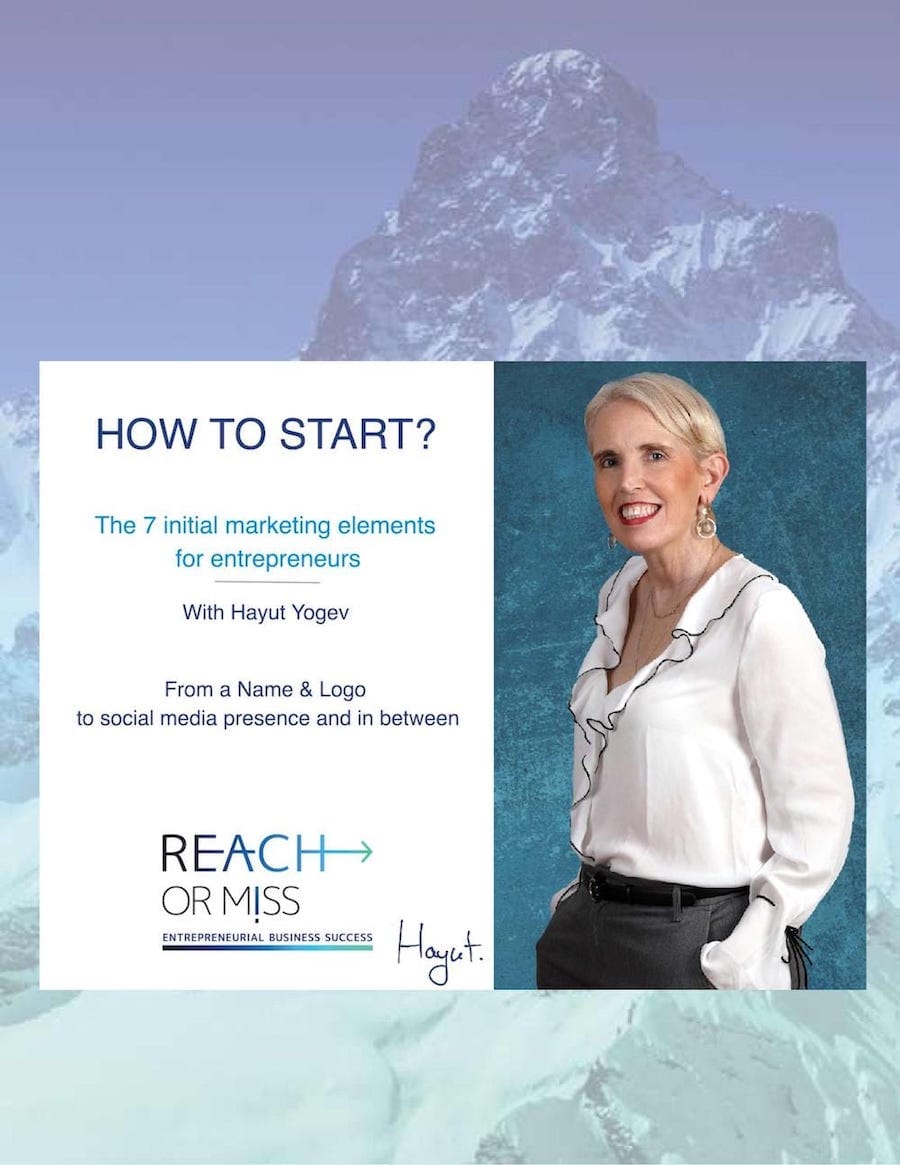 Want to learn how to start your Entrepreneurship?
Download for Free
HOW TO START ?
Want to learn how to choose the best Name and Logo? Not sure which customers to focus on right now and where they are? Want to build your website, or trying to figure out how and what content to share on social media?