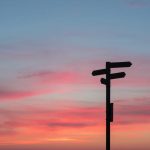 I started my executive professional life at the early age of 27. Since then, I've always been on the companies' boards. Yet, I'll never forget the advice I heard at my first marketing job, from the tough, loud sales manager:
"You can be the best marketer or general manager in the world, but if you can't knock on a stranger's office's door, say hi, and sell them a system (we sold water purifying systems) – you will never succeed in business."
He was right. I learned to sell and since then, most of the business doors I wanted, opened for me.
That was the best advice I received as a businessperson and an entrepreneur.
What was yours?
Keep Reading »