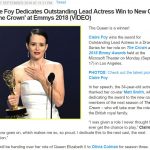 "It was the first time in almost 20 years that HBO didn't dominate the Emmy 2018 Awards. Netflix and The cable channel tied for 23 awards each."
Those who follows me know that I often criticize the startup fever, which is when entrepreneurs and enthusiastic bloggers are more excited about the tens of millions of dollars fundraised than about building a business, gaining customers, and revenue.
Yet, sometimes we tend to forget the tremendous effect of startups on the technology revolution, which has been the biggest revolution humanity has experienced.
Netflix totally changed the way people consume movies and shows. And while it went down the familiar road of fundraising, the company was entirely focused on creating awareness, attracting customers and gaining revenues from its very first days.
Keep Reading »