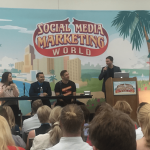 On a Delta flight to San Diego, which is a long 21 hour trip trip to the Social Media Marketing World 2019 for the fifth year.
For me, the SMMW conference enables me to learn and understand where the world of social media is going. There are so many changes to watch and new ways to learn. Social media makes it possible to reach any human being (that uses a social network) directly. Never before on earth have there been channels and tools that enable direct connection between any two people around the world.
Let's look backward for a minute, to 1986. This was the year I joined the world of marketing. Originally, I planned to study engineering, but the stars pointed me in a different direction.
Keep Reading »