Ep. 234 – Vikrant Shaurya's best advice: "start small, think big." in my first business, I was doing the complete opposite and ran out of money in six months…"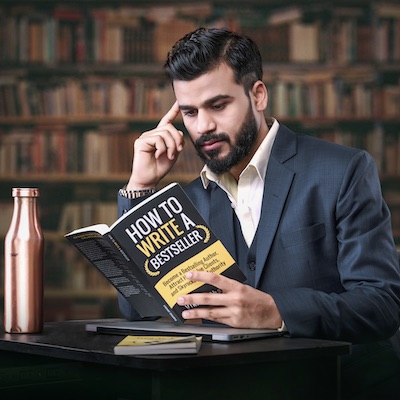 Vikrant Shaurya is the CEO and Founder of BestsellingBook.com. He's also the author of two #1 bestsellers: P.O.W.E.R: The Success Mantra, and How to Write a Bestseller: Become a Bestselling Author, Attract High-Value Clients, and Skyrocket Your Authority.
Vikrant is the most-viewed author for "eBook Publishing" on Quora and is recognized by the National Academy of Bestselling Authors.
Most passionate about
I'm in the book publishing industry, where I help entrepreneurs publish their books.
We help them turn their ideas into best-selling books through "done for you" book writing, publishing, and marketing services.
Vikrant's career and story
Eleven to 12 years ago, I had just graduated from high school and my dad asked me, "What do you want to become in your life?" At that point, I had no idea, no clue. I was 16 or 17 and I had no vision at all for myself. I was just trying to enjoy my life.
I told him that I wanted to be an engineer. I come from India and there is a kind of mentality that if you're not a doctor or engineer, people think that you are a failure.
My dad thought that I was serious about my career and in my life. He sold his land so that I could be admitted to an engineering college.
One day, I found this book by Robert Kiyosaki called "Rich Dad Poor Dad." I decided to do something of my own. The very same day, I dropped out of college. I started looking for a business idea and within a few months, I got one.
I got some loans from my relatives, my seniors, my friends, and started a business that hired a bunch of employees. I made so many mistakes and within six months I had completely run out of money. I was 18 at the time.
Then I discovered self-publishing. This was my introduction to self-publishing or book writing or publishing. I discovered that I could write books, publish books, and make some money out of it.
I started writing books. The first book took just 21 days to write. I published that book and in the first month I made $27 in royalties.
I wrote another book in just three days and published it. I also did some marketing and that month I made around $440.
I started offering a coaching program through Facebook. I also added coaching fees, so I started making some money from that as well. Within one year, I had launched dozens of courses and eBooks and also helped thousands of students with my courses and coaching programs.
Best advice for entrepreneurs
My simple advice would be, "start small, think big."
One of the mistakes I made when I started with my first business was doing the complete opposite. I was starting big and thinking small.
With my current business, I started very, very small. It was a one-person company, and only when I began to see the opportunity, I hire employees one by one. Now we have more than 40 people in the company and more than a thousand freelance partners.
The biggest, most critical failure with customers
We help our clients become bestsellers but one client had this expectation that he would be selling billions of copies of his book.
We take care of the launch for one or two months—like, we start, we do the marketing, we do the promotion, and we do the sales. There was a communication gap as well, which I had, where we mentioned something and he interpreted it as something else.
I had to make a tough decision. We had helped him write the book, publish the book, but because we had some negative reviews, I had to refund him the money. But the thing is, I learned with the process. That's why, whenever a new client comes, we send them a proposal.
Biggest success with customers
A client came to us three or four years ago. He offered a physical product. By this point, [we had been] helping people who were in the information industries, like people who were speakers or coaches, experts, people who had some kind of a messaging story to share. But this entrepreneur came to us with a physical product, like a physical store where he offered a natural solution for curing diabetes.
So, we wrote the book for him and published the book. It became a bestseller and all these things. After six months, when I got connected to that client, he mentioned that he was able to use that book to get on hundreds of podcasts and many television shows. I also was able to double his business within six months, just using his best-selling book.
Vikrant's recommendation of a tool
LinkedIn

One of the best ways to regenerate most of our clients is by LinkedIn sales numbers.

warmer.ai

Just copy and paste the LinkedIn profile link of any person into warmer.ai and hit enter and vision. Usually, within four to five seconds, it creates maybe dozens of personalized outreach.
Vikrant's one key success factor
One of the key factors that have helped me keep moving is persistence.
Don't worry about what will happen, whether it is going to be good or bad. Just keep on moving.
Vikrant's Mountain
Since we believe that the best way for entrepreneurs to get fast, big, and sustainable success is by leading your (new) market category, and the entire entrepreneurial journey reminds me of mountaineering, I want to ask you: Is there a mountain you dream of climbing or a mountain you have already climbed?
I'm not a mountain person. I'm a beach guy. However, three years ago, I moved to a new city after my wedding. It's a really beautiful place. We are surrounded by mountains and rivers. There's beautiful weather over here, throughout the year.
I enjoy mountains as well. Of course, whenever you reach the destination, when you see the view, it is a really great feeling, talking about the journey, the entrepreneurial journey.
First of all, whether you are going on a mountain or an entrepreneurial agility journey, you have to prepare yourself. Second, whenever you go over there, you have to understand that you are going into that path, knowing that the journey could be good, the journey could be bad. But the thing is, you have to enjoy it.
Sometimes rains could come, right? You have to be prepared for that. The thing is, you have to prepare for anything.
So, understand that anything could happen, but you have to keep going, keep on moving in the entrepreneurial journey as well. Anything could come. Maybe you will go bankrupt. You will have no money left. Maybe some of your really great employees will leave. Maybe your relationships could suffer. You have to get yourself mentally prepared for that.
The best ways to connect with Vibrant
Free resource for REACH OR MISS audience: Bestseller Blueprint Checklist
Amazon link to Buy the Book
Want to learn how to start your Entrepreneurship?
Download for Free

HOW TO START ?
Want to learn how to choose the best Name and Logo? Not sure which customers to focus on right now and where they are? Want to build your website, or trying to figure out how and what content to share on social media?