Ep. 259 – The biggest most critical failure with customers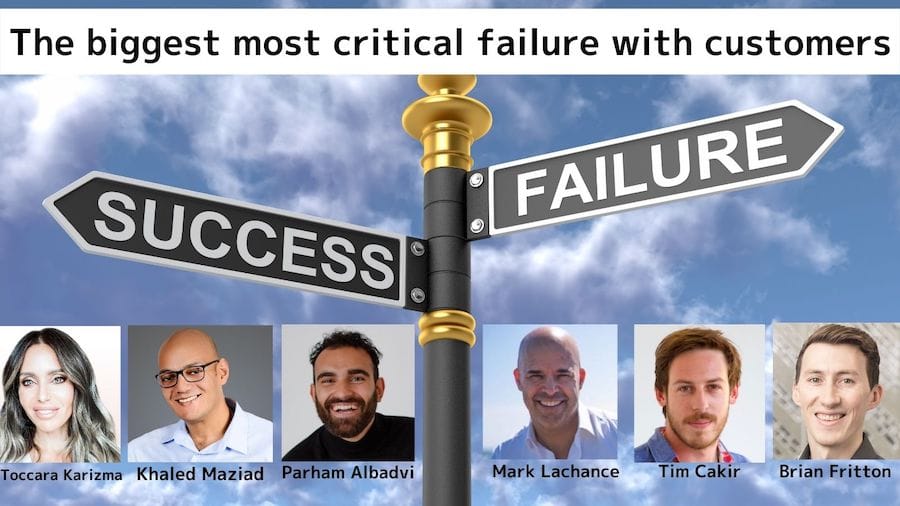 One of the most popular questions on my REACH OR MISS podcast for entrepreneurs is the question about the biggest, most critical failure with customers.
I often think about my biggest failure with customers. It was when I promoted my online course. Five years ago, a short while after I started my podcast for entrepreneurs, I decided to create an online course for entrepreneurs and teach them the secrets of entrepreneurial marketing.
I invested in a rather expensive online course to study how to create my successful course. I learned every aspect of creating the course, and I studied four different ways to promote my course. The expert I learned from about creating an online course had a very clear recommendation about promoting the online course: he warmly recommended not using webinars to promote and sell my course. Webinars are too complicated, he said, and you should use a better, easier way to sell your course. But I didn't listen.
I listened to another mentor who was a great believer in webinars.
On my first webinar, I had 25 participants and not one sale. I had 12 participants and not one deal on the second webinar, and on the third and last webinar, I had 4 participants and not even one sale.
You got it right; my webinars were a total failure, and although I tried again two years later, I didn't manage to use webinars to sell my course.
The reason for my failure: I didn't focus on the one most important challenge of selling my course. Instead, I wasted a lot of energy and time learning how to make webinars.
It took me a while, and I found a different successful way to sell my courses. But this was a fundamental lesson for me.
In today's episode, I chose to focus on the stories of six successful entrepreneurs who shared with me the stories of their biggest failures and what they learned from them. Failures are an excellent opportunity to learn. Don't be afraid to fail; dare to win!!
Khaled Maziad is a marketing consultant who specializes in the Psychology of persuasion and high-ticket sales.

He helps coaches transform their uncharged-non-monetary offer into a high-ticket one without having Tony Robbins like Brand.
He shares his story on struggling to give away his stuff for free to charging high-ticket offers and helping his clients from all around the world do the same.
He is known as the Copy & Messaging Alchemist. He has been featured in FOX as one of 21 Entrepreneurs You Need to Know About in 2021.
He has also been featured in ANLP, Fox, CBS & NBC. Khaled is a professional member of ANLP International CIC, a certified Master of NLP, and holds a degree in Civil Engineering.
Before becoming marketing, Khaled worked with traders and professional fund managers, helping them master their mental edge in trading and life. He also had over 15 years of experience as a Project manager, where he managed multi-million dollar projects on 3 continents.
Khaled lives with his wife and two kids in Sydney, Australia.
Khaled's biggest, most critical failure with customers
One of them was not testing offers before validating them.
I worked on a product once that I was perfecting and I didn't show it to anyone. I didn't get any feedback. I didn't ask anyone if they wanted it or not. I worked for about a month on it. When I put it out there, no one even cared about it. The tool was a really big failure.
| | |
| --- | --- |
| | Toccara Karizma is a digital marketing consultant and business growth strategist. She is the CEO of Karizma Marketing, a full-service digital marketing agency dedicated to growing elite eCommerce brands online through email marketing, social media marketing, PPC, SEO, website conversion optimization, and more. |
Having built her own successful eCommerce business back in 2007, Toccara is now considered one of the world's top eCommerce marketing experts. Her out-of-the-box approach to digital marketing and expertise in the online business growth space is why I've asked her to join me today.
Toccara's biggest, most critical failure with customers
I have a two-fold failure.

The biggest failures are taking on clients without the bandwidth, without the support system that I need. We are in demand and are blessed to be in demand. At some points, we want to take on clients when we just don't have the right support team in place. And that's not a fair thing for us to do because when we do that, we don't give them the best results or the best client experience with us. We want to be the Four Seasons of ad agencies.
The second failure would be taking any client, especially when you're newer. That was when we failed because we weren't working with a partner that had everything in place. It was kind of like putting a Ferrari engine in a VW Bug
My name is Parham Albadvi. I'm a copywriter and brand strategist serving conscious businesses.

I spent my formative years in Iran and moved to Canada eager to work for purpose-driven tech and B2B companies, but soon became disillusioned…
I love working with conscious entrepreneurs – people who share my values and vision for the world. Clients that I feel energetically aligned with, and who believe in making profit and impact.
That's why together with my partner, I founded Mocho and Co, the first full-service digital agency exclusively for conscious businesses and disruptors.
I'm committed to helping businesses of all sizes realize Fred Kofman's vision of businesses "conscious of inner and outer worlds… taking into account body, mind and spirit in self, culture, and nature."
But we can't do it alone. We need a vibrant community of conscious, aligned entrepreneurs – people like you, who know their skills are better served somewhere else… somewhere they haven't found yet.
The biggest, most critical failure with customers
I don't personally view it as a failure, but I do think at the time it was easy to label it as a failure. One that comes to my mind was when I was working at Vidyard. I was doing business development at the time and I noticed that, for a lot of our prospects whom I was reaching out to, I was not getting a high conversion on the outreach.
What I noticed was the power of personalization and your approaches—not approaching customers to sell anything, but just approaching them to add value. Value itself will play a big role in your relationship with a potential customer. You need to develop that relationship and build that trust rather than always looking at it as a transactional relationship.
| | |
| --- | --- |
| | Mark Lachance is a serial entrepreneur, strategic thinker, and investor. He possesses a deep understanding of blitzscaling companies. Having owned and operated several businesses that have experienced hypergrowth through creative business development and lead generation, he is a master of sales and marketing and continues to apply and grow his expertise through current projects. |
Mark is currently the CEO and lead investor of Maxy Media Inc., one of the largest TikTok, Facebook, Snapchat, and Google Display Network performance marketing agencies in the world. Currently, Maxy Media is the number one advertiser in terms of monthly spend on the TikTok platform in Canada and top ten in North America.
In 2016, Mark successfully sold EVO Payments International Canada, an end-to-end payment solutions provider and merchant acquirer which he founded in 2009. He guided the company from its inception with one employee to over 200 employees across Canada. 
Prior to founding EVO, Mark was one of the founding members and president of VersaPay Inc, a payments solutions provider, which was taken public in 2010. Before joining VersaPay, Mark was a founding member of Pivotal Payments, which is now a multi-billion-dollar public company. He helped set the foundation and drive the company's sales and revenues before his successful exit from the company in 2006. 
Mark has made several other highly successful investments in various industries such as payments, cryptocurrencies, marketing, nutrition, fitness, and sports. Over the past twenty-five years, he has invested in and consulted for dozens of other ventures, which have resulted in highly positive returns.
Mark speaks and travels the world with his wife, Sonya, and their two boys.
The biggest, most critical failure with customers
Back in 2006, I was fresh off an exit from one of the companies that I was a founder of and that I was able to sell. I was able to sit on millions of dollars. I mistakenly took those millions and plowed them into real estate.
I remember exactly where I was in 2008, with the financial collapse. You remember the real estate marketplace. I intelligently, at that time, rolled all of my money. I basically put all my chips on red. It went into a real estate venture in 2007, at the height of the market.
The great financial crisis was upon us in 2008. Everything I had was basically out the door. I was on the verge of bankruptcy. I had a colossal failure and depression, anxiety, all that.
| | |
| --- | --- |
| | Brian Fritton is the founder of Havoc Shield, which is a cybersecurity program as a service where he brings the founder's perspective to cy-bersecurity in an increasingly complicated and risk-filled environment. |
Brian has built products and led engineering, design, and IT teams at companies with credentials such as Fortune's 500 Fastest Growing Companies, the Inc. 5000 List, and Entrepreneur's 100 Most Brilliant Companies.
The biggest, most critical failure with customers
In businesses in the past, I've certainly spent less time than I should have on listening to people whom I want to solve a problem for—understanding how painful the problem that I think I'm solving is for them and what problems they have that are related to it and that may actually be more top of mind for them. Without listening carefully, without interviewing people whom you're trying to serve, it's very difficult to build the right thing. And that is how companies die.
| | |
| --- | --- |
| | Tim Cakir is a growth consultant who helps companies, entrepreneurs and students achieve fast and consistent growth. |
Working with 17 startups to date, some of his best achievements include helping two startups receiving 1.7 million euros in Horizon 2020 funding, increasing MRR of one startup from $80k to $300k in less than 18 months and completing projects such as implementation of OKRs, building company dashboards, rebranding and product launches.
In addition to that, Tim's passion for helping people realize their potential to bring their ideas to life means that he also teaches Bachelor and Masters programs at two universities in Barcelona, ESEI International Business School Barcelona and Geneva Business School.
The biggest, most critical failure with customers
I'm going to look at the perspective of when we targeted the wrong customers. In one of the businesses, which was the B2B SAS, we had a technology for e-commerce businesses and targeted the wrong segment. We targeted big e-commerce shops. We were closing deals, but it was very slow.
I think the biggest mistake that I've made was not thinking about different customer segments or testing or experimenting with the messaging to different people.
The best ways to connect with Khaled Maziad
The best ways to connect with Toccara Karizma
Karizma Marketing– ad agency
Toccara Karizma– free marketing resources, marketing blog, consulting, digital courses and more
Social Media Profiles:
Resource Links:
The best ways to connect with Parham Albadvi
The best ways to connect with Mark Lachance
The best ways to connect with Brian Fritton
The best ways to connect with Tim Cakir
Want to learn how to start your Entrepreneurship?
Download for Free

HOW TO START ?
Want to learn how to choose the best Name and Logo? Not sure which customers to focus on right now and where they are? Want to build your website, or trying to figure out how and what content to share on social media?