Ep. 040 – The best advice of Mike Stelzner, Jeff Bullas, Mike Allton, Erik Huberman, Ian Anderson Gray, Douglas Burdett and Jeremiah Gardner.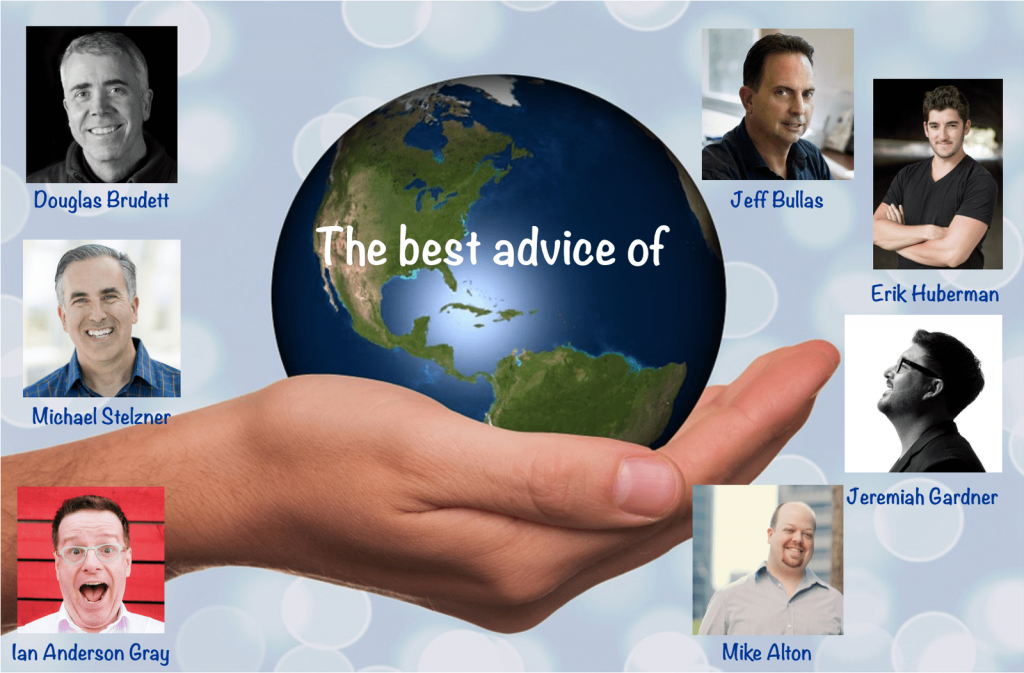 40th Episode's Show Notes
Hi entrepreneurs reachers. We are celebrating our 40th episode! I want to thank you, our listeners, for finding us, for coming back and listening over and over again, for your feedback, and most of all, I would like to thank you for your trust.
My biggest wish, and the reason I started this podcast, is to provide each and every one of you with the most relevant and important content and tools that will help you entrepreneurs, startup founders, and small business owners to gain the fastest, biggest, and most sustainable success through an ongoing, growing stream of leads and paying customers while building your brand.
Having worked in executive international brands marketing roles for the first 20 years of my career and having worked with hundreds entrepreneurs and startups on their global strategy, marketing, and sales for the following ten years, I can tell you that during these crazy times of endless changes, there is one thing that hasn't changed; the way people think, desire, and decide.
Marketing is all about looking at things from the point of view of your potential customers, because the money you are looking for is in their pockets. Once you learn to look at your product or service from your customers' eyes, brain, and heart – the customers and the market leadership will be yours.
In this episode, we chose to walk you through the second round of the best advice for winning your customers, from these seven leaders and most successful entrepreneurs: Mike Stelzner, Jeff Bullas, Erik Huberman, Mike Allton, Ian Anderson Gray, Douglas Burdett, and Jeremiah Gardner.
I never know in advance what will be the best advice from my guests. When we decided to launch a podcast that will be devoted to customer focus for entrepreneurs, I wasn't sure what would come out of these interviews.
There is a huge shift in marketing today, but the amazing thing is that these seven people gave exactly the same advice we got in the first "best advice ever" episode – I invite you to listen to this episode to hear the top advice in 2018.
I first learned about Michael Stelzner in 2009, while looking for some professional information about social media, and was amazed to see all the great most professional content Michael's blog Social Media Examiner was sharing. No one shared much knowledge for free back then. But it wasn't only the fact it was free, Mike Stelzner and his college writers opened a wide gate to this wonderland of social media. I fell in love with this blog and a few years later, I flew 20 hours from Tel Aviv to San Diego to take part in the 3rd SMMW conference and haven't missed that conference since.
Lets listen to Mike's best advice:
Mike Stelzner
Michael Stelzner is the founder of Social Media Examiner, author of the books, Launch and Writing White Papers, and the man behind Social Media Marketing World–the industry's largest conference. He's also the host of the Social Media Marketing podcast, founder of the Social Media Marketing Society, and host of the weekly Social Media Marketing Talk Show.
Michael's best advice about approaching the customers
I think that when you get started, you really need to talk to a lot of people to really understand what their problems are. That could be through going to an event where a lot of people that meet your customers happen to be and talking with them to understand what the customers' problems are. If you already have some people in an email list, you can send an email to them, asking them a lot of questions to understand what their challenges are. But somehow survey or ask what the challenges are, I think it's the number one way that anybody can be successful.
A lot of times we guess we think that everyone is like us, which is totally not true, and we say "if everyone is like me then they would be interested in that," and then we just throw it out to the world and hope it sticks.
The story of Jeff Bullas with social media is kind of a small miracle, it almost seems like the social media world has chosen Jeff to write a blog about it and not the other way around…
Jeff Bullas
Jeff is a digital entrepreneur, marketing blogger, keynote speaker, digital strategist, consultant, and bestselling author.
He works with companies and executives to grow their online businesses through social, digital, and marketing automation.
His blog receives over 5 million visitors a year, is found at jeffbullas.com, and has spent most of his business career involved with information technologies, telecommunications, and the web.
Businesses start for many reasons. Some people have a grand plan when they start; I was on board with a startup, we had one idea which we felt that was great, we raised money, and then the initial idea didn't work, so we pivoted it, tried another idea, kept raising money and that idea didn't work, but the technology we developed as we experimented is now one of Facebook's Innovations. Globally, we have 30 employees and we raised about $5 million. So today, in 2017, we have discovered the sweet spot.
The journey is not a straight line as most startups discover. I have heard some numbers saying that most successful startups has pivoted at least twice.
You have to listen to your market, you have to see what works and what doesn't, you have to quickly innovate, prototype, try, and move on. A lot of startups are now doing SAAS (Software as a service) products and the product is never finished, it's in constant development, so you can never relax. Competitors are on your heels, the market is getting bigger, and more competitors are coming.
Recently I read some research, which said that … the number 1 reason most startups succeed is timing. For me, it was right. When I started my blog, there weren't many bloggers on social media, I got my voice out there, and was heard. I picked the trend early, sometimes you can get it too early – good idea, wrong timing.
Erik Huberman is a live example to the advice our last guest, Milana Leshinsky gave last week; the best is to be your own customer. That way you really know your audience and can serve them best.
Erik is a young, successful entrepreneur, who is the recipient of numerous awards, including 2016 Forbes 30under30.
Erik Huberman
Erik Huberman is founder and CEO of Hawke Media, a full-service outsourced CMO based in Santa Monica, CA that has been valued at $30 million. As a serial entrepreneur and brand marketing expert, Erik is a sought after thought leader. He is the recipient of numerous awards, including Forbes 30under30, Inc. Magazine's Top 25 Marketing Influencers, and a 2016 Telly Award.
Make sure you understand why they need you. What is the purpose behind them wanting to work with you, buy your product, or purchase your service? You need to understand the reasoning behind that, the logic behind that, and the emotional behind that.
I usually say it's good to be your own customer, that's where we've been successful; I had three brands, I hired agencies, I hated most of them so I knew what I was looking for and what I didn't like, so I was able to create that and was able to understand there are a lot of people like me, so it was easy to build.
Founders of most agencies I know don't come from running their own brands, so there is always that missing empathy of understanding what the needs of their customers truly are.
Like Jeff Bullas, Mike Alton also started to write about social media in his blog without specific intention, he was building sites for businesses and he was writing about social media to attract visitors to his site when he suddenly found out this was what his clients really wanted.
Mike Allton
Mike Allton is a Content Marketing Practitioner, award-winning blogger and author in St. Louis, and the Chief Marketing Officer at SiteSell. He has been working with websites and the Internet since the early 90s, and is active on all of the major social networks. Mike teaches a holistic approach to content marketing that leverages blog content, social media, and SEO to drive traffic, generate leads, and convert those leads into sales.
The best approach that I advise to startups is not only listen to your customers but look to open new opportunities. Invite your customers to say something and ask customers for feedback and ideas.
Joey Coleman, who is an expert in customer experiences and turning customers into raving fans, is talking about the actions that you, as a business, need to take throughout your customers' first hundred days. For example, let's say you have an online course of six modules; you might want to follow each customer that just finished the first module, send them the main takeaways they should achieve, and ask them specifically to respond.
The best time to reach out to customers is the moment they achieve their first success as a result of something you taught them.
Mike Alton told me the story of Ian Anderson Gray's success, and I thought I must hear his story. It's not every day I manage to interview someone that was trained as a professional singer and performer (Which is not as shocking as it sounds when you find up his mother was an opera singer!) and has become one of leading successful entrepreneurs in the world of Live Video. I can't wait to hear Ian at the Social Media Marketing World 18, in San Diego in February.
Ian Anderson Gray
Ian is a live video marketing and confidence coach, and the founder of the blog, Seriously Social. He's an international speaker, trainer, and teacher. Ian is also the co-founder of Select Performers – a family run web agency. He lives in Manchester in the UK, with his wife and 2 children.
Let's hear his advice
Ian's best advice about approaching the customers
From what I have experienced…it is all about focusing on your audience and producing content that will really help them.
This has always been my philosophy. I'm not a frequent blogger, and I should definitely get better in writing more often, but one of the reasons for that is that I put my heart and soul in every article I write.
So, my advice is to write content that would really help people and to write in great detail. But don't stop there, answer people's questions, and be there for them. As a result of that article and the many comments and questions I got from it, I launched my online course about live video. I prepared this course within a week and, surprisingly, it did very well.
Douglas Burdett is the person behind the incredibly successful Marketing Book Podcast, which was named by LinkedIn as one of the "10 Podcasts That Will Make You a Better Marketer."  He also runs a business to business marketing agency.
Douglas Burdett
Douglas Burdett is founder and principal of ARTILLERY, a business-to-business marketing agency in Norfolk, Virginia, and is the host of The Marketing Book Podcast, which was named by LinkedIn as one of "10 Podcasts That Will Make You a Better Marketer."
Prior to starting his own firm, Douglas worked in New York City for 10 years, on Madison Avenue at ad industry giants, J. Walter Thompson and Grey Advertising.
Before starting his business career, Douglas served as a U.S. Army artillery officer in Germany for three years and then earned an MBA.
I'm going to answer this question, of course, but I must sprinkle a lot of book recommendations through my answer…
One of the best things a startup can do is understand who their customers are. A lot of startups approach the wrong customers.  There is a terrific book about that called, The Buyer Persona by Adele Riviera; it's one of my favorite books. In marketing these days, despite what marketers will tell you, there isn't a secret sauce any more. But I think your buyer is probably the closest to that. The book talks about the 5 rings of insight that you want to understand about your buyers. It has nothing to do with the product you are selling.
Another book I recommend is by Aaron Ross, called From Impossible to Inevitable. He talks about the 7 things that every business needs for hyper growth. He actually helped to take Salesforce from zero to the first hundred million dollars, and he has never been a sales person. One of the things he talks about in the book is, "Nail your Niche"; don't talk to all And there he talks about the importance of talking with 20 people. He says it's amazing how many startups and entrepreneurs don't even talk with 20 people.
And another book, by Tom Hogan and Carol Broadbent called The Ultimate Start-Up Guide. They are a marketing firm in Silicone Valley that works only with venture backed companies. In the book, they say the number one reason a startup fails is they are developing a product which is there isn't really a demand for. They start and end the book with the same point, which is that the icon Steve Jobs was the worst thing that ever happened to startup CEOs because despite Job's success, most of what he did isn't normally successful.
Our last guest to share his advice with us today is Jeremiah Gardner. Jeremiah is a keynote speaker, the author of the bestselling book, The Lean Brand, and principal at Moves The Needle where he has advised companies like GE, ING, eBay, Intuit, and Cisco. I really love and believe in Jeremiah's marketing attitude, so I chose to share not only his best advice but also his surprising recommended tool.
Jeremiah Gardner
Jeremiah Gardner helps organizations create value. He is an international keynote speaker, the author of the bestselling book, The Lean Brand, and principal at Moves The Needle where he has advised companies like GE, ING, eBay, Intuit, and Cisco in building their Innovation Transformation practice. He has been featured in several media outlets including Forbes, The Huffington Post, Entrepreneur Magazine, Lifehacker, and The Guardian. Jeremiah tweets @JeremiahGardner and blogs.
The best advice I can give you is truth. Never lie inside your building. We can't as human beings predict the future. If we spend a lot of our time trying to predict what customers will do, or building funnels without actual data, or launching products without any validation; we are likely to fail.
You have to embrace the unknown; get outside of your building and get in front of your customers, taking their input and behaviors and following them.
Entrepreneurship is built of skills and a mindset. It isn't only about following your passions or dreams. This is a skill to practice, to experiment; it's a skill to follow your evidence and it's a mindset – accepting the uncertainty, accepting that you don't know, and that you have to go out and explore.
…The choice to practice empathy… in front of our customers is a very vulnerable choice, because it means that we have to go out of our comfort zone, to choose to listen to things we don't want to hear. That personal vulnerability is scary, but if you are not willing to be vulnerable, you are going to have a really hard time in finding success in your new venture. Because it requires vulnerability from day one.
Recommendation of a (technological) tool for customer focus, marketing or sales:
A cup of coffee! Honestly, the most powerful tool in your toolbox is a cup of coffee with your customer. You can't automate relationship building with the audience. Every audience is different. Until we learn and experiment, we don't know how to build our marketing engine. We have to take what we learned with our empathy and from experiments, and build the marketing execution piece by piece.
The value for both your customers and yourself of a cup of coffee relative to your massive campaign spent is exponentially different.
For entrepreneurs, we have to go back and learn… how best to build our relations with our customers.
This is the end of our second round of the best advice ever. I hope you enjoyed it and can't wait to read your feedback and responses, so please, leave us your comments. We love hearing your thoughts.
Next week, we will have a new guest.
I'll meet you there.
Bye…
Best way to connect with our guests:
Mike's Stelzner
Jeff Bullas
Erik Huberman
Mike Allton
Ian Anderson Gray's
Douglas Burdett
Jeremiah Gardner
More resources for Entrepreneurs
Don't Miss – Customer Focus Strategy & Execution: Market Analysis for Fundraising
Hayut Yogev's Latest post: The three free, most practical steps to researching and locating your market