Ep. 258 – Robbie Samuels's best advice: "Don't create solutions in a vacuum; invite input from your most likely prospects."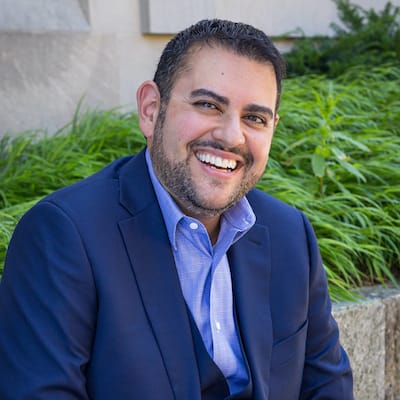 Robbie Samuels is an author, speaker, and business growth strategy coach recognized as a networking expert by Harvard Business Review, Forbes, Lifehacker, and Inc. He is also a virtual event design consultant and executive Zoom producer recognized as an industry expert in the field of digital event design by JDC Events.
Robbie is the author of "Croissants vs. Bagels: Strategic, Effective, and Inclusive Networking at Conferences" and "Small List, Big Results: Launch a Successful Offer No Matter the Size of Your Email List." He is a Harvard Business Review contributor.
His clients include thought leaders, entrepreneurial women, associations, national, and statewide advocacy organizations, women's leadership summits, including Feeding America, California WIC Association, and AmeriCorps.
Robbie is the host of the On the Schmooze podcast and #NoMoreBadZoom Virtual Happy Hours.
Most passionate about
I have multiple tracks in my business. I do one-on-one coaching, group programs, all about helping people build an audience before they try to launch an offer.
I also work with my virtual event clients on bringing their events online with less stress and greater participant engagement. What had been somewhat dormant, but is just starting to come back, is working with organizations around their in-person events to help them become more engaging and to really support their participants through what, for many, is their first experience at an in-person event.
Robbie's career and story
I spent 15 years organizing fundraising events and doing major gift work. On the side, I started speaking and showing people how to network.
I was working with boards of directors and foundations. I did both of those things for about five years. Eventually, I realized that there was a possible career in doing this full-time.
In 2015, I left my comfortable and safe career to really see if this thing I'd been doing for five years was going to turn into something. That's when I decided to launch a podcast, which came out a year later. I launched my first book, which today has 191 reviews on Amazon.
I then got a chance to do a TEDx. Every year, I had different opportunities. I was well on my way to being an overnight success, 10 years in the making, when everything got upended in March 2020.
Best advice for entrepreneurs
My second book is called Small List, Big Results: Launch a Successful Offer No Matter the Size of Your Email List. That subtitle belies the fact that, a lot of times, as entrepreneurs, as experts, we get really excited about some kind of solution, some kind of offer. We get some kind of program offer—an online course app, whatever the modality is. And we rush out to market to tell people about it. The marketplace basically responds with "Who are you? What is this? Nope, I don't need this." And we're just shocked. I think the better approach would be to not create solutions in a vacuum, but to invite input from your most likely prospects.
The biggest, most critical failure with customers
I mentioned this in my latest book. When my first book came out, I didn't have a very clear plan for what kind of offer would come from it.
But I had a pilot in mind, and I did run a successful pilot. I got great feedback. When I went to sell the next iteration, I created a landing page and took video testimonials and written testimonials from the few people who'd gone through the initial pilot. I had 250 people view the landing page.
But they did not contact me to learn more about the program. So, the problem wasn't my ability to get the word out. But in that same span of time, several people reached out to me, asking for other types of services and other types of support. That was when I really started to understand that the packaging wasn't matching. People were seeing me as a resource, but they didn't see the program as a solution.
Biggest success with customers
In March 2020, when the world hit this big shift, I had been focused solely on in-person, so I really didn't have a way to show up and add value. But I had a skill of bringing people together and I had a desire to do so.
The first thing I did was write "Nine Ways to Network in a Pandemic," and I shared it on the market. It got a pretty good response. One of those ways was to host a Virtual Happy Hour.
March 13, 2020 was the first day I hosted a Virtual Happy Hour—which, by the way, I'm still hosting 23 months later. I never charged for that event, but it led to lots of people reaching out to me, asking to pick my brain, to have a coffee chat, to help them with their event, or to do training for them.
At that time, I created a pilot of a four-week training program for how to use Zoom effectively online facilitation, virtual event design, and 15 people within a few days, signed up for this $5000 four-week training. After this first session, I announced that the second month was happening. By the third month in a row, I was able to turn it into a certification program.
Robbie's recommendation of a tool
Loom

It records short videos and is a crown plugin that integrates with Gmail.
I've used it to do outreach to prospects who I think are very interested in my programs.
Robbie's one key success factor
I was fortunate to get a chance to meet someone who's had a disproportionate impact on my business. That's Dorie Clark.
She has been in my corner and had my back as a mentor, as a coach, and as a friend.
Robbie's Mountain
Since we believe that the best way for entrepreneurs to get fast, big, and sustainable success is by leading your (new) market category, and the entire entrepreneurial journey reminds me of mountaineering, I want to ask you: Is there a mountain you dream of climbing or a mountain you have already climbed?
I actually have a funny story about a mountain. My friend and her dad ran off ahead of me and I just sweated my way up after them. It was a memorable day, I will say, given the full experience of it—being outside on this beautiful day, a hundred-degrees-in-the-shade kind of day. It was very out of character for me, back then in particular, but I think about it for me in business.
One mountain and business that I think I'm still really working on is how to carve out time, that's not work, because I love what I do. So, my word of the year is "hobby" because I want to find hobbies that I could be passionate about. That will make it easier to shift my attention from my work to things outside of work.
The best ways to connect with Robbie
Want to learn how to start your Entrepreneurship?
Download for Free

HOW TO START ?
Want to learn how to choose the best Name and Logo? Not sure which customers to focus on right now and where they are? Want to build your website, or trying to figure out how and what content to share on social media?