Ep. 023 – My biggest failures with customers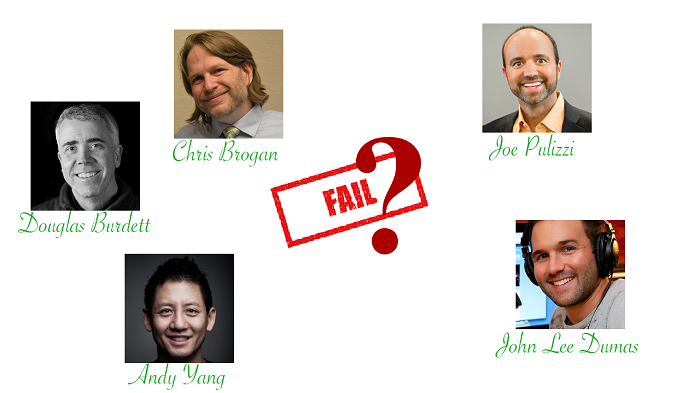 23rd Episode's Show Notes
John Lee Dumas, Chris Brogan, Joe Pulizzi & more share their biggest entrepreneurial failures with customers, and they're all talking about the same mistake: "Going with what I thought is the biggest problem, instead of listening to customers".
Hello, Reach or Miss listeners. It's has become almost traditional to have a special episode every now and then focusing on a major issue that was mentioned a lot on the show and has an impact on many entrepreneurs.
Last time I chose to speak about the best advice our interviewees shared with us. Today, I would like to talk about failures with customers. During the interviews, I ask every guest to share their biggest most significant failure with customers, the one that affected their journey the most. There is one thing that popped up in most of the interviews and that is the role of that big failure leading to huge remarkable success.
I've chosen 5 successful guests whose failure stories are the most inspiring and helpful to you, our listeners.
The biggest failures with customer
The first failure story is the story of Joe Pulizzi. Being one of the first to recognize the coming change and the power of content marketing, Joe was trying to develop the first Matching Machine.
Joe Pulizzi
Joe Pulizzi is founder of Content Marketing Institute, a UBM company, the leading education and training organization for content marketing, which includes the largest in-person content marketing event in the world, Content Marketing World. Joe is the winner of the 2014 John Caldwell Lifetime Achievement Award from the Content Council.  Joe is the author of four books, including his latest, Content Inc.  His third book, Epic Content Marketing was named one of "Five Must Read Business Books of 2013" by Fortune Magazine. You can find Joe on Twitter @JoePulizzi. If you ever see Joe in person, he'll be wearing orange.
Joe's biggest failure with customers
There has been so many…. The most crystal clear failure was when I first started as entrepreneur. I had the most amazing idea in the world; it was a matching service for marketers. We developed an online matching system and we would match you to agencies or freelance writers to help you with your content. We focused on that so much, and I fell so in love with the product but we were bleeding cash, and then I saw all the feedback from our marketing readership that asked us for mentoring, training, templates, and so many products and services…
So, we did our pivot and built that audience, and then we started monetize that, and we launched Content Marketing World and the podcast and grew from hundred thousand dollars to more than 10 million dollars in a few years.
Douglas Burdett
Douglas Burdett is founder and principal of ARTILLERY, a business-to-business marketing agency in Norfolk, Virginia, and is the host of The Marketing Book Podcast, which was named by LinkedIn as one of "10 Podcasts That Will Make You a Better Marketer."
Prior to starting his own firm, Douglas worked in New York City on Madison Avenue for 10 years at ad industry giants J. Walter Thompson and Grey Advertising.
Before starting his business career, Douglas served as a U.S. Army artillery officer in Germany for three years and then earned an MBA.
Douglas's biggest failure with a customer
Five years ago, when I started my own company, I was very focused on advertising. I hire Michael Gass, a consultant that was blogging about ad agencies and new business, and he helped ad agencies look for the niche they would like to focus on and write a specific blog to that niche, separate from their agency's web site. Michael asked me, 'what do you think you would like to write about?' And I wasn't sure because until then I was doing everything; from Listerine mouthwash to Panasonic, hospitals, banks, and more, But I was fascinated by the military, I served in the US army, and there were a lot of defense firms in Virginia and a lot of my friends worked on these firms, and they regularly asked me marketing questions, so I thought perhaps there is a need for that. Michael Gass said that even if at the end of the day I won't find business there, I will, at least, teach myself to write a blog and provide value for companies, because that is what agencies will do for their clients in the future. And I did that and earned a lot of attention and PR (and there were a lot of listeners from Israel as well). However, at the end of the day, there wasn't a true demand for my services, because it seems like most of these defense companies were just sitting in the office, waiting for an RFP from the government to come through the fax machine. But it was more of a solution in a search of a problem.
However, I consider it as a failure because I didn't find business there, but I learned a lot about how to build an audience from it.
John Lee Dumas
John is the host of EOFire, an award winning podcast where he interviews today's most successful entrepreneur's 7 days a week. JLD has grown EOFire into a multi-million dollar a year business, with over 1500 interviews and 1.5 million monthly listens. He's the author of The Freedom Journal and The Mastery Journal, two of the most funded publishing campaigns of all time on Kickstarter. All the magic happens at EOFire.com!
JLD's biggest failure with customer
This is a large mistake that I made and it was a big waste of time energy, effort, and money. It goes back to 2013. A lot of people said they love my podcast and love to create their own podcasts. I wanted to create an entire platform on which I will create other people podcasts for them. I'll host their shows, I'll edit their podcast, I'll create their show notes; I'll do it all. I called it PodPlatform. Everybody that heard the idea said it's a great product.
I made all the arrangement and invested and only 1 person signed up for it.
Luckily, it was the perfect number, which quickly let me to realize I didn't want to be in this business; I don't want to edit other people's shows, upload their outros and intros for them, and host for them. And I went back to this one person, here is your money back but this is not a kind of business I want to have.
But I wasted so much time so much energy and money. I could have said, 'Before I go and create this, using so much time and money, let's have people put money where their mouths are and invest in this product.'
And I did that a few months later with Podcaster Paradise; I had 50 people signed up before we launched, which made me realize that this is something that can actually work. Fast-forward to today, Podcaster's Paradise has over 3000 members, over 4 million dollars revenue.
Chris Brogan
Chris Brogan provides strategy and skills for the modern business. He is CEO of Owner Media Group, a sought after public speaker, and the New York Times bestselling author of nine books and working on his tenth.
Forbes listed Chris as one of the Must Follow Marketing Minds of 2014, plus listed his website as one of the 100 best websites for entrepreneurs. Statsocial rated Chris the #3 power influencer online.
Chris lives in northern Massachusetts. He is married to Jacqueline Carly; between the two of them, they have three kids.
Chris's biggest failure with customers
I fail every day! My biggest ones are every time I try to design from my idea or my arrogance or my ego; those usually fail, because I believe that I know best.
My biggest specific failure, I started a bunch of little private online communities that I thought everyone was going to love – healthcare, nonprofits, real estate, and more, and I failed horribly.
Every entrepreneur is so smart. The experience I have had many times with those people is that they developed a product they know how to create but they haven't necessarily developed a product that anyone asked for.
Andy Yang, 500px
Andy Yang is the CEO of 500px and an advisor with MaRS' Consumer & Commerce cluster. He has spent more than 15 years in technology as an investor (angel and institutional), banker, consultant, and advisor. Currently, Andy is CEO of 500px, a premium photography community funded by Andreessen Horowitz, Harrison, Metal, and ffVC. Previously, he was an investor at Extreme Startups and a venture capitalist at Relay Ventures.
Andy's biggest failure with customers
There are so many mistakes, and failures…. I think our biggest mistake is not talking to our community enough. Or not being proactive or transparent with our community.
One example is when we launched a mirrored community in China about two years ago. It was as part of investment we took from a strategic company based in China called Visual China Group, which is an amazing company that does licenses and owns the licensing space in China. We started a joint venture with them and we launched the site without telling our community. And that was terrible. For us, it is always about better and more proactive communication with our community. Something we started doing a lot more since then.
You probably noticed that most of the opinion leaders that shared their failure stories with us, started their answer by saying, "Oh, there were so many failures, and mistakes…"
Everything is changing, all the time. And in this hectic, ever changing world, we all make many more mistakes and have many more failures.
However, one thing hasn't changed (yet), and this is the way people think, evaluate, and decide. This is a very important issue to remember while focusing on our customers. They have the answers. Because the money we look for is in their pockets. And that goes back to the best advice of these clever opinion leaders – Talk with your customers! Do something that doesn't scale and talk with them. There are the answers.
So thank you for listening for today's special episode. Next week, we will go back to interviews with new guests.
Recommended books by Joe Pulizzi, Douglas Burdett & more opinion leaders
More resources for Entrepreneurs
Don't Miss – Customer Focus Strategy & Execution: Market Analysis for Fundraising
Hayut Yogev's Latest post: The three free, most practical steps to researching and locating your market