Ep. 249 – Miriam Schulman: "You need to make sure you're building customers and creating customer experience rather than just focusing on sales."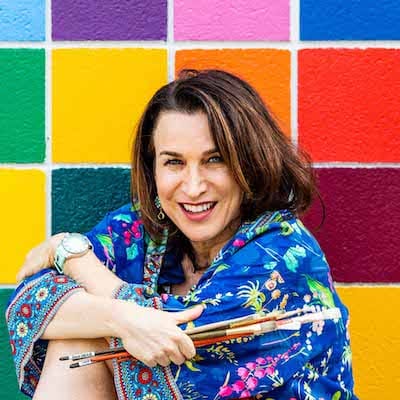 Miriam Schulman is an artist, author and founder of The Inspiration Place and The Artists Incubator Coaching Program where she helps artists (from amateurs to professionals) develop their skills, tap into their creativity, and grow thriving art businesses. Her podcast, The Inspiration Place, is on the top 1% of all podcasts globally and is listened to in over 40 countries.
Miriam has been featured in Forbes and has been a guest on numerous podcasts. Her art has been featured in The New York Times, Art of Man, and Art Journaling magazine by Stampington, as well as seen on NBC's "Parenthood" and the Amazon series "Hunters" with Al Pacino.
Her forthcoming book on how to "make it" as an artist is scheduled to be published with HarperCollins Leadership in February 2023.
Most passionate about
I have been working on a book for Harper Collins. It's a traditionally published book.
I've been writing a book called Artprenuer to help artists learn how to earn a sustainable living from their creativity.
Miriam's career and story
I wanted to be an artist when I was young.
When I left college, I figured, "Well, if I have to make money from what I'm doing, where can I make the most money?" So, I went to work on Wall Street instead.
It took me a while, even after I had that awakening, to realize that, yes, I could turn my art, my painting, into a sustainable living. It was about 20 years ago that I started down this path, truly learning how to apply those marketing skills.
It was about not just becoming good at my craft and becoming good at art, but also becoming good at being an entrepreneur.
I got involved online. First, I was selling my artwork online. Then, in 2012, I started teaching online art classes.
Best advice for entrepreneurs
What I've taken from that time when I was on Wall Street and that I still use now, which I feel is critical in everything I do and for every business, is focusing on customer experience.
I think of every touchpoint that happens along the customer experience and pay attention to that. You need to make sure you're building customers rather than just focusing on sales.
The biggest, most critical failure with customers
There are two that I'm going to offer. The first one is not building an email list from the very beginning.

I had so many sales and I couldn't imagine a time when I wouldn't have that stream of customers coming to me, so I didn't build an email list.

Another thing is something that a lot of us have to work on overtime, and that is understanding how to price your offerings with an abundance mindset, not a scarcity mindset.

It's about understanding that customers are not always looking for the cheapest price. There are many times when not only will customers be suspicious if the price is too low, but they also prefer to pay more money.
Biggest success with customers
I would love to tell you a story about one of my clients. I took her through this process.
When my client Fay came to me in 2020, in the last year she had lost her job during the pandemic and was going through a divorce. She was a painter and had two children.
She could turn her creativity into a full-time job. But the problem was that she was pricing her art at $50 per painting—and, in fact, sometimes less. We had to work together to build her mindset and teach her that it was okay.
I took her from charging $50 for her artwork to $1,400 for her artwork. She found that when she stepped into this confidence, she was able to make $5,300 in a month. Then, a few months later, it was $8,400 in a month. Not only was she able to claim this power, but now she's on her way to a sustainable living.
Miriam's recommendation of a tool
I think the best tool that we have is using physical mail.

Sending physical pieces to prospects and customers.
Miriam's one key success factor
I don't take a lot of time making decisions. Instead of spending a lot of time trying to decide on the perfect place, the perfect thing, the perfect choice, I put that energy into making the right decision out of whatever decision I've made. I have the attitude that whatever decision I make will be the right one.
Miriam's Mountain
I started this podcast by talking about my book. Completely independent of your question, I had been calling it my mountain.
When you climb a physical mountain, your muscles develop by doing the work that's involved. It's the same thing with our minds, our brains. Doing the heavy lifting of taking the metaphorical journey does change us and develop different kinds of muscles in ourselves, of courage and resilience. I know they are going to serve me the next time I have a mountain to climb.
The best ways to connect with Miriam
Want to learn how to start your Entrepreneurship?
Download for Free

HOW TO START ?
Want to learn how to choose the best Name and Logo? Not sure which customers to focus on right now and where they are? Want to build your website, or trying to figure out how and what content to share on social media?