Ep. 253 – Michael Unbroken: "You have to be able to separate who you are as a human being, to an extent, from who it is that you are as a business owner."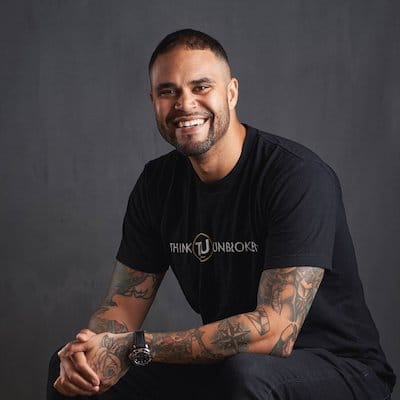 From homeless to hero, Michael Unbroken, is the Founder of Think Unbroken, best-selling author, award-winning speaker, podcast host, coach, and advocate for adult survivors of childhood.
Since 2016, Michael has empowered over 100,000 trauma survivors to get out of The Vortex, learn to love themselves, and become the hero of their own story. Michael has written multiple books including the best seller Think Unbroken: Understanding and Overcoming Childhood Trauma, spoken in over 80 countries, won investments from Undercover Billionaire Grant Cardone, and is on a mission to end Generational Trauma in his lifetime.
About Think Unbroken: Our mission is to empower trauma survivors with the tools and curriculum of Think Unbroken to get unstuck, learn to love themselves, get "Out of The Vortex" and reclaim their power. We believe that by creating palatable and practical tools that Trauma Warriors around the world can overcome their past, heal from trauma, and BECOME THE HERO OF THEIR OWN STORY!
Most passionate about
One of the two biggest things that I'm moving toward right now is having the number one mental health and personal development podcast on the planet. The other biggest goal is to be in the best physical, mental, and emotional shape of my life this year.
Michael's career and story
I spent the majority of my childhood being homeless and deeply in poverty. I started doing drugs when I was 12 years old. I was expelled from school when I was 15 years old and I spent a lot.
As I headed into my later teen years, I thought about life from the perspective of "What is the solution for poverty? What is the solution for abuse?"
"How does somebody really get out of this?" I decided it must be money. So, I made a decision that I would chase money, but do it legally.
I started learning skills. I started learning leadership. I started learning how to be productive with my time. I started learning how to manage cash flow and P&Ls and inventories. And I worked for a fast-food restaurant. At 18 and a half, almost 19 years old, I had 52 employees underneath me. So, I started learning about legit business.
In a couple of years, I was working for a Fortune 10 company here in America. No high school diploma, no college education. I started making six figures. That just destroyed my life because money is not the solution to your problems.
And, in that, one of the most beautiful things happened. I remember I was lying in bed the next day, eating chocolate cake and watching the CrossFit games. And I'm like, "Hold on, something here is not right. There's something really wrong with everything in my life." I went into the bathroom, looked at myself in the mirror, and asked myself, "What are you willing to do to have the life that you want to have?" And the answer was "no excuses, just results."
It started me on this beautiful journey where now, 11 years later, I am talking to you. That has been a process of healing, of discovery, of therapy and coaching, and education and investing in myself, investing in my community and my businesses.
Best advice for entrepreneurs
If I were an entrepreneur at the beginning of this, if I rewound my life 15 years, the first thing that I would tell myself is, "You need to learn to be okay asking for money. You need to put yourself in a position where you move through the discomfort of not valuing yourself for what you are. Charge what you are worth."
In that, because it is a trade-off, you have to bring massive value to your customer. You have to take care of them. You have to be their best friend. You have to follow through. You have to do what you say that you're going to do.
The biggest, most critical failure with customers
When you are dealing with other people, in the beginning, until you understand how to not make business personal, you take everything personally. That's one of the hard parts about the dichotomy of entrepreneurship. You have to be able to separate who you are as a human being, to an extent, from who it is that you are as a business owner.
Biggest success with customers
I think it's looking at the relationships that you build.
I don't look at success from a money standpoint anymore. I think people will often go to that, but I've had money. I've made money. I've lost money. I honestly don't care about money. It matters. Of course, it's a driving factor, but it's not why I do what I do.
Success, to me, is the client who comes to me on the very last day of our process together and says, "I have the ability now to go and live my life."
Literally, my greatest success is, every week, with the one-on-one coaching especially, whenever one of my clients comes up to me and we have our last call together and they go, "I got this." That's what it's about. That's what power is. That's what compassion and success and empathy bring.
Michael's recommendation of a tool
CRM

You absolutely have to have a customer management tool. It could be a Google spreadsheet. It literally doesn't matter, but you need to know where your customers are coming from.

I use an ambassador program called BrandChamp for one of my companies.

Probably the most powerful tool in my arsenal is a forms sheet, a sheet in which you can get responses from your customer. You can get their input on your product, where they will give you feedback.
Michael's one key success factor
I am not going to stop. Ever, ever. What I mean by that is, when I sit down, I look at my goals. I write my goals down.
My mission is very simple with Think Unbroken, with my company, with what I do in the world. That is to end generational trauma in my lifetime through education and information.
Michael's Mountain
Since we believe that the best way for entrepreneurs to get fast, big, and sustainable success is by leading your (new) market category, and the entire entrepreneurial journey reminds me of mountaineering, I want to ask you: Is there a mountain you dream of climbing or a mountain you have already climbed?
I think about the people who climb mountains, who push themselves, who find a way to accomplish the things that feel seemingly impossible. And the truth is life. Life is very much like a mountain. It feels impassable and it feels unlikely that you could make it to the top, but when you have the right team, the right equipment, the right training, the right mindset, and the right ambition, you will always make it.
The best ways to connect with Michael
Want to learn how to start your Entrepreneurship?
Download for Free

HOW TO START ?
Want to learn how to choose the best Name and Logo? Not sure which customers to focus on right now and where they are? Want to build your website, or trying to figure out how and what content to share on social media?