Ep. 231 – Mark Firth: "You need to be in control of your audience. You should have your own audiences like an email list, podcast listeners, or phone numbers".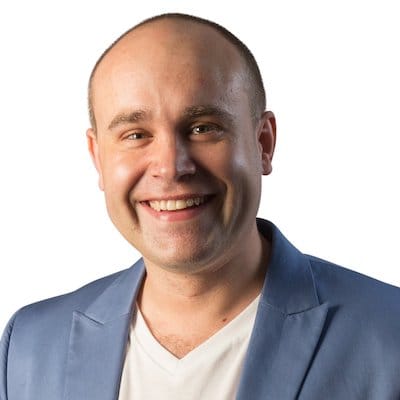 Mark Firth spent a large portion of his life working a corporate job in London, but he was left feeling unfulfilled and in need of creating an impact. He decided to take an extended break and visit Colombia, not knowing it would be one of the best decisions of his life.
Mark met, fell in love and quickly started a family in Columbia, but he didn't have a job. To support his new family, he wanted to start an online business and remembered that when he worked for corporate companies, like IBM and Siemens, he used LinkedIn to prospect and book qualified sales calls through a personalized approach based on human-to-human connection. In 2017, he founded Linkedpreneurs where he combined traditional B2B sales and online marketing to generate leads.
He has helped thousands of business owners and solopreneurs to consistently book qualified calls that become clients through LinkedIn using their personal connection system called Emotional Brand Intelligence. In return, his clients have more time, money and freedom to make an impact and change their life.
Most passionate about
We help people grow their businesses. We help them see situations and environmental stimuli and friends and conversations differently from how they did in the past. Ultimately, growing a business is not about just implementing a load of tactics and strategy. It's also about being in alignment, doing things that you want to do, and starting to see things in different ways.
Mark's career and story
I started in corporate life.
I was at IBM, Siemens, and then at a series of startups.
I was trained by Tony Robbins coaches and I've been on a big personal development journey myself. It's my fundamental belief that you cannot lead where you have not been and, as I said, you cannot teach what you do not know.
So, I've also been through the frameworks. I can't force people to change, but I can create an environment.
Best advice for entrepreneurs
The best advice I can give to any entrepreneur is to just keep on testing.
I believe in helping people create the desire to test stuff and try new stuff, as that is when success really comes. When people start being themselves and start doing things their own way, they find this groove and flow that really suit them.
The biggest, most critical failure with customers
I deleted an entire email list of 10,000 people in error and the backup failed.
You need to be in control of your audience. You should have your own target audience. Many people will get a benefit from having a podcast, even though they're not necessarily paying customers. And my email list was that version of it. And I deleted it by mistake. That was a complete failure for me. It was awful.
Biggest success with customers
This comes down to innovation. It really does. It's about finding new ways of doing things, discovering new things, improving our products, improving our service. That's something we've always done. We started with automated messaging, and as soon as that became effective, we had already innovated a new process.
Mark's recommendation of a tool
I recommend anything that gives you multichannel and allows you to own your audience.
I always concentrate on having emails, SMS, phone numbers.
Don't trust something you don't control. That's a recipe for disaster anywhere in life.
Mark's one key success factor
Just getting up, even when I get knocked down, has helped me become successful.
Mark's Mountain
Since we believe that the best way for entrepreneurs to get fast, big, and sustainable success is by leading your (new) market category, and the entire entrepreneurial journey reminds me of mountaineering, I want to ask you: Is there a mountain you dream of climbing or a mountain you have already climbed?
I think people forget to look in the rearview mirror of life at how many skills they've learned, how many experiences they've had, how many people they've helped. Mothers who brought up kids, fathers who've done the same. After we lose perspective, we're already at the top of a mountain, but if you want to climb more, don't start by looking at the bottom. Look at the top. That's the best way to do it.
The best ways to connect with Mark
Want to learn how to start your Entrepreneurship?
Download for Free

HOW TO START ?
Want to learn how to choose the best Name and Logo? Not sure which customers to focus on right now and where they are? Want to build your website, or trying to figure out how and what content to share on social media?