Ep. 248 – Khaled Maziad: "You can't go against the market. You need to clearly know what they want and then give it to them."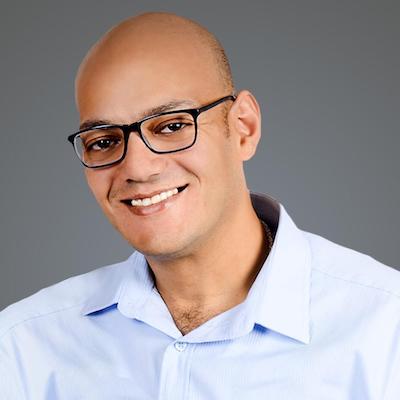 Khaled Maziad is a marketing consultant who specializes in the Psychology of persuasion and high-ticket sales.
He helps coaches transform their uncharged-non-monetary offer into a high-ticket one without having Tony Robbins like Brand.
He shares his story on struggling to give away his stuff for free to charging high-ticket offers and helping his clients from all around the world do the same.
He is known as the Copy & Messaging Alchemist. He has been featured in FOX as one of 21 Entrepreneurs You Need to Know About in 2021.
He has also been featured in ANLP, Fox, CBS & NBC. Khaled is a professional member of ANLP International CIC, a certified Master of NLP, and holds a degree in Civil Engineering.
Before becoming marketing, Khaled worked with traders and professional fund managers, helping them master their mental edge in trading and life. He also had over 15 years of experience as a Project manager, where he managed multi-million dollar projects on 3 continents.
Khaled lives with his wife and two kids in Sydney, Australia.
Most passionate about
We focus on what we call transformation – transformational entrepreneurs or transformational cultures.
We specialize in helping people make their email entertaining and persuasive, in a way that helps them feel their products.
Khaled's career and story
I started as a civil engineer many years ago. It had nothing to do with marketing or anything like that.
I was working as a site engineer and had a project manager who was very influential and charismatic. He knew how to manage people.
When they chose someone to manage the project, they didn't go with someone who was just an expert. They chose someone who was a leader, someone who could manage. This is something that helped me when I started.
When I became an entrepreneur, I was doing something called trading psychology. I was helping people trade in the stock market.
Best advice for entrepreneurs
The biggest advices I have for entrepreneurs is about one of the biggest mistakes entrepreneurs often make.
You can't go against the market. You can't fight against it. You need to clearly know what they want and then give it to them.
The biggest, most critical failure with customers
One of them was not testing offers before validating them.
I worked on a product once that I was perfecting and I didn't show it to anyone. I didn't get any feedback. I didn't ask anyone if they wanted it or not. I worked for about a month on it. When I put it out there, no one even cared about it. The tool was a really big failure.
Biggest success with customers
We had a product that helped people by working on their messaging. We did a beta test first at a lower price, just to test how it worked. When we took a small group for the beta test, we were surprised that the people got value from the test. When we published the course and pushed the program, some of the beta testers asked to pay full price.
Khaled's recommendation of a tool
The best tool is more about how to do market research.
There are many forums out there.
Khaled's one key success factor
You need to believe in what you're doing. You need to believe that you will succeed.
Khaled's Mountain
Since we believe that the best way for entrepreneurs to get fast, big, and sustainable success is by leading your (new) market category, and the entire entrepreneurial journey reminds me of mountaineering, I want to ask you: Is there a mountain you dream of climbing or a mountain you have already climbed?
Our entrepreneurial journey is going to close a sale. You're going to find yourself sometimes climbing this mountain, thinking, 'We're going to make a lot of money. Are we going to do this? Are you going to do that?' Eventually, you will get there, but in the middle, your whole body will be full of pains and scars. But this is what makes success valuable. Once you reach it, when you know, it becomes easier. It becomes easier for you to know that eventually you'll get there. You look at your progress and don't forget how far you went.
The best ways to connect with Khaled
Want to learn how to start your Entrepreneurship?
Download for Free

HOW TO START ?
Want to learn how to choose the best Name and Logo? Not sure which customers to focus on right now and where they are? Want to build your website, or trying to figure out how and what content to share on social media?