Ep. 146 – Jonathan Slain a financial expert, had to borrow a quarter of a million from his mother-in-law. Today he owns the site RECESSION.COM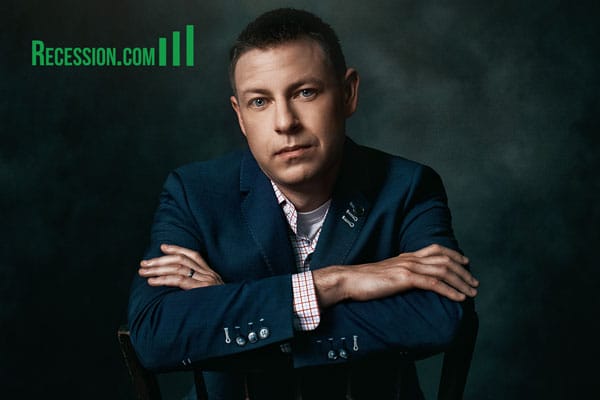 Jonathan Slain's book, "Rock the Recession: How Successful Leaders Prepare For, Thrive During, and Create Wealth After Downturns" came out in September 2019 and is a #1 Amazon Best Seller.
Jonathan coaches high growth leadership teams across the United States to implement the Entrepreneurial Operating System® also known as "Traction." He focuses on working with entrepreneurial niche/specialty firms and large corporations ($10M+ in annual revenue), spending over 100 days per year working with teams just like yours.
Jonathan was Valedictorian of his graduating class and had the highest GPA ever in the history of Shaker Heights High School, where he was also voted "Next Bill Gates and Least Likely to Lose his Virginity."
Most passionate about
My day job involves consulting work. I started my career in investment banking, so you could say that I'm a recovering investment banker. At some point, I realized that making $80 to $100 a week for somebody else wasn't a fair play. So, over a decade ago, I left investment banking and started my entrepreneurship.
I took a trip to Denver with my brother-in-law, who wanted to start a franchised business. I was the family's "business person" and he wanted my advice.
I loved the idea and on the flight home, we decided to get into the gym business together. I left banking and we started to build gym franchises. We grew to have five locations in five years all over Cleveland and Ohio. And we kept growing; we set records for the franchises.
Then, the great recession of 2008-2009 hit. And I learned a lesson: that the worst thing to sell during a recession is personal training. Nobody wants to buy personal training in a recession and we didn't have a plan.
Fast forward: We were able to get through the great recession only because I borrowed a few dollars (a quarter of a million) from my mother-in-law. Within three years, I paid her back.
I started to help people grow their businesses with consulting. Three years ago, my brother-in-law bought me out of the gyms so I could focus on the consulting business.
I've been doing that for the last three years. Recently, I started to get nervous that my clients weren't prepared for the next recession. That's what got me into where I'm heading: I put out my book Rock the Recession. Now I'm trying to get the word out so that other entrepreneurs and business owners can rock the recession.
Is the next recession at our doorstep?
I think that in the US we will probably be looking at an event such as a recession or a slowdown by the end of 2020.
I want my clients and your listeners to think about how they can rock the recession. What can they do now to prepare and take advantage of all the opportunities that a recession brings?
Recessions come around only every seven years and don't last long, and we haven't had a recession in over a decade.
As I did the research for the book, I searched for entrepreneurs and business owners who did well in the recession. They were hard to find because most people don't do well in recessions. What I learned from the ones who did succeed is that their first step was to assess their current situation. So, that is where I would start.
We prepared a free, short, 20-question assessment on the site com. The scores are from zero (which means you are likely to fail in the next recession) to 100 (which means you are prepared for the recession and will be able to take advantage of opportunities like buying assets for cheap or buying other companies that didn't prepare, to be able to win talent and more opportunities). The average company gets a score of 37 out of 100.
The point is to come up with a recession plan ahead of time as opposed to acting when you are already about to lose your house or lose your best employee to the competition.
Another thing entrepreneurs and business owners should do is sit with their vendors and customers and learn as much as they can about their strength and their financial situation.
Jonathan's best advice for entrepreneurs
The more I approach a customer, the more we build some kind of relationship and the better our chances of doing business together.
The other thing, for me, is being authentic. A lot of entrepreneurs are still worried about being themselves and are trying to be what they think their customers want them to be.
You have to be unique and original. I mainly help customers with strategic planning and I use the recession to market myself. This is more unique than approaching my customers and asking them if they need help with strategic planning.
Biggest failure with a customer
This is an easy one for me. It was letting myself get into a position where I had to borrow the quarter of a million from my mother-in-law. The worst part was I didn't borrow it all at once. It was actually 12 phone calls. I kept calling and calling and calling every two weeks to ask for another loan.
I had a big decision to make about whether to put this story into the book. We actually wrote two versions—one with the story and one without it. Eventually, we decided to introduce the story on the front page of the book. I was worried about how it would affect my customers and potential customers. However, my customers were very supportive, and I gave a copy of the book to every new customer, so it worked out for me.
Biggest success due to the right customer approach
It comes down to several of the companies I work with having their record year this year. My biggest success is the ability to be truly honest and to deliver that perspective from outside the jar that they can't get internally.
Most recommended technological tool
I'm trying to be original here. One of the tools that really work for me is a teleprompter. You can buy a teleprompter for $200-$300, and with your iPad and the Teleprompter app, you can take whatever speech you want and use it to create marketing videos, sales videos, or customers' facing videos.
Jonathan's key success factor
I have a life plan. My mentor, co-author, and good friend helped me to get started with a life plan 10 years ago. Whenever the holidays are coming up, I'm reminded of a quote that says people are spending more time planning Christmas and Hanukah than they are on planning their lives. People, including me, will spend hours and hours planning their vacations; however, when it comes to life, whatever emails I get, whoever calls me—that's where my life goes.
The idea is to write my goals on a piece of paper: "What do I want to do?" When a new opportunity comes my way, I can consider whether it helps me reach my goals.
Jonathan's Mountain
Because we believe that the best way for entrepreneurs to get fast, big, and sustainable success is by leading your (new) market category, and the entire entrepreneurial journey reminds me of mountaineering, or conquering a mountain, I want to ask you: Is there a mountain you dream of climbing or a mountain you have already climbed?
I love this question! I pick Mount Fuji. For my wife and me, Tokyo and Japan are among our favorite places on earth. We haven't climbed Fuji but we talk about it—about how we will get back and get closer and closer to the mountain. It brings a smile to my face. I think that next year, with the Olympic Games in Tokyo, the mountain will be a beautiful backdrop.
My current mentor told me that this whole idea of climbing the mountain, knowing what your goal is, is that you just need to look at every opportunity: every email you get, every phone call you answer, every minute of every day. If it's not moving you up the mountain, the only option is that it will take you down the mountain.
That's how I feel about everything I do. If it's not a step up the mountain, it's a step in the wrong direction.
The best ways to connect with Jonathan
Jonathan's book – Rock the RECESSION
A special discount of 75% for Reach or Miss listeners
Use coupon code "Reach" at www.recession.com/shop to get 75% off the Rock the Recession workbook.
Here is a link to my book on Amazon: https://geni.us/rocktherecession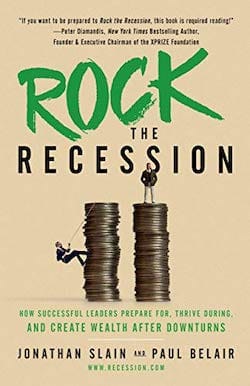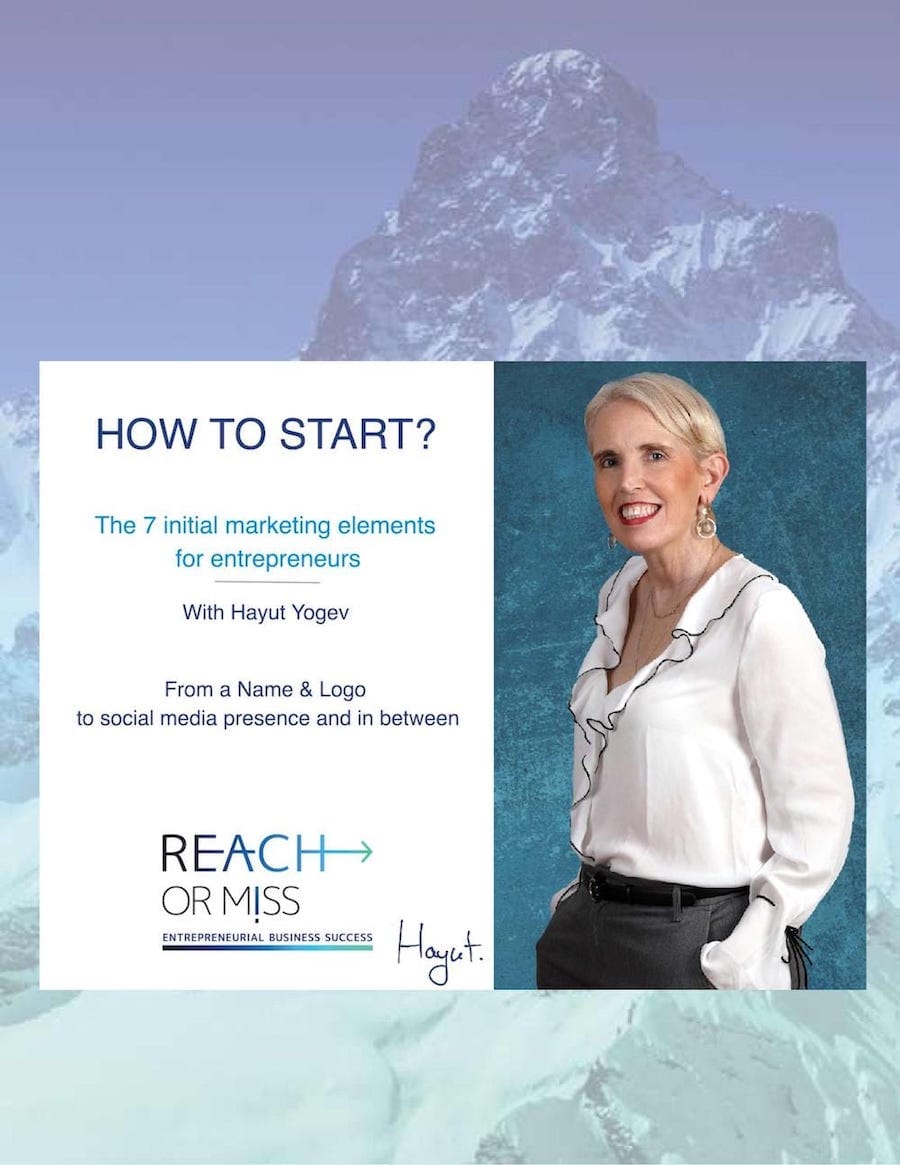 Want to learn how to start your Entrepreneurship?
Download for Free
HOW TO START ?
Want to learn how to choose the best Name and Logo? Not sure which customers to focus on right now and where they are? Want to build your website, or trying to figure out how and what content to share on social media?