Ep. 058 – Jonathan Gan, an awarded entrepreneur, says one of his most significant successes was when he closed a deal with one of the biggest retailers in the world in only seconds, and lost an opportunity of thousands of pounds…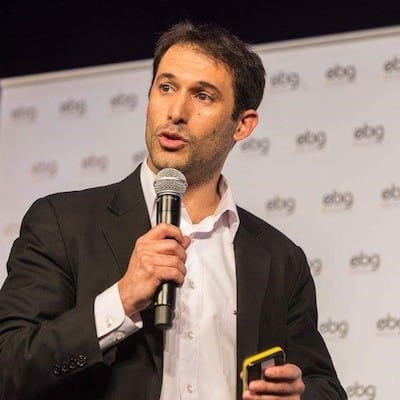 Jonathan Gan Show Notes
Jonathan Gan has over 15 years of leadership, military experience as an Anti-Aircraft Company Commander, business and technology experience, as a Senior Project Manager at IBM, and is an entrepreneur.
Jonathan led large scale, multi million dollar, technology modernization and innovation projects for public sector clients, leading IBM, subcontractors and clients' staff, ensuring on-time and under budget delivery.
In 2013, Jonathan founded Whichit for the mobile and SaaS application development.
Jonathan holds an MBA of the Recanati Executive MBA program at Tel-Aviv University.
Most passionate about
Everything that I'm doing today is Whichit. My company, my startup, my love… It's something I've been doing for the last five years, 24/7.
I'm originally from Israel and for the last four years, I've been located in London.
I started Whichit five years ago, six months later Whichit won an award from the UK government; the Sirius Program which is an International competition that relocates high growth potential start-ups to the UK.
Since then, Whichit has won several awards, like Startup of the year 2015 by Facebook, The Peoples' Choice award by the Duke of York, and most importantly the Innovate UK grant worth a quarter of a million pounds by the UK government, to develop one of our algorithms for our unique Machine Learning technology.
Whichit is ICC (Interactive Commercial Content) a domain in the Marketing Advertising technologies. We developed a SaaS platform and an app for ICC which leads to up to 800% growth of engagement rates.
Who are Jonathan's customers?
We are relevant to all the verticals in three main groups:

Any entity that wants to advertise or promote their services or products.
The big brands and agencies.
The Small/Medium Businesses.

But we are focusing on our early adopters, which are direct to larger brands and the big media agencies. We have developed added value services for them and we are seeing significant successes with that.
Jonathan's best advice to entrepreneurs about approaching customers
I recommend doing two things: First, is comprehensive market research. Spend at least a month investigating the market from any perspective you can think of, and then, give it to a third party to do it again and challenge everything you did.
Once you have all the market elements, like who your market is, who the early adopters are, etc., use a very simple methodology, which I call 1,2,3:

Choose your potential customer,
Go to them with the message you planed specifically based on the company's message
Measure the results for this specific customer, and then act accordingly.

The other, very important thing, that is helping me to succeed is a powerful and dedicated Advisory Board that are on the end of the phone when I need them.
Biggest failure with a customer
The major failure was about finding the right people to sell our product to. We struggled with the product market fit for almost two years. First, we had some product barriers, then the product didn't sell – we couldn't understand why. We tried different methodologies but only when we switched the sales' people, things started to move.
The failure was putting the wrong people in the sales positions. I made a mistake; I used my personal intuition before the professional. It almost killed the company, I must admit. Fortunately, we overcame it, and we are in a growth position today.
The sales people are those who bring the money, it's crucial. The mistake was with the messengers I chose. There wasn't a problem with the product, with the market, or with the message – it was a problem with the messengers.
It's best to have local sales people who understand the market and the culture.
Biggest success due to the right customer approach
I have a great story of a very big international retail client. I met with the UK's branch manager, and we were well prepared for the meeting. It was potentially a high value deal. We knew exactly what they wanted and we built a strategy specifically for them.
We had a very impressive pitch and then the client asked one question, he basically said something entirely different from everything we prepared or thought of. It changed from a high value deal to something that we call "almost for free".
I looked at the client and within a second, I said: "OK we will do it!" My team thought I was crazy. I closed the deal in seconds and potentially lost out. From today's perspective, it was an excellent deal. First, we started immediately, it was our strongest case study and it brought us many clients. Secondly, they have been a repeat customer over the past two years, running over 8 campaigns simultaneously and they are one of our best customers.
Recommendation of a tool for customer focus, marketing, or sales:
Do you remember I told about my 1,2,3 methodology for sales? In order to work that way and measure everything you offer to the customer; every start-up needs a good CRM (Customer Relations Management software). I recommend Pipedrive, which is the one we use, very simple and easy to use and gives us everything we need.
Jonathan's key success factor
I don't plan to succeed. I plan NOT to fail!! And through going on this path, I consistently look at and plan everything that can fail. That protects me and enables me to succeed.
The best way to connect with Jonathan
Whichit is a B2B software company providing an Interactive Commercial Content platform that enables brands, marketers and advertisers to dramatically increase user engagement, return on marketing investment, open new revenue streams, and gain user-related insight.
The company has a unique technology that profiles users based on their preferences and uses machine learning to provide bespoke commercial incentives in real time.
Videos
Links
Recommended Tools
Pipedrive – Pipedrive is a CRM & pipeline management tool that helps you focus on actions that matter. By sales pros, for sales pros. Grow your business now with Pipedrive.
More resources for Entrepreneurs
Don't Miss – Customer Focus Strategy & Execution: Market Analysis for Fundraising
Hayut Yogev's Latest post: The three free, most practical steps to researching and locating your market