EP. 042 – Jonathan Aufray – Has lived in 7 countries, speaks 4 languages, and tries to teach entrepreneurs around the world that the important word in Growth-Hacking is Growth!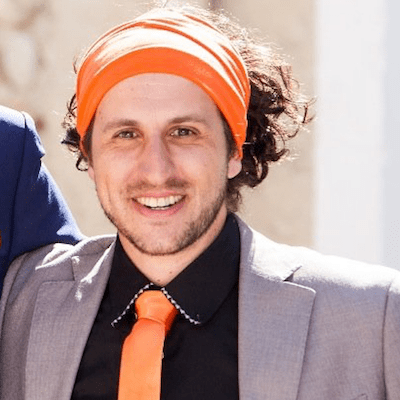 Jonathan Aufray Show Notes
Jonathan Aufray is the co-founder and CEO of Growth Hackers and Growth Academia that help startups, SMBs, and entrepreneurs grow through inbound marketing and growth hacking. He has lived and worked in 7 countries, speaks 4 languages, and has done business with companies from 70+ countries. Jonathan loves discovering new cultures and meeting new people.
Most passionate about
In the past years, I've been helping startups and small businesses to grow by using digital marketing, inbound marketing and growth-hacking.
Taiwan is the 7th country I've lived in; I'm originally from France, and I have also lived in the US, England, Ireland, Spain, and Australia. In each these countries, I had different experiences working with small businesses, where I could see the difference you make for the companies.
I started with classic digital marketing, mainly social media and SEO. A few years ago, I came to Taiwan, I started to work with startups, and at that time, I started with Growth-Hacking and a lot of small companies wanted to see me to find if I can help them. As I studied later, most entrepreneurs are engineers and they are good in technology, but they didn't have any idea about marketing or growth.
I started as a consultant for small companies but I felt there is a limit for the number of campaigns I could help, and so, together with my partners, we established our company, Growth-Hackers.
Jonathan's customers
Most of customers find us through content we share and what we do in our inbound marketing activities.
A lot of people get really confused about what growth-hacking is. Many entrepreneurs that contacting us think that growth-hacking is some cheap way of marketing where you get millions of customers every day. No, it's not.
In my opinion, Growth-Hacking is a process. What's important in growth-hacking is the word growth, not the word hacking. And growth is a process. First of all, you need to know what you want to grow. You need to choose one or two metrics of what you want to grow. Is it the number of sales? Is it the number of leads? The amount of traffic to your site or the number of people that will use your product? As I said, you need to choose one or two metrics and focus on those.
People really don't understand the issue of focus on growth, they say I have 20000 fans on Facebook, or 20000 people liked me on Instagram, so I ask them, that's where you want to grow, on Instagram? And they answer: No, no, I want sales! So, there isn't point of having 20000 likes unless you want to grow there. You have to focus on your KPI, on your metrics. Once you have the metric, there are many tactics you can use.
Jonathan's best advice about approaching the customers
It depends on what stage the entrepreneurs are, but you need to talk to them. You need to talk to your customers. Talk with the happy customers, take testimonials etc. but also talk with the unhappy customers.
I read that 96% of unhappy customers will never tell you why they weren't happy with your product. You might make assumptions about your product, but your customers are the ones that use and pay for it, and if someone was interested in your product but they stopped using it, you need to know why.
Biggest failure with a customer
When we launched Growth-Hackers, there was an entrepreneur that came to us and wanted us to help him with SEO. And we explained the process and what it takes to get the results. But after one day he called and complained he didn't see any improvement with the organic search, so I explained it again, that it takes weeks and months until he would see results, and if he want fast results, maybe we should use social media or other tactics that show fast results. And he said he understands the process of SEO and he will give it the time needed, and after a few days he contacted us again and was very unsatisfied that there aren't any results yet. So we stopped working with him, but it helped us understand what and how we should explain each service to our customers to make sure they have reasonable expectations.
Biggest success due to the right customer approach
That something I like to talk about I don't know if it was the biggest success but I'm very proud of this project. Last year, we worked with the Taiwanese organization that takes care of  abandoned dogs. There are many abandoned dogs in Taiwan, and we helped this organization to launch their site and run a campaign to make donations for these dogs and take care of them. And not only did they enjoy an ongoing flow of donations instead of here and there, we also helped them to establish their loyalty program and more.
Recommendation of tools for customer focus, marketing, or sales
I'll recommend two tools – the first is Zapier, this is a tool for automation. A great tool to automate different platforms together.
The other tool I want to tell you about, that is more about customers focus, called TypeForm. This is a very easy way to create a questionnaire if you want to get feedback from your customers.
Was there a moment that you felt that you stop chasing after your customers and started to attract them?
It's about creating a funnel that would work right for you.
I would like to talk about what inbound marketing is. Let's say you create content like an eBook, blog post, or video and you share it with your audience mainly on social media, not obviously paid, once you promote this content, you want to create leads, and your want people to give their email in order to get the content, and then you send them a sequence of emails. All that's kind of automated. So the point is that once you have the right funnel in place, people will come to you. You don't have to use cold calls to try and find your customers, or make random contacts on LinkedIn.
What is your one key success factor?
My key success factor is luck. But the most important factor is to not be scared to go out there and start doing. Not being scared to "go all in" like in Poker. That is what creates your luck.
Jonathan's Mountain
Since we believe that the best way for entrepreneurs to get a fast, big, and sustainable success is by leading your (new) market category, and the entire entrepreneurial journey reminds me of mountaineering, or conquering the mountain; I want to ask you if there is a mountain you dream of climbing or a mountain you have already climbed?
I do have connections with mountains. I'm from Lion, in France, and we are an hour away from the Alps, so I grew up going to the mountains on Saturdays. Now, that I live in Taiwan, there is one mountain I wish to climb one day; Mount Fuji in Japan. Taiwan is close to Japan, and climbing Mount Fuji is a must do in Japan. I've been to Japan twice and I didn't climb Mount Fuji, so I really want to do that.
The best way to connect with Jonathan?
Other mentioned links:
Recommended Tools
Zapier – Connect the apps you use everyday to automate your work and be more productive. 1000+ apps and easy integrations – get started in minutes.
TypeForm – Build conversational forms, surveys, quizzes, landing pages, and more. Typeforms are easy to make and refreshing to take. Try it FREE – no coding required.
More resources for Entrepreneurs
Don't Miss – Customer Focus Strategy & Execution: Market Analysis for Fundraising
Hayut Yogev's Latest post: The three free, most practical steps to researching and locating your market