Ep. 263 – Jake Jorgovan: "It helps to launch a business in a rising tide, like in a rising wave. That's what we are doing with podcasting right now."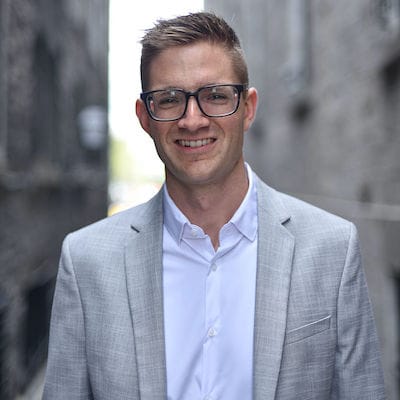 Jake Jorgovan is a Serial Entrepreneur, Podcast Producer and Business Advisor.
He is the Founder of Content Allies and Lead Cookie. Through these companies he has generated $40M+ in sales for his clients. Jake is the host of the Working Without Pants Podcast, and Leaders of B2B Podcast. He also shares the raw lessons of his entrepreneurial journey at Jake-Jorgovan.com.
Jake is the producer behind podcasts for brands such as Facebook, Siemens Energy, Stampli, and more.
Jake's professional focus is to build companies that enable freedom of time and financial profitability. He does that by being an active entrepreneur in the trenches and through training others on entrepreneurship, leadership, sales & marketing.
Jake has degree in entrepreneurship from Belmont University and has been awarded Nashville's Youth Entrepreneur of the Year. He has spoken at conferences such as SXSW and has been featured in publications such as Inc & Forbes.
Jake lives a nomadic life and has traveled the world while running multiple companies.
Current location: Barcelona, Spain
Most passionate about
I currently run Content Allies, which is a podcast agency.
I'm really passionate about building this business up. Then, personally, on the side, I'm really passionate about playing with synthesizers.
We produce revenue-generating B2B podcasts. That means we work primarily with businesses. These would be companies that are looking to launch a podcast. They tend to be of a decent size.
Jake's career and story
I have been in entrepreneurship for about 12 or 13 years now and have been in a video agency for a while. I got really into the event, industry, and music industry early in my career. Then I went off and did freelance digital marketing—various iterations of digital marketing agencies.
Eventually, I decided: Okay, I want to focus at the agency on content. My previous agency wasn't lead generation and got heavily disrupted; it kept changing the game.
I started Content Allies. We did a bunch of different iterations of content offerings and eventually landed on podcasting as our core service, with a full suite of content marketing.
We found that podcasts are growing. There are tons of stats out there, saying that every year podcasts are growing and that more people are listening to them. What is really interesting for B2B companies is that podcasts can become the epicenter of their content strategy.
Out of a podcast, we'll create videos, we'll create articles, we'll create social posts, we'll create quote blocks, we'll create short, social videos, and YouTube videos. We'll also often lead that into collaborations with the guests to post content on their site.
Best advice for entrepreneurs
It helps to launch a business in a rising tide, like in a rising wave.
We're doing the same thing with podcasting right now. It's like podcasting is a wave and we're riding that. At some point, that will plateau or stabilize and commoditize as any industry does.
The biggest, most critical failure with customers
One of the things that's hard about being an entrepreneur is that you have to learn every facet of the business. People deny this early on. I'm not a finance guy; that's how I started. So, I tried to hire out the job of keeping my books to the cheapest person I could, but that meant I didn't have visibility into finances.
Not knowing at least the basics led to really bad failures for me in the past.
Biggest success with customers
It came down to being intentional about the niche we were going to pick with Content Allies.
The biggest success comes from testing different offers and then trying to really think through things like, 'This is going to become my core business.'
Jake's recommendation of a tool
Process Street

It replaced very expensive project managers on our team.
It's great if you have a team of people and are trying to organize the work or are in the process of building SLPs and trying to streamline your business.

fm

We record all of our podcasts on it.
It records a local file on each person's computer and then uploads those.
Jake's one key success factor
One of the big things for any entrepreneur is to have a high level of self-awareness about where you're good and where you're not. I think that helps each person succeed. It's just a tactical recommendation.
Jake's Mountain
Since we believe that the best way for entrepreneurs to get fast, big, and sustainable success is by leading your (new) market category, and the entire entrepreneurial journey reminds me of mountaineering, I want to ask you: Is there a mountain you dream of climbing or a mountain you have already climbed?
I live in Denver, Colorado, so I love mountains. I'm a mountain person over an ocean person.
I always look at business as, like, you're moving toward this milestone. And by the time you get to that next milestone, you're like: Oh, well, there are new problems here. We've grown pretty drastically over the past couple of years.
I have to learn how to build a hiring system. I think you could say this is the peak. Then there's always a higher peak because you get somewhere and you're like, I thought I got really good at this and now I'm hitting another level of having to grow and learn.
The mountain analogy is great.
The best ways to connect with Jake
Want to learn how to start your Entrepreneurship?
Download for Free

HOW TO START ?
Want to learn how to choose the best Name and Logo? Not sure which customers to focus on right now and where they are? Want to build your website, or trying to figure out how and what content to share on social media?