Ep. 034 – Ian Anderson Gray is passionate about getting people to launch their live videos through Facebook Live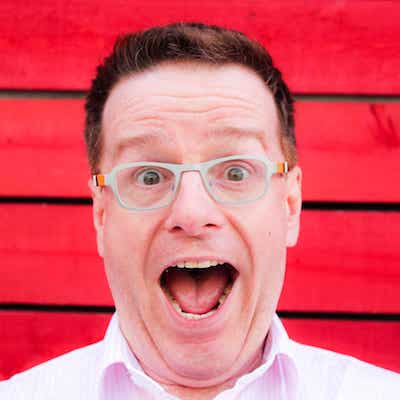 Ian Anderson Gray's Show Notes
Ian Anderson Gray is a live video marketing & confidence coach and the founder of the blog, Seriously Social. He's an international speaker, trainer, and teacher. Ian is also the co-founder of Select Performers – a family run web agency. He lives in Manchester in the UK with his wife and 2 children.
Most passionate about
My passion today is focused on getting businesses and people to launch their live videos through Facebook Live. I see two obstacles there: the fear of the camera and also the technology side of the things.
On my blog, I'm also focusing on social media tech tools, making the technology side of social media easier to understand.
I think that the reason I love so much what I'm doing today with live video and Facebook Live is that it brings together my passion of technology and also my background as a performer, being in front of people, in front of the TV; the confidence, the fear… What I love to do today is help those people that want to be on live video, but they are scared, and I like taking them by the hand and guiding them to achieve that presence.
I'm really excited about live video because it's like taking all the main pieces of my career life and putting them together.
Ian's Career
I was trained as a professional singer 15 years ago. My mother was an opera singer. So, I've always been interested in music. In technology as well. I set a web agency, and for many years, I've been working with my dad on building and maintaining websites for people.
Ian's customers
It took me quite a while to figure out who my customers are. It started when I wrote an article about how to broadcast on Facebook Live from your computer. And this article went viral so quickly, it really blew my mind… It had three and a half million page views in the last year, and I got a lot of comments and questions. So, I realized my main customers for now are those who are really eager to use live video, but they are too scared to do it by their own.
My main topic customers are usually online business owners, who are committed to putting in the hard work. Live video is still in its early days, and technology is still a challenge; I found out live video is something that people tend to quickly give up if it doesn't work as expected.
Ian's best advice about approaching the customers
From I have experienced during the years is that it is all about focusing on your audience and producing content that will really help them.
And this has always been my philosophy. I'm not a frequent blogger, and I should definitely get better in writing more often, but one of the reasons for that is that I put my heart and soul in any article that I write.
So, my advice is to write content that would really help people and to write in great detail. But don't stop there, answer people's questions and be there for them. As a result of that article that I wrote and the many comments and questions I got from it, I actually launched my online course about live video. I prepared this course within a week and, surprisingly, it did very well.
Biggest failure with a customer
There is been a few. But I think my biggest failure is not serving my clients well and by that, I mean not writing content consistently. My clients need direction and answers; that's my way of serving them.
As a result, this year was more difficult than I expected. Last year, when I wrote the article and launched the online course was a great year. This year because I wasn't serving my customers as I should, was more challenging, but it was a good sign as well, because it forced me to ask myself the important questions, like who my target audience is, and so on.
I believe, we all also need to go through the difficult times; the times when we are almost ready to throw it all away… That's what will prepare us to the next stages.
Biggest success due to the right customer approach
My biggest success was producing my online course. I wrote the article I told you about, the live video, and what helped me to spread the word about this article and to produce and publish my online course were all the great connections I built through social media.
The event of launching my course and the huge help I got from all the connections I made in social media was proof that the hard work I did over all these years of building my social media presence and going to events was worth it and payed off.
Recommendation of tools for customer focus, marketing, or sales
I would like to recommend the tool I use for social media management, called, Agorapulse. A social media management tool is a tool that enables posting content, it gives reports and it helps you to engage with your customers. There are a lot of tools for managing social media, the reason I love Agorapulse is because it enables me to go through all my mentions and notifications on Twitter, Facebook, Instagram, and YouTube, besides posting to all the networks (including LinkedIn).
Recommendation of a person, or a book that impacts Ian's "customer focus" and success
I'm going to have to mention Mark Schaefer; he came to a conference in the UK, and his words in that conference completely changed my life. He is a very professional person, and very humble as well, and he helped me a lot.
There are two books I would like to recommend, one is Known, a fantastic book by Mark Schaefer, and the second book I want to recommend won't technically launch until next year, The rise of the Youpreneur by Chris Ducker. I think having this book in one hand and Mark's book, Known, in the other, and that's all a business owner needs.
The point when Ian stopped chasing after customers and started to attract them.
That's been happening to me over the last few years since I started to produce content that really helps my audience and my audience love. When you really help your audience you don't have to go to the hard sale and you don't have to chase them. That's what is happening to me today.
What is your one key success factor?
I think, for me, it is going to conferences and meeting face to face with people. There was one conference that was in Manchester; I had my first gig there and that's when I started to meet people from the social media industry. And in the same year, I found the courage to fly to Social Media Marketing World in San Diego, and that changed everything for me. It was meeting all the people that I knew on line and I had the chance to meet them in person. I's about the relationships I built.  And in the second year, they asked me to speak there. I spoke about Twitter on the last two years, and this year, 2018, I'm going to speak about live video. I'm so excited to speak about this issue that I'm so passionate about. But going to these conferences was what drove me to take this business of social media that was a hobby for me, a side business, and make it my main business.
Ian's Mountain
Since we believe that the best, or the right, way for entrepreneurs to get a fast, big, and sustainable success is by leading your (new) market category, which always reminds me of mountaineering, or conquering the mountain, so I want to ask you if there is a mountain you dream to climb or a mountain you have climbed already?
Yes. I believe that, in this journey of entrepreneurship, we all need mountains in our lives. I would like to say Mount Everest. Not because I want to climb Mount Everest (of course, in my mind, I want to be on the top of Mount Everest). But I kind of cheated with Mount Everest, because I took a mountain flight to see the Himalayas when I visited India and Nepal, and suddenly we saw Mount Everest from the top, and it was amazing to see this picture that you see on TV and hear about, in real life.
Resources Mentioned:
Ian's successful posts:
Recommend Tool
AgoraPulse – An easy social media management tool that works with Facebook, Twitter, Instagram, LinkedIn, Google+, and YouTube.
Ian recommendation of a person who influenced most on his current career 
Recommended Book:
More resources for Entrepreneurs
Don't Miss – Customer Focus Strategy & Execution: Market Analysis for Fundraising
Hayut Yogev's Latest post: The three free, most practical steps to researching and locating your market