Ep. 060 – Dr. Robin Kiera's best advice: "Love your customers, not your product! And share your knowledge! The time of silence is over."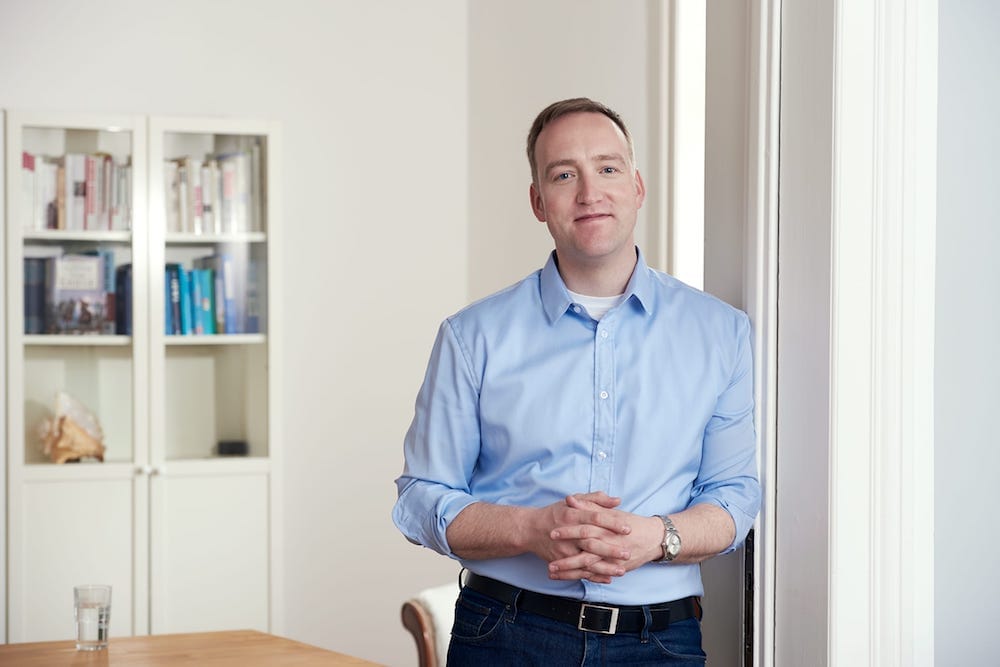 Dr. Robin Kiera Show Notes
Dr. Robin Kiera is the founder of Digitalscouting, and is known for his market insights.
He was one of the earliest persons to discover the Insurtech unicorn Lemonade and predicted the entry of Amazon into the insurance industry.
Among other things, this made him one of the best-known and influential persons in the finance and insurance industry, a renown key-note speaker, and sparring partner behind the scenes.
Most passionate about
I founded DigitalScouting, a platform for entrepreneurs, thought leaders, and senior managers from large companies, and small/medium managers where they can share the best practices and the lessons learned.
It started as a hobby, now it's exploded in a positive way. That's what I'm doing beside speaking in conferences and helping insurance companies, because insurance is my main industry.
I'm scouting new technologies and giving most of them for free. The idea is to look and scout technologies that can help corporations to excite the customers and bring value to them. The researches focus on trends for the next three, five, and seven years and how companies can use it to excite and inspire their customers.
I share most of my scouting and research for free, if a corporate ask me to come to them and consult.
Robin's career
For years, I've been sharing a lot of content and gotten great feedback. I was never afraid to call out "the elephant in the room". In the insurance industry, there are a lot of elephants in the room… I think that in times where the changes in society are dramatic, the most dangerous thing you can do is nothing.
In the insurance and financial industries, most people are very comfortable with not changing anything. I always did that in a very polite and respectful way, and very slowly more users followed me, suddenly a journalist in some blog called me out as one of the influencers in Europe. I actually needed to look up what that meant.
That accelerated things, and then I published my home page for DigitalScouting and then things really started to explode. One day, I looked with some social media analytics tool and found out I had 17 million monthly reach! That is outstanding for a small business.
Robin's customers
My passion is the audience; corporates' innovators and hundreds of startups and entrepreneurs. I support them in their endeavor and I'm an authority, which they can quote or get help from when they try to convince their managers and companies to consider new technologies.
I support insurance corporates in two ways, first, as their expert partner for their digital strategies, helping them to plan and implement ecosystems of digital services.
I also help them in their communication strategy, because the large insurance companies always ask me "Robin, how come you have such huge numbers of followers and fans, much more than my 40 people PR department will ever get…"
I always tell them, when you want to win the game with   the soccer league's giants it's very easy, just don't play soccer against them; play chess or gymnastics.  What I mean by that is if you are a smaller player who wants to win the game in your industry, it's very important not to play by the rules, and not to do it as it was always done.
Robin's best advice about approaching customers
Love your customers, not your product! So many entrepreneurs, R&D managers, and startup companies are convinced at the success of their new venture or product that many times they get lost in it.
Love your customers and always ask where the attention of your customers is, what their desires are, and fears or needs that you can address.
And then, give most of your knowledge away for free. You should create a whole ecosystem around your company as a brand that helps people with their problem and also generates and shares joy.
Share your knowledge! I think the time of silence is over.
Biggest failure with a customer
I have a whole list of failures and mistakes, on a daily basis. My biggest failure, the one I regret most, was at the beginning when I started to speak at conferences. A lot of startups came to me and asked for my help, and of course I was always happy to sit in a coffee shop and chat a bit, but a lot of them wanted more than that, and I wasn't able to deliver that, I didn't even think of building structure for regular calls or a mentorship platform.
It took me a long tome and many requests that I couldn't answer until a friend of mine told me – just call yourself a mentor and find different ways for helping those who ask for your help.
Today I found the way and I support several of them.
Biggest success due to the right customer approach
You never know who your customer is. I'm always open to anyone that asks to talk and meet me and that has led to a lot of interesting opportunities.
I think the most significant time was when I had an open discussion with some senior managers and C suits of large insurance companies that came to have lunch with me, and one of them said, "You know Robin, I actually reschedule an appointment and a pitch with BCG and Mackenzie because I wanted to talk with you." And that was the time when I told myself 'OK, things are getting real'.
Recommendation of a tool for customer focus, marketing, or sales:
I'm afraid I'm going to disappoint you… I think the main tool is an open mind. Really to be customers' focus and all the time think how can we make life easier to those people we serve.
There are tons of tools out there, and I see different companies use them in different ways. In the end, it comes down to being open minded at your self and to have non-toxic, positive culture at your company, which will attract great talent.
Recommendation of a person that had impacted Robin regarding customer focus, marketing, or sales:
I listen to many podcasts and I consume tons of content in social media, but some people really opened my mind regarding several things. One of them is Bryan Fanzo – IsocialFanz, who is a social media guru that lives in the US. I really love to listen to his podcast and he provides a lot of value to me.
Robin's key success factor
My key success factor is surely Katia, my wife. Without her, none of this would ever have happened. Without her, everything would be nothing.
Robin's Mountain
Since we believe that the best way for entrepreneurs to get a fast, big, and sustainable success is by leading your (new) market category, and the entire entrepreneurial journey reminds me of mountaineering, or conquering the mountain; I want to ask you if there is a mountain you dream of climbing or a mountain you have already climbed?
On one hand, I'm a north German, and I'm half Dutch, so what I consider a mountain is more like a dike.
I climb dikes because I love the view, but I really love the nature of the Alps, so if I could choose, or had the time to do a large hike, it would be somewhere in North Tyrol, Austria, or Germany during the summer time.
The best way to connect with Robin
I just started my Youtube channel and I would love to have more subscribers there.
More resources for Entrepreneurs
Don't Miss – Customer Focus Strategy & Execution: Market Analysis for Fundraising
Hayut Yogev's Latest post: The three free, most practical steps to researching and locating your market