Ep. 186 – Devin Miller: "Responding to customers right away has grown our business better than any-thing else."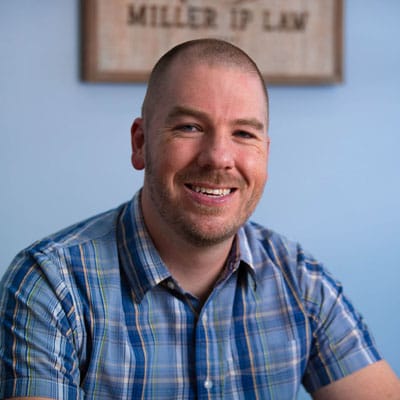 Devin is an entrepreneur, patent and trademark attorney, and an Intellectual Property expert.
He specializes in protecting startup and entrepreneurial companies with IP Legal Advice, setting them up for success in their business! In addition to founding and running Miller IP Law, he is the co-founder of several startups including a multi-million dollar startup for wearable glucose monitoring.
Devin has worked with the likes of Amazon, Intel, Red hat and Ford. He is passionate about helping businesses and has a drive to educate and entertain listeners with years of experience as a calm speaker, and veteran podcaster.
Most passionate about
My main focus is on what's called Miller IP Law. It's a patent and trademark law firm that helps startups and small businesses.
Another focus is on startups I founded: one in the wearable space, another that is a software as a service startup, and a couple of others that are getting ready to launch.
Best advice for entrepreneurs
The first thing to do is define who your customers are—not broadly saying, "We want to sell our product to everybody who will buy it," but saying, "This is who we want to really serve." This is your best first step.
For our company, startups and small businesses are where we want to focus because that's who we enjoy working with. You get to have a lot more impact. They are a lot more fun to work with.
The biggest, most critical failure with customers
We built our system so that it would automatically generate invoices based on some of the information we provided. Then it would send the invoice to the client or do automatic follow-ups.
We didn't understand, or we didn't account, for every possibility. We had one customer who received the wrong invoice. It was the wrong amount and it wasn't in the right name. It was just a flaw in the system that we've since corrected, but back then the customer said, "Hey, this isn't the right amount."
LESSON LEARNED: It's finding that sweet spot: "Hey, we're automating what we can but it doesn't impact the customer touch, that customer-centric focus." Today, we make sure that we can maintain those human touches where they're needed.
Biggest success with customers
Responding to customers right away has been one of the biggest impacts. It has grown our business and had a better customer impact than anything else.
We set up a system; 90% of the time we respond right away, and 95% of the time we respond within 30 minutes. We have a strict drop-dead rule: 100% of the time you respond by the end of the day.
I can't count the number of times a client has reached out and said, "Hey, thank you for your quick response," or "Hey, it's great to get a quick answer; you guys are so much more responsive." That's probably helped us grow our business.
Devin's recommendation of a tool
We use HubSpot a lot. It's how we track the customer experience.
HubSpot has been our customer relations management tool since our first year. It's a bit more expensive, but it accomplishes what we need.
It provides a wide variety of ways to track the customer journey, making sure we take care of them. We can automate the things we need to and make sure we're not automating things we shouldn't.
Devin's one key success factor
The one factor for me, personally, is the ability to press forward. There are going to be good times, bad times, easy times, hard times, and everything in between.
What has driven our success, or made the difference throughout everything, is the ability to say, when everything is hard, "It's not easy but I'm going to continue to press forward. We're going to figure this out. We're going to make it work. We're going to push through those difficult times to make it through."
Devin's Mountain
Since we believe that the best way for entrepreneurs to get fast, big, and sustainable success is by leading your (new) market category, and the entire entrepreneurial journey reminds me of mountaineering, I want to ask you: Is there a mountain you dream of climbing or a mountain you have already climbed?
For the first few years of our marriage, before we started having kids, we decided we wanted to climb the highest peak in Utah, which is called Kings Peak. There were two peaks that looked the same and there wasn't any sign. So, we chose the peak that we thought was the highest. When we reached it, we found out it was the wrong peak—and we couldn't make it to the second peak at that time.
So, for the first year, our goal had been to climb the biggest peak and we failed.
We came back the next year and did the same kind of expedition. We climbed the highest peak and it was a fun experience.
 
MORAL LESSON:If you don't know where you're going, stop, take an extra few minutes, and verify where you're going. Don't just think you know where you're headed. It makes a big difference, including in business.
That has always been reflected back to me; in business, I want to make sure I don't pick the wrong mountain.
Sometimes you have to say, "Hey, we made a mistake. We thought we knew where we were going, but we didn't. But rather than give up, let's come back and try it again. And we'll correct it." So, it was a good lesson learned.
The best ways to connect with Devin
Websites
Social Media Profiles
Want to learn how to start your Entrepreneurship?
Download for Free

HOW TO START ?
Want to learn how to choose the best Name and Logo? Not sure which customers to focus on right now and where they are? Want to build your website, or trying to figure out how and what content to share on social media?