Ep. 051 – Dan Knowlton "We focus on creating as much value, adding content that helps and attracts customers to us, so they come to us and say – we see what you do and we want to work with you"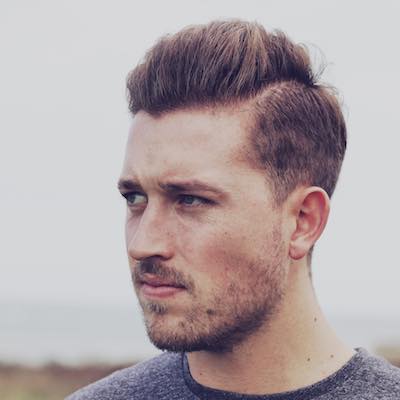 Dan Knowlton Show Notes
Dan Knowlton has been ranked as a Top #100 Digital Marketing Influencer and is an international speaker who went from knowing nothing about Digital & Social Media Marketing to growing an award winning, 6 figure Digital Marketing Agency with his brother Lloyd in under 2.5 years.
Dan is also a contributor for a variety of key marketing publications including Social Media Examiner, Content Marketing Institute, and Jeff Bullas' Blog.
Most passionate about
I'm passionate about a lot of things, but I think the main one is education, to educate and help people to use the social media strategies we've used to grow our business. We are doing it through variety of channels; we create educational content, we use speaking events, and we take part in podcasts like this. So what we enjoy and are passionate about is education.
The big picture for us is to continue growing a big successful business. And with time, we are developing more and more educating opportunities, training, event speaking, and creating more educational content.
Dan's Career
I did a marketing degree in university, but actually I didn't take any modules and didn't learn anything about social media and digital marketing. I worked in a company after my graduation and learned a lot about how to run a business, about customer services, sales, and marketing, but I quit because it was too much pressure.
I traveled to Thailand and that was a good opportunity to think about what I would like to do, and I became obsessed about how to grow an audience through social media by creating content, writing articles, polls, and blogs and so on, and I started build my own community online. I built a fairly big community on Twitter. And then I thought I could help others do it as well and I started KPS Digital Marketing and my brother came on board and it really started from there.
Dan's Customers
Starting out, I really didn't know who were going to be my customers. It's has taken experience, and it's taken years to work in different industries, with different companies, and different mind sets to understand who are the right customers for us. And today, we are working with a variety of companies in different sizes and from different industries.
When we started out, we had this mindset that everyone that wanted to work with us; we wanted to work with, because this was the beginning. But we soon got to understand that our best customers are those who really understand the value in what we provide. Those who don't need convincing and chasing after. The people who you chase tend to be the customers that are never satisfied and take the hardest work.
So for us, the customers we focus on are those who understand the value in what we do, and also those customers that truly understand that this social media, and marketing isn't just a magic pill you take, you are doing one thing and BOOM!! Everything is happening. They are those who understand that they need to work hard and they need a team on board etc. And finally, our best customers are customers that share similar values with us, and we have three main values, first of all, to have fun, to grow, and make money for both the customers and us, and to live through our values.
Dan's best advice about approaching the customers
We really were growing our customers through inbound marketing. We don't do any kind of outbound, going after customers, saying: Hi, come and work with us.
We focus on creating as much value, adding content that helps and attracts customers to us, building relationships with these customers over time, so they come to us and say "we see what you do and we want to work with you. So my number one tip would be to really understand who your customer is, first of all, and then do all the great digital, social, and content marketing that will help attract those people to you, rather than going out there and trying to find them.
What make us stand us is "you have to be you". That's what makes you different. You have to think what is important to you and then expose yourself in a way that is all about your personality. Whatever makes you – you!
What is mainly unique about us is that we are really down-to-earth. We want to come across as us, we want to help people, and we want to only work with those we can really help.
Biggest failure with a customer
We have had some really great successes, but we had hundred times more failures than successes. I believe that you need to fail, and fail, and fail to improve. Especially in the early days, when we knew maybe one percent of what we know now. To be honest, I think we have failure with every customer, but we also have great successes with them. It's the failures that help us improve.
One of our failures was when we prepared a viral video to show a new customer what we can do together, and that video went viral and was so successful that the video we produced later for this customer, no matter how professional and high quality it was, never managed to succeed like the initial video did. And that led to a big disappointment of that customer.
Biggest success due to the right customer approach
We prepared a session of strategy workshop for a team of a lady that heard of us before, and after the session she posted such an incredible post about how valuable it was and so many superlatives that it led us to generate a lot of more business.
I think that the reason it succeeded so much was that this lady followed us for more than a year, and she really came to know, like, and trust us before working with us. She saw a lot of stories we shared about what we do, so she had expectations that we could fulfil.
Recommendation of a tool for customer focus, marketing, or sales
There is one tool that really sticks out, that had a huge impact on our business, and that is HubSpot. When we started to get more businesses, we needed a way to better manage ourselves and better manage our relations with our customers; we made a research and chose HubSpot. Since then, it completely changed our business for the better.
It really helped us to manage our actions with the customers, converting more leads into sales and keeping our customers happy.
Recommendation of a person that impacts Dan's "customer focus" and success
There are so many. We focus on self-educating and learning from all the people who provide and share content. And we learn so much from Mike Stelzner from Social Media Examiner, Chris Ducker from YouPreneure. Chris Cobby, a marketer from Copenhagen, has an agency like us and he shares the challenges the failures and successes and we learned so much from him, and also Steven Butler who is running the fastest growing Social Media Agency in Europe.
What is your one key success factor?
I think, there are a few! The number one I think is having a passion for what we are doing. Having a true passion for Social Media, and Digital Marketing, content creation, and being creative in our space has the biggest impact on our success.
The second thing that also had a very big impact is having a partner in the business that brings a different set of skills, so we combined together, and this is my brother, Lloyd.
The final things are patience and really looking at the long term.
Dan's Mountain
Since we believe that the best, or the right, way for entrepreneurs to get a fast, big, and sustainable success is by leading your (new) market category, which always reminds me of mountaineering, or conquering the mountain, so I want to ask you if there is a mountain you dream to climb or a mountain you have climbed already?
I never climbed a mountain, but I'm a keen skier so I go up the mountain on a chair lift every year and then ski down...
The other thing isn't actually a mountain but it's something that my brother and I will definitely do at some point, the Camino trail, the walk you are doing across Spain. My dad did it and he has really been an important mentor to us. He is a business man and affected us a lot. He walked the Camino and he keep saying: Boys, I really want you both to do the Camino. So we decided we will do it together one day.