Ep. 029 – Corey Poirier – used to say "YES" to everything he could, but learned along the way that the high achievers actually say "NO" to most things so they can say "Yes" to the right things, things that move the needle.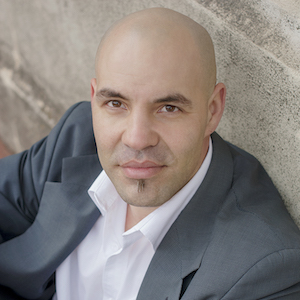 Corey Poirier Show Notes
Corey Poirier is a multiple-time TEDx, PMx and MoMonday's Speaker. He is also the host of the top rated 'Conversations with PASSION' Radio Show, founder of The Speaking Program, and he has been featured in multiple television specials. A columnist with Entrepreneur Magazine, he has featured in/on CBS, CTV, NBC, ABC, and is one of the few leaders featured twice on the popular Entrepreneur on Fire show.
Corey has interviewed over 4,000 of the world's top leaders.
Most passionate about
One thing I'm really passionate about is helping people launch their inquiries. Teaching them about the speaking industry from A to Z, how to get speaking opportunities and all the way to getting paid thousand dollars for a talk.
The second thing is we are getting really close to launching my latest book, "The Book of Why and How." It's about figuring your true "Why," which is your calling, or your passion or your purpose, and how to do that, how to crush it in business or entrepreneurship, how to make big things happen.
The company
It's all started for me in 2002. I was invited by an actor to try my hand at stand-up comedy. There was a local workshop at the university, I was terrified but I chose to face the fear so I jumped in. After a two week workshop where we learn how to stand in front of the mic and perform, the third week we were supposed to go to a real stand-up comedy club to see it in action and five minutes before the first show started, we found out we are those who are going to perform in the club. I wanted to run away, half of the group just left through the front door.
I didn't leave that night, I performed, I didn't get any laughs, it was a pretty humbling experience and I kept coming back. After six months, I realized that there was a thing called Professional Keynote Speaking that has all the things I like about stand-up comedy and very few things I didn't like and more than that – you really get paid, unlike a stand-up comedy performance where we were hardly paid, if at all.
The speaking thing really talked to me and I started to perform as a professional speaker. I kept doing stand-up comedy, but I also started doing speaking and once I started, I really got hooked. So for four years, I did a once a week stand-up comedy performance, did professional speaking during the daytime while keeping my previous job as a sales person.
The customers
I have three different types of customers. One type is my clients who book me as a speaker. It would be corporates, organizations, and associations, as well as nonprofit organizations and schools. The direct customers were event planners at the companies, CEOs or HR employees.
The second type of customers are those who are interested in becoming a professional paid speaker and I work with them more as a coach.
And my third type of customers are those who sponsor our show. It's more like an advertising related customers, they buy sponsorship packages or ads from me.
Corey's best advice about approaching the customer
One of the biggest areas I would focus on is personalizing both your coaching skills and the experience of your customers. Unfortunately, today a lot of people that got connected with a new potential customer via LinkedIn, for example, and five minutes later, they approach them and write something like: "Hi…, so happy we got connected, I see we have a lot in common, we should look at how we can partner together and start a business together…" That, unfortunately, happens quite often these days and there are people that are going for the numbers and not for the quality. You need to get to a level of personalization. Build the relationship first.
So when you want to approach somebody, do a little research and a little prep and then when you approach them, whether it's through email or social media or in person, customize it or personalize it to them.
Biggest failure with a customer
If I look back to an early time in my entrepreneurial journey, when I was 18 years old in 1996, I had a publication for one year. I launched it and had success with it, we broke even on the first issue and then we made money on the following issues, but here comes the failure. Very fast, we ran into cash flow issues because we launched with almost a negative cash flow.
I feel I wasn't serving customers the way I should have. I was just focused on getting sales because I started with a negative cash flow. After about a year, I realized that the cash flow is not going to be stable and I decided to close the doors before anybody got hurt and move on to the next stage of my journey.
The failure was that I was so focused on getting the business, so I wasn't focusing on servicing and supporting the customers, following up and then finding new customers.
Biggest success due to the right customer approach or focus
That goes back to when I was working for Toshiba selling photocopiers business to business. I was negotiating with a serious company that wanted to buy projectors and the owner really got connected to me and trusted me and wanted to buy many projectors from me in one deal, but I felt he wasn't happy with the specific product we had. He thought it wasn't strong enough for the purpose they needed it for. But he listened to me and would buy it from me if I told him it's good for him because he trusted me. And although I knew the products were quite strong, I felt he wasn't convinced and decided not to sell him that big deal and play the long term game and hopefully sell in the future.
It was a very hard decision. I needed the commission and there was also some big contest that month which I could have won. Two months later, he called me and asked to buy a much bigger deal for printers from me for the whole region. And that was one of the two largest, and impressive deals I had during the entire time I worked as employee at this company.
Recommendation of tools for customer focus, marketing, or sales
As I said while talking about my failure, I believe cash flow is a big thing and a lot of entrepreneurs are starting early today, so they must get paid fast. I think PayPal (or Stripe and the like) is the most important tool that will allow any entrepreneur get his money fast in order to enable a good cash flow.
Another technology that will help you grow as an entrepreneur is podcast platforms. I believe any entrepreneur must feed their mind constantly and the best way to do it is through podcasts that allow you do so on the go. iTunes and Stitcher are the best or at least the most popular podcast platforms. No matter which platform you use, it allows you to feed your mind with excellent podcasts.
What is your one key success factor?
As you probably see, I always like to give two things in reply. My first key success factor is that I spent my time to uncover my passion, "my why." If you are an entrepreneur and you haven't figured out why you are doing [something], that is a must. The fact that I'm really passionate about what I do has been a really big factor of my successes.
The second thing is something I learned a long my way. As a young person who grew up in a small town, I was taught to say "Yes" to everything I can, but I found out that the high achievers actually say "No" to most things so they can say "Yes" to the right things, to the things that move the needle.
Resources Mentioned:
Recommended tool:
PayPal – PayPal is the faster, safer way to send money, make an online payment, receive money or set up a merchant account.
iTunes – iTunes is a media player, media library, online radio broadcaster, and mobile device management application developed by Apple Inc.
Stitcher – Stitcher is an on-demand Internet radio service that focuses on news and information radio and podcasts.
More resources for Entrepreneurs
Don't Miss – Customer Focus Strategy & Execution: Market Analysis for Fundraising
Hayut Yogev's Latest post: The three free, most practical steps to researching and locating your market