Ep. 192 – Climbing mountains and entrepreneurial success – The 7th and newest mountain episode – Some of the most amazing mountains' stories you heard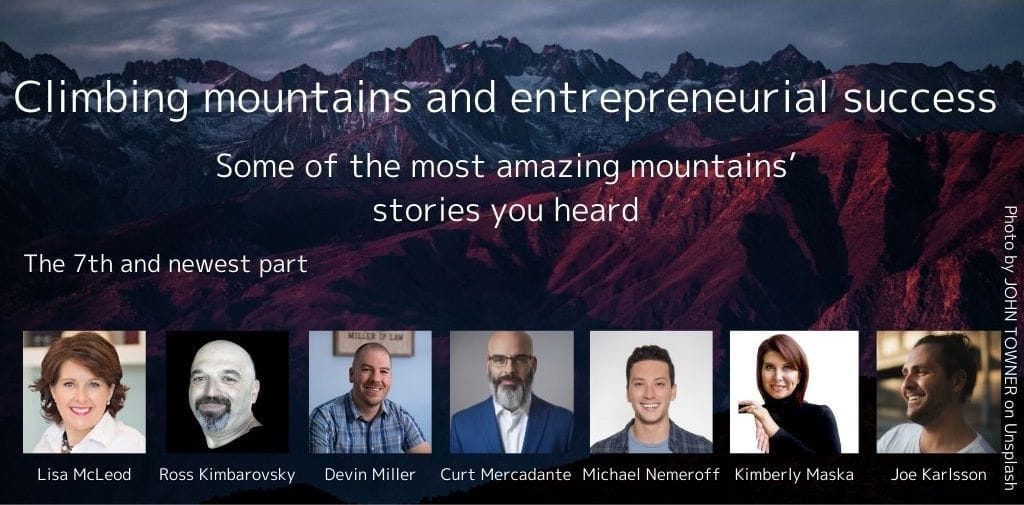 Hi, my Reachers.
This is the seventh 'Mountain Episode'. It seems like you really love this amazing series of the Reach Or Miss mountains project; Today, I want to share with you the 7th and newest episode where successful entrepreneurs share their mountains stories.
Listen to these incredible mountain stories I heard from the successful entrepreneurs I recently interviewed on my podcast.
You can then listen to the full interview with each of them and hear about their visions, struggles, and how these entrepreneurs reached their success.
From the entrepreneur that climbed with her client on "the hike of the gods" in Italy, and was amazed,
To the one who decided to climb the highest peak in Utah; Kings Peak, but found out they climbed the wrong peak…"
To the entrepreneur whose mountain was to save the financial future of his family,
To the only entrepreneur that said: "To be honest, I don't feel like I'm climbing a mountain today. I feel like my mountain climbing journeys ebb and flow."
And the entrepreneur that moved to the mountains in Asheville, North Carolina and said "It's pretty impressive, and it's just incredible to be so rooted in nature here. Being in the mountains is a blessing that I had never thought I would experience like this."
I hope these mountain stories will encourage you to find out what should you – as an entrepreneur looking for your breakthrough to success – take from their stories to help you find the necessary steps to reach your peak.
Many entrepreneurs climb mountains, while others use mountains as a metaphor to describe what is necessary to conquer the peak – including the fatiguing yet rewarding journey to the top. Still other entrepreneurs use mountains as an analogy for a significant goal they wish to achieve – such as becoming a billion-dollar-market-cap company.
For many years, I've compared the act of marketing; taking possession of your potential customers' minds and of building awareness, likability, and trust of a leading brand, to the act of climbing the highest mountains.
You climb step by step to the peak, reach your position as a market leader and a leading brand, and then start climbing a new mountain with a new product line or another brand.
The idea of mountains as representations of a strong position in the market is mentioned by Al Ries and Jack Trout in the excellent book, Marketing Warfare.
"In military warfare, mountains and higher altitude areas represent strong positions and often are used to present a strong defense. In marketing warfare, the question is one of who holds the mountains in the consumer's mind."
So, at some point after the launch of my podcast for entrepreneurs, I started to ask the successful entrepreneurs I interviewed about their habits or dreams of climbing one of the highest mountains in the world.
Listen to these new inspiring mountains' stories, find which entrepreneurs and stories you identify with most, and review your entrepreneurial objectives, market overview, and plan. By making your business as strong as possible, you will be able to quickly and easily achieve entrepreneurial success.
Lisa McLeod: "When we reached the top, I remember thinking that people are just a dot on this earth, so you'd better do something with your time that matters.…!"
Lisa McLeod

Lisa McLeod is the global expert on purpose-driven business and the bestselling author of Selling with Noble Purpose: How to Drive Revenue and Do Work That Makes You Proud.
Lisa has spent two decades helping leaders increase competitive differentiation and emotional engagement. Her work debunks the myth that money is the primary motivation for most employees. She developed the Noble Purpose philosophy after her research revealed, salespeople who sell with Noble Purpose, who truly want to make a difference to their customers, outsell salespeople who focus on their own targets and quotas
Lisa's Mountain
"I was on a trip to Italy with one of my clients, G Advanture, the leader in adventure traveling. There was this hike they called "the hike of the gods." You were on top of this mountain, above some of the clouds. I was probably the least fit among the group, so I was super happy when we reached the top.
I looked down on the land, on this earth that has been here for ages, and it was so beautiful. I remember thinking that people are just a dot on this earth, so you'd better do something with your time that matters. The only thing that really matters is how I affected people around me. It's the only thing that's going to last."
[You can listen to the full episode with Lisa here…]
Ross Kimbarovsky: "We focus really hard on the customer and the customer-experience throughout every touchpoint."
Ross Kimbarovsky

Ross founded and is the CEO at crowdspring, where since 2008, 220,000+ experienced freelancers help small businesses, entrepreneurs, agencies, and non-profits with high-quality custom logo design, web design, graphic design, product design, and company naming services.
Crowdspring has worked with the world's best brands, many of the world's best agencies, and tens of thousands of entrepreneurs and startups.
Before founding crowdspring, Ross practiced law for 13 years as a successful trial attorney. There's a rumor that Ross left his law practice in 2007 to found crowdspring so that he could wear shorts to work. That rumor is true.
Ross's Mountain
First of all, I love Maui. It's the bounce in areas of the United States are some of my favorite areas. Also, I love the ocean. So, in years when I can do it, I spend half my vacation on the ocean and half in the mountains. However, if I had to choose, it would be the mountains.
Part of the reason I love mountains is, first of all, they're majestic and beautiful. Also, I love them because they're complex, with different weather patterns. They're challenging. I haven't climbed mountains normally as a climber, but I've certainly, tackle, you know, some reasonably climb where you can walk up a mountain.
The reason I find them is because the ones that I've done, which get increasingly more complex, teach you that it's important to, as you said, take it one step at a time. This is a lesson that I brought into my personal life and into running a business.
We are absolutely overwhelmed by the things we need to do, to the point we're paralyzed. We just can't make a decision because there are too many decisions to make and too many things to do. The way I think about it, and it's a good analogy to climbing mountains, is that you can't get to the top by jumping there.
You can get to the top by taking one step. If you take a step, you're closer to the top, and if you take a second step, you're that much closer. And so, in my personal life and in running my business, when I'm presented with this dilemma of overwhelming choices and too many problems, I literally focus on the first thing. I don't obsess about the others.
I don't let stress get to me. I focus on the next step. That's the step that I need to solve. And when I've solved that, I focus on the one after that. I think that's really important for us, both in managing how we are in our personal lives, and in our lives as entrepreneurs. We have so many decisions to deal with and can easily become distracted or enter decision paralysis. Just take one step at a time, like you would climb a mountain.
[You can listen to the full episode with Ross Kimbarovsky here…]
Devin Miller: "MORAL LESSON – If you don't know where you're going, stop, take an extra few minutes. Don't just think you know where you're headed!"
Devin Miller

Devin is an entrepreneur, patent and trademark attorney, and an Intellectual Property expert.

He specializes in protecting startup and entrepreneurial companies with IP Legal Advice, setting them up for success in their business!
In addition to founding and running Miller IP Law, he is the co-founder of several startups including a multi-million dollar startup for wearable glucose monitoring.
Devin has worked with the likes of Amazon, Intel, Red hat and Ford. He is passionate about helping businesses and has a drive to educate and entertain listeners with years of experience as a calm speaker, and veteran podcaster.
Davin's Mountain
For the first few years of our marriage, before we started having kids, we decided we wanted to climb the highest peak in Utah, which is called Kings Peak. There were two peaks that looked the same and there wasn't any sign. So, we chose the peak that we thought was the highest. When we reached it, we found out it was the wrong peak—and we couldn't make it to the second peak at that time.
So, for the first year, our goal had been to climb the biggest peak and we failed.
We came back the next year and did the same kind of expedition. We climbed the highest peak and it was a fun experience. 
MORAL LESSON:If you don't know where you're going, stop, take an extra few minutes, and verify where you're going. Don't just think you know where you're headed. It makes a big difference, including in business.
That has always been reflected back to me; in business, I want to make sure I don't pick the wrong mountain.
Sometimes you have to say, "Hey, we made a mistake. We thought we knew where we were going, but we didn't. But rather than give up, let's come back and try it again. And we'll correct it." So, it was a good lesson learned.
[You can listen to the full episode with Devin Miller here…]
Curt Mercadante shut down his 7 figures agency: "My wife and I, sold our home and we're just traveling around with our four kids."
Curt Mercadante

Curt Mercadante helps businesses and entrepreneurs increase their authority brand exposure to the right clients so they can make more money.
For 25 years, he has counseled small business, entrepreneurs, as well as some of the largest corporations and associations in the country.
He's built three profitable businesses, including a 7-figure Public Relations and Advertising agency.
Curt is Gallup-Certified Strengths Trainer, host of the Freedom Mindset Radio podcast, and author of the bestselling book, "Five Pillars of the Freedom Lifestyle.
Curt and his wife sold their home and most of their possessions. Now they are just traveling around with their four kids.
Curt's Mountain
There are a few things to do when you're going up that mountain. Number one is to define the peak and where you want to go. Then you should reverse-engineer it down to base camp.
So, one key is defining that vision, defining that peak, and then reverse engineering.
When you do that, it prevents you from just throwing spaghetti against the wall to see what sticks. You have a clear vision of where you want to go.
You and I might be going up separate mountains and we each have our own strengths.
All we have are what I call untapped superpowers, which are your talents. Those are naturally recurring patterns of thought, feeling, and behavior. When you invest in them, you turn them into strengths.
Once you use your innate strengths and superpowers and amplify them, instead of worrying about your weaknesses, you'll find that they help and propel you.
Those are the climbing tools that help you get up that mountain toward that clearly identified peak.
[You can listen to the full episode with Curt Mercadante here…]
Kimberly Maska – From Wall Street to helping spiritual entrepreneur to become successful spiritual coaches and help shift this planet.
Kimberly Maska

Kimberly uses her business and marketing expertise to show spiritual coaches how to create financial success while shifting consciousness on this planet.
She brings nearly 20 years of business development experience to the table, including 8 years on Wall Street. Five of those Wall Street years were as a managing partner at a broker dealer, valued at $165m, that she founded with 8 colleagues.
With recognized efforts in changing people's lives, Kimberly Maska is gifted with the ability to intuitively see a client's business and craft a strategy for success.
Kimberly's Mountain
Mountains are such incredible things.
To me, mountains are magnificent. When we think about how old they are and how they are such a part of the earth, and yet they're apart from it…they're so unique. They really are beautiful.
In the past two years, we ended up moving to the mountains, which is something I had never thought of. We're in Asheville, North Carolina.
It's pretty impressive, and it's just incredible to be so rooted in nature here. Being in the mountains is a blessing that I had never thought I would experience like this.
[You can listen to the full episode with Kimberly Maska here…]
Michael Nemeroff saved the financial future of the family and says: "We do one thing—quickly. That's our success." It called focus!
Michael Nemeroff

Michael Nemeroff is the CEO and co-founder of RushOrderTees, a fast growing eCommerce custom t-shirt printing and apparel company. Founded in 2002 when Michael was only 17 with his brother and sister, RushOrderTees specializes in screen printing and embroidering services for everyone from teams to small businesses to Fortune 500 companies.
Over the past 18 years, the company has focused on the customer experience by streamlining the entire process with its innovative design studio, incredible service, and the quickest deliveries in the industry.
Michael's Mountain
We had this mountain to climb and, in our case, the mountain was to save the financial future of the family.
We didn't have a lot of money at that time.
I said that what happened to the family really sucks.
And I said, "But we're going to work really hard because, you know, I don't want to settle."
So that mission, I guess would make it, climbing a mountain because once we, made the pack to basically work really hard and try to save the family, you can see that after five years we were in a much better place. And now, after 18 years it's a great success
[You can listen to the full episode with Michael Nemeroff here…]
Joe Karlsson "It took me years to get there, but right now I have my dream job!" Can you say the same??"
Joe Karlsson

Joe Karlsson is a software engineer turned Developer Advocate at MongoDB. He comes from the frozen tundra of Minneapolis, Minnesota (and yes, it does get really cold here, and no, not everyone here has the accent from the movie, Fargo).
Joe has been primarily a Node and JavaScript engineer. He has been writing, teaching, and talking about code his entire career. Sharing what he knows and continuing to learn about programming is truly the thing he loves doing the most.
Joe's Mountain
I live in the Midwest of the United States, which is very flat—the opposite of mountainous. But we've had, of course, the metaphorical mountains.
To be honest, I don't feel like I'm climbing a mountain today. I feel like my mountain climbing journeys ebb and flow.
For example, especially if I'm fighting to get something I really want, I feel like right now I have my dream job. This has been the job I've been shooting for forever. It's a job in which I get to make things I like, hang out with my friends, and share things I'm excited about. But it was pretty hard to get a job like this.
[You can listen to the full episode with Joe Karlsson here…]
If you didn't listen to the previous "Mountain Episodes" you can find them here:
I hope you enjoyed this episode.
As I always write after a 'Mountain Episode':
Now you can choose whether and what you would like to do next as a reaction to this episode.
As I see it you have 4 options.
First, you can of course do nothing that has to do with this show, go to do whatever you want or planned or just switch to the next podcast.
Second, you can enjoy the stories, be inspired and take the courage and massive strength needed to take your entrepreneurship to a much higher level than you did in the last few months.
Third, you can choose one or more of the inspiring successful interviewees, their stories you love best, or choose me, to connect, ask questions, find what else you can learn from them (they all have plenty of free very professional content on their sites) or even find out if they can be your mentor if they give that service.
And last, but not least, you can download my free guide for the 7 elements of Entrepreneurial Business Success that will help you make the best plan for the coming months and reach your goals of 2020.
I'll meet you on the next mountain….
Hayut.
Want to learn how to start your Entrepreneurship?
Download for Free

HOW TO START ?
Want to learn how to choose the best Name and Logo? Not sure which customers to focus on right now and where they are? Want to build your website, or trying to figure out how and what content to share on social media?