Ep. 021 – Christoph Dahn has chosen Mahatma Gandhi's famous quote – 'Be the change that you wish to see in the world' and decided to dedicate his work life as digital marketer to helping Green, Fair and Ethical companies succeed.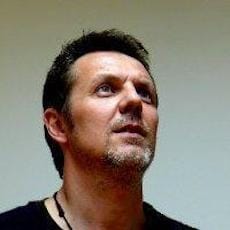 Christoph Dahn Show Notes
As a cofounder, brand strategist and sustainable business specialist at Greenblut Christoph Dahn helps GOOD green, sustainable, and ethical brands, companies and services to succeed with Digital Marketing and E Commerce.
Christoph loves to travel and to speak with people he can learn from. And that's why he runs the Podcast Greenblut FM. He's roots are in the fashion business where he started his business life 30 years ago. In 2005 after a career with conventional brands like Calvin Klein and others, he decided to dedicate his work life on helping Green, Fair and Ethical companies succeed.
Christoph has created and run 5 different businesses, some more successful than others, and believes that he has learned just as much—if not more—from the failures than the successes. And he just loves to help GOOD companies to grow through the web.
Most passionate about 
I work in Greenblut, a marketing agency that helps green, sustainable companies to succeed through digital tactics and strategies.
I believe that the world needs more green and more sustainable brands. That's my passion and where I want to put my work in. We want to reach more green brands to make a difference in the world and help their producers and customers to be more successful.
The company
I started my work life in the 90's, doing marketing for conventional brands in the fashion business. After a few years, I had some crisis and started to think about what I want to do. And I realized that nothing would happen if any of these conventional brands disappeared. So, like Mahatma Gandhi's famous quote — 'Be the change that you wish to see in the world', I decided to dedicate my work life to helping green, fair and ethical companies succeed through the web.
GREENBLUT started at the end of 2012 and the beginning of 2013, together with my wife Suzanna. We found there is a problem with green brands. In the studies, 90% percent of all consumers are keen to buy ethical and fair products, but there is a blind spot because when it came to real consuming, many consumers chose conventional products.
That's the place where we want to help; our services are all around this blind spot and these issues.
Christoph's best advice about approaching the customer
If you put it down to one advice: Find a real customer problem! If you speak to a real customer problem, the customer will listen, even in this crowded world.
But it easier said than done because what many companies hit is the "curse of knowledge", which happens when the company assumes that the customers know the things that they do, and this cognitive bias causes brands to believes that customers understand them a lot better than they really do.
Biggest failure with a customer
There are many failures. Most of the time, the failures are the seeds for the successes. Our goal as a company is to make a difference, to influence many people, and …make a difference in the world.
When we started, one of the issues we had was that our services weren't accessible to the smaller brands that were in the early stages of their company life cycle. In the first two years, we had so many green brands that wanted us to help with eCommerce, but most of them could not afford our fees and we were only able to work with three or five projects per year because time is so precious so we failed because we couldn't work with the ones who needed our help the most.
We managed to solve it by identifying the opportunity of online courses. I like these courses, but at the end you always get stuck because you don't know how actually it relates to your company. So, we started to work with groups of twelve green brands on an interactive video course, and at the end we added one on one consulting with each company for one or two hours a month, so the customers were well prepared. When they needed our services, the work was much more effective and we could lower our prices and work with more customers.
Biggest success due to the right customer approach 
I would to discuss the power of leverage. We were approached by a customer who had a green fashion brand that had good growth numbers in the wholesale business, and he had started an online shop one or two years before, and this eCommerce was extremely weak. On the technical side, everything seemed to be fine, it looked attractive with a lot of bells and whistles, but somehow the results were very weak. When we approached this customer we tried to find the leverage. What is the reason customers buy at wholesale but don't buy on the eCommerce? When we had a look on the website, we found that people were leaving at certain places. The site had very advanced technical features, like 360-degree view of the product and a very unique tool to compare your sizes. They wanted to do everything right, but we found that customers leaving exactly at this places, the technical issue seemed to be the problem. So, we tried to take the technical tools a way and check if the numbers were changing and that was exactly where we found the leverage. So we worked through that and by taking the technical tools away and the turnover growth was six hundred percent in six months.
So, the roadblock was not adding something, but taking something away. Sometimes it the simple things that have the biggest leverage.
That's exactly what the book, The Lean Startup by Eric Ries, talks about. And this is exactly the curse of knowledge when the owner couldn't see the problem. He knew everything about the website and knew where to click. But the consumer doesn't know anything; he comes to the website and if he has to start thinking he would leave. There is another famous book about the usability in your website called: Don't Make Me Think by Steve Krug.
Recommendation of tools for customer focus, marketing or sales
We use many tools and on our website. There is a list of the tools we use on a regular basis, on the premium resources, and the listeners can download all the tools we use.
There are several recommended tools, for the eCommerce site, there is Shopify; I think it's the best tool for smaller brands.
I use a tool from Eshmara called Leanstack, it's for finding the leverage and the roadblocks.
The one thing Christoph is most fired up about today
The one thing I'm really excited about is the new course I talked about. It called Grow Your Green eCommerce and it starts soon.
What is your one key success factor?
I think growth doesn't come from reproducing the experiment of other companies. You can read the success stories everywhere and it seems you should just need to reproduce them to succeed…
I think it comes from finding a real customer problem and then understanding the relationship your customer has with that problem. This would be the one factor.
And always, if you get stuck, you should go speak with your customers. I think sometimes you are over analyzing and trying to solve problems by thinking and not by exploring.
Resources Mentioned:
Tools
Books
More resources for Entrepreneurs
Don't Miss – Customer Focus Strategy & Execution: Market Analysis for Fundraising
Hayut Yogev's Latest post: The three free, most practical steps to researching and locating your market