How big of a marketing budget do entrepreneurs really need?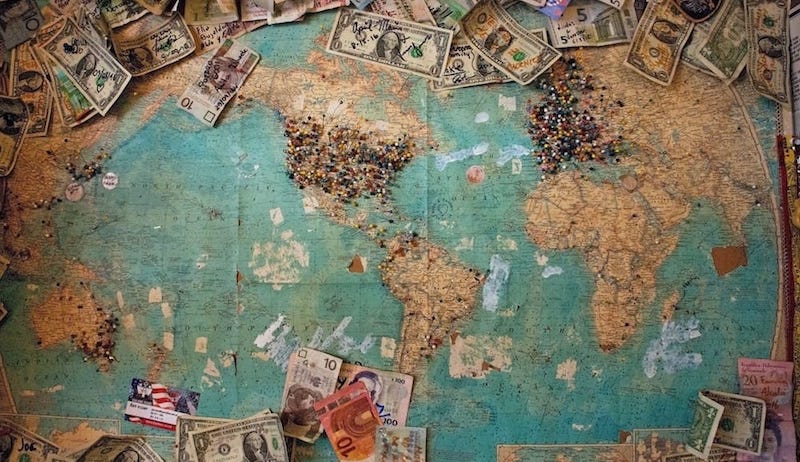 Photo by Christine Roy on Unsplash
I had a photo of an old NOKIA advertisement from 1934, advertising their first collared rubber boots. I got it from one of the marketing managers in Helsinki and I used to show it in my lectures about the changes of advertising.
When I worked for Nokia in 2004-2007, it was the leader of the global mobile phones market. I didn't understand what Nokia had to do with boots until I looked into the facts:
Milestones
1898 – Finnish Rubber Works Ltd (Suomen Gummitehdas Oy) founded in Helsinki.
1904 – Factory moves to the town of Nokia. (Soon after, the company began to use the brand name Nokia).
1967 – Finnish Rubber Works, The Cable Company and Nokia Company merged, thereby forming Nokia Corporation.
1973 – Kontio, a classic full-length rubber boot for men, introduced.
1990 – Split from Nokia Corporation. Nokian Footwear Ltd. founded.
2005 – Berner Ltd. acquires Nokian Footwear.
Why am I telling you this?
First, because back then, Nokia was an entrepreneur, and it's always interesting to see the steps of an entrepreneur, especially when you have a perspective that spans so many years.
And second, because in order to understand how an entrepreneur should plan their marketing activities and the budget for these activities, we have to understand the development of advertising and marketing.
Especially in order to understand the mistake most business people, including entrepreneurs, make regarding their marketing budget.
Nothing changed in advertisement for more than a century
The adverting world was simple (and awfully expensive) until the 2000s. No mater what platform we used for showing the ads:
Whether we used posters, billboards, newspaper ads, TV, or Internet we always used it in the same way: Showing a visual.
Unfortunately, since I lost all my saved data in one of my computers crises, I can't find the Nokia boots ad, but I bring you this Harley ad from 1912 I found in Pinterest.
We used visuals on TV of course:
And we also used mostly visuals in the early days of Internet advertisements:

Welcome to The "First" Banner Ad
And we, as marketers, had easy lives… We had to choose either billboard, newsletter printings, or movies, and then was the TV and the game was tough (you couldn't even talk about a local TV campaign with less than $200,000!).
And that didn't change for many years.
And then came Google
Search ads
GoTo.com created the first search advertising keyword auction in 1998. Google launched its "AdWords" search advertising program in 2000 and introduced quality-based ranking allocation in 2002, which sorts search advertisements by a combination of bid price and searchers' likeliness to click on the ads.
Sure, Google wasn't alone, and the email marketing started many years before the search ads started, but everything regarding targeting, measuring, and the role of graphic designers had changed – and of course, the budget of advertising changed too, as did the business model.
The strategic role of Google in changing the habits of using the Internet was huge, I'll write about it another time.
You see, I was a marketing executive since 1986; I experienced all these changes.
Google changed it all, for the first time. Most of us thought search engine ads would be like the TV and nothing would change in the coming 20 years.
And all of us thought marketing and advertising would stay the same forever.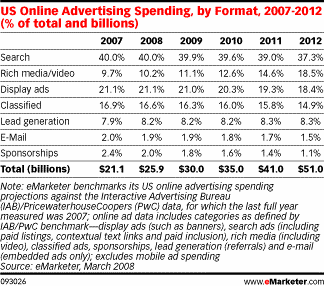 Look at this table by eMarketer I used for one of our strategy studies in 2008. See how two years after search advertising became popular, everyone believed it would be the leader of online marketing. No one considered social media as an advertisement tool. We are in the middle (or beginning) of the biggest human revolution yet – the technology revolution. New technologies, products, and services can succeed almost overnight and change a whole industry.
Back in 2007 and 2008, we realized marketing had totally changed, but we kept thinking of marketing the same way we always. As a tool to catch the attention of the customers and force them to notice us.
The old age of marketing was about interrupting the consumer
The person that helped me to see it clearly is David Meerman Scott in his excellent book, The New Rules of Marketing and PR.
In an interview with Dan Schawbel from Forbes, David Meerman Scott said:
"We're fed up with unwanted phone calls interrupting us at home and at work. We hate wading through hundreds of unsolicited emails. We've had it with intrusive social media messages. We're tired of poor service from companies that don't treat us with respect or that send us into a phone tree maze that wastes our time and never connects us with a living person.
At the same time, all of us — you, me, and all our existing and potential customers — turn to the web to solve problems."
source: https://www.forbes.com/sites/danschawbel/2014/09/03/david-meerman-scott-the-new-age-of-sales-and-customer-service/
"Gone are the days of marketers try to find ways to interrupt consumers in the middle of their TV watching, their magazine reading, their driving down the highway, and other activities. These techniques will not work on the web. Consumers don't want to be interrupted anymore; they want to be shown something that will be useful to them."
And then Facebook arrived and the other social networks that totally changed the way people interact and engage. And this change created a new way for doing businesses.
Welcome to the age of 'being helpful / valuable' marketing
So, what has changed so much and how does it affect entrepreneurs' marketing activities and budget?
Three major things:
First, everything became much more accessible and available. Thanks to the Internet, information is open to almost everyone, businesses are approachable, and we can connect and interact with almost anyone, anywhere.
There is no need any more to spend hundreds of thousands of dollar to push our product and messages, interrupting millions of people while trying to find those who really need and want us.
By sharing information and knowledge regarding the problem we solve and how we solve it, we become valuable to our target audience. By being presence where our potential customers are, we are able to invest less money and precious time and gain far more customers and money.
Second, we have many ways to interact and engage with our target audience; we can get to know them and they can get to know, like, and trust us and then there is a better chance they will want to work with you.
And third, people want and appreciate answers and service. They don't want to be pushed or sold and they certainly don't want to be interrupted*. They are skeptical and cynical regarding advertisements. They are looking for amnesty and transparency. Those who use this new language will win their trust and money.
* Related post: How to approach new customers and get a Yes!
Your Marketing objectives
As a businessperson as well as an entrepreneur, you have two main goals for your marketing efforts:
Revenues and Profit – e.g. financial results.
Perception and Branding – e.g. the company's value.
These two goals will maximize the value of the company for its shareholders, which is the whole idea of business.
The best marketing activities and tools for entrepreneurs
Based on the above three new perceptions and behaviors, we have today 5 main fantastic marketing channels and tools to approach our target audience and potential customers:
Content marketing – providing relevant, valuable content regarding the problem your product (or service) solves. Including tips, professional facts, expert interviews, and much more. Content today can come in many ways – blog posts, audio or video podcasts, vlogs (Video blog, usually through the company's YouTube channel), emails, guest articles on professional sites and magazines, and more.
Social networks and forums – direct, ongoing, real time interaction with your target audience, taking active part in group conversations, creating debates in groups and forums, asking and answering questions, one on one interactions, and more.
Email Marketing – most opinion and thought leaders in the entrepreneurial world will tell you email marketing is a must.

John Lee Dumas, the founder and host of the most successful entrepreneur podcast and the 7 figure company EOFier said: "Email is definitely a STRONG contender when it comes to effective marketing, if not the top one. There are few more intimate places you can connect with your audience than in a place as sacred as their inbox." https://www.afteroffers.com/john-lee-dumas-email-marketing-expert-interview/

I warmly recommend you to check out EOFire's free Funnel On Fire course here.

Pat Flynn, the man behind Smart Passive Income, has a whole section including a course, ebook, videos, and many podcast episodes about eMail Marketing on his excellent Smart Passive Income site.

Email marketing is the only channel to your customer you own and control. Facebook, Twitter, LinkedIn and the like can change the rules overnight and suddenly you have to pay to interact with you friends, contacts, or followers, but nobody can take your mailing list subscribers away from you. If you'll give them good reasons to stay connected (e.g. value) they will be yours forever.

Influencer marketing and PR – direct contact and create relationships with bloggers, opinion leaders, and influencers in your field; connect with them, be part of their discussions, be a loyal fan and subscribe to their blog or podcast, and let them know about you and your product and how it solves their audience's problem.
I'm definitely not talking about paying influencers to upload a photo of your product to their Instagram account! I'm talking about real value here. If you bring real value to their audience, in the field they are active in – they will be happy to write about you, interview on your podcast, and share it with their million fans and more.
In some cases you should consider getting the help of a PR agency. I recommend checking the new generation of PR service providers, like Josh Elledge from UpendPR, they offer new models of PR to entrepreneurs. You should check out their site UP MY INFLUENCE.
Local events – it depends on your product or service. I often recommend starting small and take part on meetups, virtual conferences, or other lecturer opportunities where you will be invited to talk as an expert in your field.
When it comes to international conferences in your field, five years ago I wouldn't recommend going to conferences, from my previous experience there was no way you could get a positive ROI (return on investment) from investing in conferences. But then I worked with some B2B startups and entrepreneurs and discovered that sometimes one very well planned and executed performance in the right show, can end up creating deals for the whole year and millions of dollars. However, it really depends on the industry and the type of conference.
Local events are something else entirely and again depend on your product or services. Local music shows, if you are aiming young audience or regional trade shows in a specific field, can be incredibly fruitful and lucrative.
Your new marketing budget
In most of my 32 years in marketing, I knew that in order to affect potential customers, to gain sales and profits, and build a brand, we need a substantial amount of money for our marketing budget, there were years when I managed a company's annual marketing budget worth millions of dollars.
Even today, I often talk with entrepreneurs, investors, and business owner who think they can't succeed without a massive marketing budget.
They are wrong.
Let's make the calculation together:
Content marketing – you will probably need a platform for your content, a podcast or blog website platform – $100-$200 a month.
You might want to take an online course for podcasting or writing exceptional blog posts course, or be part of the podcasters community – let's say about $1000.
And, you will need time. However, for the content I don't think we can and should hire someone to do it. It needs to be you. For some of the next activities, you can get the help of others.
Social networks and forums – here it's a matter of time and being online (No need for an office. A smartphone is perfect for this). I usually recommend hiring an intelligent student in your products' field for a few hours a day – usually a few thousand dollars a month, depending on the level of the students and your salary policy.
Email marketing – a good email platform provider will cost up to $100 a month.
Influencers and PR – I believe that in the first years, you should build the relationships with those very important influencers yourself. When you are ready to upscale your activity and use an expert, I recommend you to try one of the new PR models offered today for entrepreneurs, like the one I recommended above. In that case, we are talking about $500 to $2000 per month, depending on how much you want to invest a month, which I recommend you to consider only when you already have meaningful revenues.
Conferences and local events – While starting small, offer lectures in your field in meetups, specific local events, webinars and virtual conferences – those are usually free.
When it comes to international conferences or to local events, the price can start with $5000 dollars for a small conference, and a few hundreds dollars for each local event you take part in (not your own event of course).
Summing it all up – you can get a tremendous effect, revenues, and awareness to your brand, with only a few thousand dollars a year. I see many companies doing so.
When you want to jump to a higher level, you will certainly find major success with a budget of a few tens thousand dollars a year.
To summarize the issue of the marketing budget entrepreneurs need: I would like to emphasize my most important conclusion based on my experience in both – the old way of marketing and the new:
I'm not only saying you as entrepreneur can succeed even with a small budget. I'm saying that even if you have a huge marketing budget, you won't need most of it to succeed if you will use the right marketing tactics, channels, and tools.
Times have changed. We don't need big budgets, we need to care about our customers, give them endless value, and serve them. They will give us back their attention, trust, money, and most importantly, their loyalty.