The secret for entrepreneurs: Focus on creating value and the money will follow How to do it right?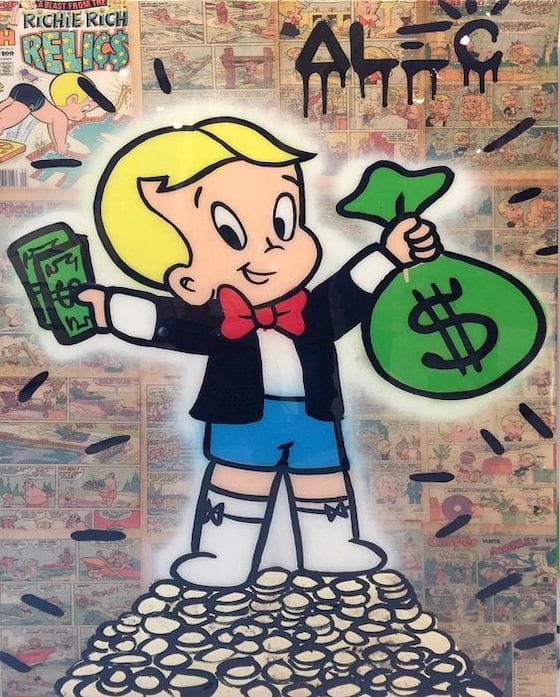 The secret for entrepreneurs: Focus on creating value and the money will follow
How to do it right?
"In the Richie Rich comics, you see these dollar signs shining through their eyeballs… that's what I see when I'm talking with young entrepreneurs today"
Smita Nair Jain is currently the Senior Divisional Vice President at Sears Holdings India Pvt. Ltd. She has been at global executive leadership roles with leading multinational organizations such as Capita, MphasiS, Prudential and Accenture.
Smita was my guest at the REACH OR MISS podcast this week. I asked her about her passions today and she told me that among the four things she is passionate about today she is mentoring a few startups, dealing with youngsters who are starting organizations, helping them find funding as well as helping them find their first batch of customers.
It's all about creating value to your customer
I asked Smita, what would be her best advice to entrepreneurs?
"I speak to a lot of youngsters in the universities in India, Smita said, that tell me they want to build a startup and start their own organizations, and I'm really happy with that, and I'm excited when I hear this because it shows a free mindset. But when I ask them what their idea is, I'm very dispassionate because most of them don't have an idea or have a very vague thought of what they want to do.
In the Richie Rich comics, you see these dollar signs shining through their eyeballs… that's what I see when I'm talking with these young entrepreneurs. They are not bothered about value creation; they are only bothered about valuation.
The second point is about defining that value. Unless it is a charitable or a social welfare startup, your ultimate aim is to make money. Focus on the need of the customer and the solution that you are taking to the customer, build the customer base, build the customer's solution and the customer's experience; and revenue and profit will therefore follow."
position yourself as the market expert
Creating value enables you to position yourself as a market expert. In order to create meaningful value for your customers, you have to understand their struggles, needs, and want. Then, you find where your customers are? What are they reading (in regards to their struggles and needs), which questions do they ask? Who are they following? which events are they going to? And so on.
Then you plan what kind of content should you create to provide your customers with the value they need – blog posts, podcast, speaking on events or meetups, answering questions on relevant sites and the like.
And here comes the big secret; by creating free value, and providing it to your customers by writing posts, speaking on events, answering questions, you become the Go-To person for your customers in your field.
Once your customers know, like and trust you as an expert, they would like to work with you.
But not only your customers will recognize you as a market expert, bloggers, and journalist will also invite you to comment, events organizers will ask you to speak. Your value in the market will rise, and so will the money you will get for your product or service.
How to become the leading expert in your new market?
Become the voice of your new category
One of the most important parts of establishing any new product or service is to decide, based on research and market overview, what market category you can lead and take ownership of, in order to become the voice of this category.
You should make sure to speak "in the name" of the new category and not to promote your product. People became more and more skeptical towards advertising and promotion.
The equation here is simple; people want to be updated and learn about a new category and solution that is relevant for them. However, I always say that people love to buy but hate "to be sold to".
The practical steps
Now, you should start producing content, to teach and educate your target audience according to they struggles and needs.
Examples for contact creation:
The story of the new category; how it has developed and what does it do.
Strong presence on social networks.
Consider creating a company podcast about the new market category you represent.
Create a blog that focuses on and covers the market category.
Create the formal home page for the category.
Open groups in Facebook and LinkedIn, named after the new category.
"How To's" tips for potential customers.
The second part of becoming the expert of your new field, after creating the content is the consistency.
When I talk about consistency, I refer to two elements – the first is the importance of creating some kind of similarity between the different content. If we want to create an impact, people need to be able to recognize you. 
The other kind of consistency is the kind Mark Schaefer talks about and this is the ability of keep going.
"It was one of the most profound lessons I have learned; consistency is more important than genius. I never would have made it if I had quit. You have to find a way to keep going."
Becoming the leading expert in your field is a great opportunity to multiply your chances to succeed.
Those who succeed most makes an impact on their world
Those who succeed most are those who become an influencer and make a change.
I would like to share with you Smita's answer to my "Mountain Question" at the end of the Interview. I believe you will find it very inspiring.
Smita's mountain
Since we believe that the best way for entrepreneurs to get a fast, big, and sustainable success is by leading your (new) market category, and the entire entrepreneurial journey reminds me of mountaineering, or conquering the mountain; I want to ask you if there is a mountain you dream of climbing or a mountain you have already climbed?
I don't climb mountains and not going to climb any. However, I would like to use it metaphorically and tell a story. It's about a movie called Manjhi – The Mountain Man. My husband is a filmographer who was awarded for filming this movie.
The story is about Dashrath Manjhi, who was a poor man from the lowest of the low castes, living in a remote village cut off from the world by a rocky mountain range. Life for him was a daily struggle for survival. He loved his wife Phaguniya, beyond belief and together they had a son. One day, while climbing the mountain to bring him food, his wife, who was pregnant slipped, fell, and died. Overwhelmed by grief, Dashrath decided to carve out a path through the mountain, so that no one else would suffer his fate. For 22 years, all by himself, with just a hammer and a chisel, he hammered away at the rocks, till the path was carved out from the mountain.
Every time I watch the movie, I just think that one should never give up no matter how impossible their mountain seems to be.
Listen to the full interview with Smita Nair Jain