Ep. 221 – Those who know how to serve their customer – win the sale!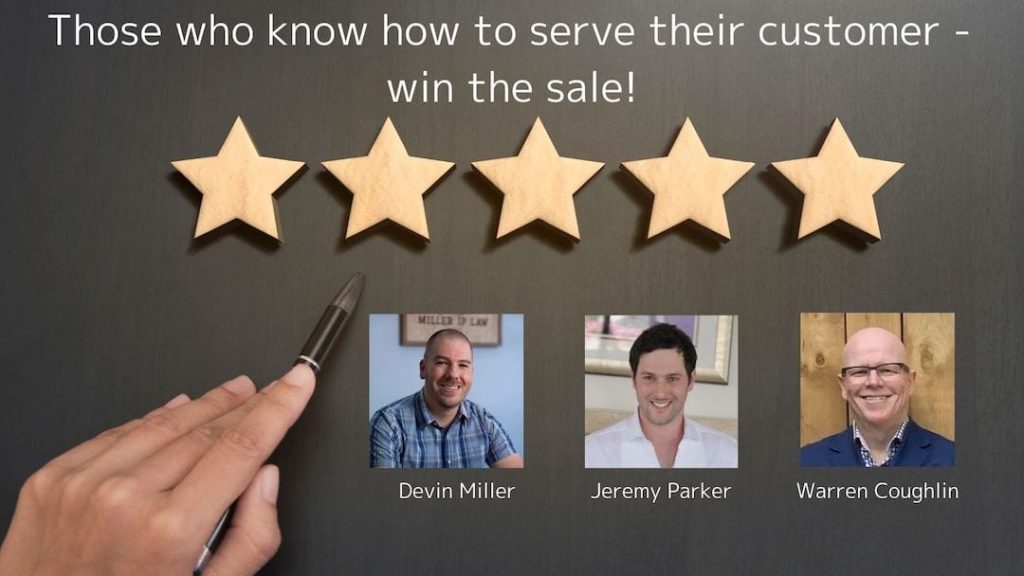 My first executive marketing role wasn't about marketing! At the age of 27, I was chosen to become the first Customer Service Manager and a board member.
No one in that water systems company understood what I was going to do—and who needed a customer service manager when professional technicians went to fix whatever was needed when a customer complained?
To tell you the truth, I didn't know exactly what this job meant, either. All I knew was that it was a strategic decision; the sales department said that the reason for not meeting their sales goals was a lack of good customer service.
I started by following one rule: to never leave a customer unsatisfied. I talked with each customer who needed a service. Mainly, I listened to them very carefully. The next step was to build a team of service providers who listened to customers and found the solution that would make them happy.
The next step was to build a new team of technicians that love to give good service. I did something else, too. I decided that I didn't want to earn money from customer service itself, so all the payments went directly to the technicians.
Within 6 months, customer service went from being the biggest obstacle for closing a sale to the biggest driver for selling. Our customers' satisfaction skyrocketed…and so did the sales.
It was probably the most effective marketing campaign that I ran in my more than 30 years as a marketing director.
When I asked Warren Coughlin, one of my recent guests on the REACH OR MISS Podcast, for his best advice for entrepreneurs, he said, "I always think it's 'to serve'! My definition of sales is professionally helping people solve problems, making it a kind of an honorable activity.
"If you have a service focus for your customers, like always wanting to help them, you're going to have long client and customer relationships."
This wasn't the first time we heard successful entrepreneurs talking about 'serving your customers.'
Josh Elledge from Up My Influence and SavingAngel told his story about it:
"When I started as an owner of a small-town newspaper, I was so uncomfortable to sell; I was so scared, so I ended up failing miserably. And after that, for the next five years, I did sales and marketing for a network of law firms and had to sell every day for a commission-based salary. I was very miserable, and then, I suddenly realized that it's not about convincing people to buy; it's about listening to people's needs and finding how I can help them. The minute I understood that, I started to enjoy my connection with my clients and started to succeed dramatically. I found the win-win formula."
Bob Burg, author of the "Go-Giver," said that "shifting your business context from getting – to give, is the most financially profitable."
In today's podcast episode, I share some of the most inspiring and educational stories of successful entrepreneurs who won their success by serving their customers best.
The first story is about Jeremy Parker from Swag.com, who told me, "I'm never satisfied in terms of customer success. We should go above and beyond to make our customers' experience great."
Jeremy Parker is an award-winning documentary filmmaker and serial entrepreneur. He is the co-founder and CEO of Swag.com, the best place for companies to buy quality promotional products that they'll actually want to keep.
They work with 5,000+ companies including Facebook, Google, Amazon, Netflix, Spotify, and TikTok. They are #218 on the 2020 Inc 500 (fastest-growing companies in the US). Also, CrainsNY named Jeremy one of the 40 Under 40.
Jeremy's career and story
I'm actually a filmmaker. I even won the Audience Award at the 2006 Vail Film Festival for a documentary I made with my brother. After we won this award, I realized my passion wasn't to become a filmmaker.
After college, I started my first business. I had no experience in businesses and I thought that starting a T-shirt company would be easy and focused and a good opportunity to learn how to run a business. It sounds simple but you need to learn manufacturing, and how to run a website, and how to do marketing and PR and customer service. I started this T-shirt company and became better and better. It helped me find out what I'm good at. I became good at user experience design and branding. That's what I fell in love with.
After the T-shirt company, I worked for MV Sport, one of the largest players in the promotional product space.
I was introduced to the promotional products market at the age of 22 and everything in this space was done very manually. It was all about catalogs and presentation decks and phone calls to close the sale.
From my experience showing [that sales] was always focused online, I didn't want to speak with people while I purchased something. Over 10 years, I watched the promotional products space very closely and realized that the market got bigger and bigger but the buyer changed. The buyer now is a millennial and the platforms were not built for today's buyers.
That was kind of an a-ha moment for me: to build a platform with a great user experience that will answer the needs of today's buyers. And that was the initial idea for Swag.
In the first year, we didn't build any platform. We focused on learning from our customers about what they need and want. The knowledge we got at the beginning gave us a shining light on what kind of platform we should build.
Biggest failure with customers
I'm never satisfied in terms of customer success. This is the most important thing. We should go above and beyond to make our customers' experience great. So even if there is a delay or some crisis, the customer is still happy and wants to work with us next time, because they know we did everything possible to make them happy.
This is the most important part for us. On our site, we call it customer-obsessed because we wouldn't be what we are without our customers.
We had a customer that had a big event in New York City. It was very early in the journey, four months after we started the business. We had a $5000 order but our provider completely failed us. We had to collect the product ourselves and print it somewhere else and then send the products by Uber. We lost money on this deal but the customer had a great experience and knew nothing about what was happening behind the curtains.
Biggest success due to the right customer approach
I was in Chicago with my co-founder in a program called TechStars—an incubator program in Chicago. We were doing an event for the Governor of New York. He was supposed to wear a unique "I Love NY" hat on the morning news broadcast.
Unfortunately, instead of upstate New York, where the event took place, the box with the hat arrived at our old office in New York City—a nine-hour drive from upstate New York. It was very challenging. I wrote on all my social media pages and groups looking for someone who could drive nine hours on a Sunday night. In the end, we found someone to make this delivery and the hat arrived in the morning without anyone noticing the crisis behind the scenes.
The second story that shows how good customer service wins the sale is that of Devin Miller, who said, "Responding to customers right away has grown our business better than anything else."
Devin is an entrepreneur, patent and trademark attorney, and intellectual property expert.
He specializes in protecting startup and entrepreneurial companies with IP legal advice, setting them up for success in their business. In addition to founding and running Miller IP Law, he is the co-founder of several startups including a multi-million-dollar startup for wearable glucose monitoring.
Devin has worked with the likes of Amazon, Intel, Red Hat, and Ford. He is passionate about helping businesses and has a drive to educate and entertain listeners with years of experience as a calm speaker and veteran podcaster.
Biggest success with customers
Responding to customers right away has been one of the biggest impacts. It has grown our business and had a better customer impact than anything else.
We set up a system; 90% of the time we respond right away, and 95% of the time we respond within 30 minutes. We have a strict drop-dead rule: 100% of the time you respond by the end of the day.
I can't count the number of times a client has reached out and said, "Hey, thank you for your quick response," or "Hey, it's great to get a quick answer; you guys are so much more responsive." That's probably helped us grow our business.
Last but not least is the story of Warren Coughlin, whose best advice to entrepreneurs is to serve: "My definition of sales is professionally helping people solve problems."
Warren helps principled entrepreneurs build a Business That Matters—that is, one that delivers to you, the owner, attractive profits and a fulfilling lifestyle while also creating positive impacts on customers, the team, and the larger community. In other words, it is a business that helps make the world—or just your corner of it—a better place.
He has been helping entrepreneurs do this since 2002. Warren was the top coach in Canada, with the world's largest business coaching company, before going out to focus on Businesses That Matter.
His clients have experienced everything from 8-figure exits to 7-figure salaries, from rapid expansion to minimized operational work because of the development of great leaders and high-performance, values-driven cultures.
Warren's also a recovering lawyer, a serial entrepreneur, a college professor, an actor, a theater director and dad to a wonderful daughter who constantly challenges him to be a better person.
Warren's career and story
I was supposed to die at birth. I was given a zero percent chance of survival. I was the second person in history to live through this weird congenital defect. When I found out about that, it spurred in me a desire to do something.
I was a lawyer. I've been an actor and theater director. I was a college professor. I've been an entrepreneur. All of those things were because I was trying to find that place where I could make an impact with this unexpected gift that I wasn't supposed to have.
I believe passionately that entrepreneurship is one of the most powerful forces for positive social change.
A family friend was doing business coaching. This was back in 2002. I'd never even heard of it. I started looking into it and just fell in love with it.
That's what I've been doing ever since – trying to take the lessons I've learned over my own professional career and helping entrepreneurs use them in their own businesses and start to succeed.
Best advice for entrepreneurs
I always think it's "to serve."
My definition of sales is professionally helping people solve problems, which makes it a kind of honorable activity.
If you have a service focus for your customers, like always wanting to help them, you're going to have long client and customer relationships.
Warren's one key success factor
It's important to develop deep relationships with clients based on caring for them as people.
Are you serving customers or are you mainly selling to them? If the second answer is more relevant to you, you have a magic key you haven't used yet: Stop selling and start serving your target audience. Find out what they need and then give it to them.
 You can't imagine how your business will grow!
I'd like to invite you to a free masterclass about "7 practical free ways to get more customers"