Ep. 117 – Phil's most recommended tool for entrepreneurs: Digital Publishing! Learn how Phil became an influencer and a market leader using only Content & Digital Publishing – 2nd part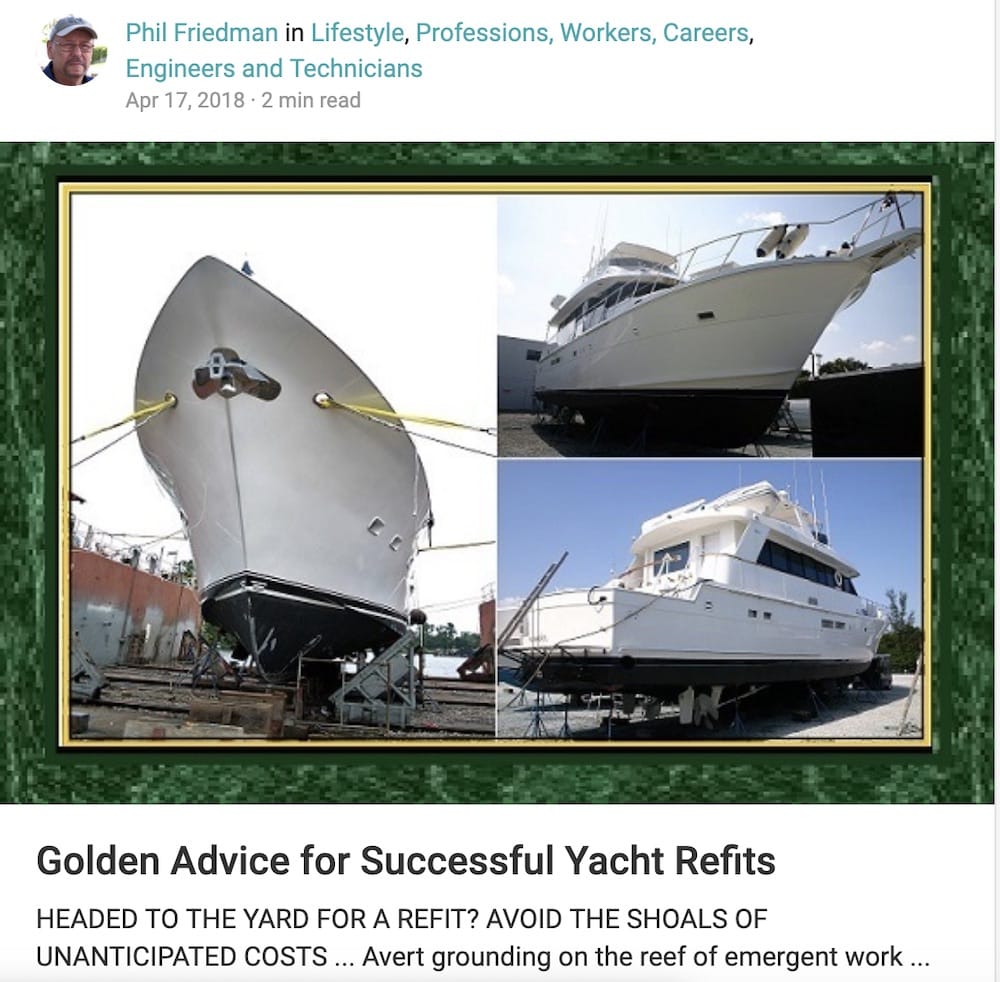 Phil Friedman Part 2 Show Notes
For the first time after 115 episodes, I decided to divide my interview with my weekly guest Phil Friedman into two parts.
Phil decided to stop being frustrated as a university professor teaching philosophy and made a career shift, studied yacht design and basic structural and mechanical engineering. He then entered the marine industry as a yacht builder, boat and shipyard manager, small-business and start-up advisor, and yachting writer and editor.
Marine Industry Consultant
Phil Friedman has a long and varied background in the marine industry, as a yacht builder, boat and shipyard manager, small business and startup advisor, and yachting writer and editor.
As Managing Director of the Port Royal Group, he provides clients with the benefit of his intimate knowledge of yacht construction, major refit and repair, surveying, damage assessment, estimating, contract negotiation, and dispute resolution.
For several years, Phil was the president and CEO of Palmer Johnson Yachts, during which time the company under his supervision developed, built, and refitted nearly two dozen luxury mega yachts in the 30- to 60-meter range.
During his multi-year tenu re as Senior Editor of Power & Motoryacht magazine, Phil tested and evaluated hundreds of yachts worldwide. He has published more than 1,200 articles on yacht design, construction, repair, and maintenance. And his recently published eBook, Ten Golden Rules for Successful New Build Projects, has received wide acclaim from industry professionals.
You are more than welcome to read the 1st half of my interview with Phil, on last weeks Episode – 116:
Ep. 116 – Phil Friedman: "The key to being an entrepreneur is in functioning as an entrepreneur; Be very flexible and really keep the overall picture in mind" – 1st part
Phil's recommended tool for marketing and sales
Digital Publishing!! On social media, on business networking platforms, on your website and the websites of others, and email or other direct digital campaigns.
I believe digital publishing gives you the opportunity to share your thoughts and samples of your prior work with a much bigger audience of potential clients than had ever been possible before.
I can't overemphasize how important it's been in building my own business by writing and putting information out there.
I'm not talking about content as a commodity; I'm talking about genuinely engaging with people across digital media and through digital publishing.
Digital publishing
By digital publishing, I'm talking about valuable content that provides information and advice and interest for people. I published probably over 1,200 feature articles in print and digital media. I have written a couple of books and content for websites; my own website as well as for others.
I have an extensive library of articles on yachts, on yacht construction, design, and related subjects such as marine business management. And I have an extensive library on platforms such as LinkedIn, Bebee and more. What it's done for me is it put me in front of people that what I'm writing about is valuable for them. So, when I publish something, they will read it, they will share it, and they will pass it on.
I believe that my own experience fits closely with the ideal engagement (while talking about social media). I work at genuinely engaging with people around yachting related topics.
What entrepreneurs should do
Entrepreneurs should stop thinking of content as something that fills up a page. Content should have value, independent value for the reader about the subject in the field that you are trying to market a product or services.
It has to be written either by yourself or by an expert as an explanation of the field. Because it's not just the content that you publish but what happened afterwards when people ask questions and when you answer them.
You engage with people who turn out to become prospective clients. You don't know who may be a prospective client. For example, let's say I write something about diesel engines for yachts, and then, if somebody asks a question, I could answer them.
Too often I have talked to entrepreneurs or business owners who believe that they need content, so they hire somebody to write content for them, the person who wrote it for them can't answer those questions because they don't have enough background.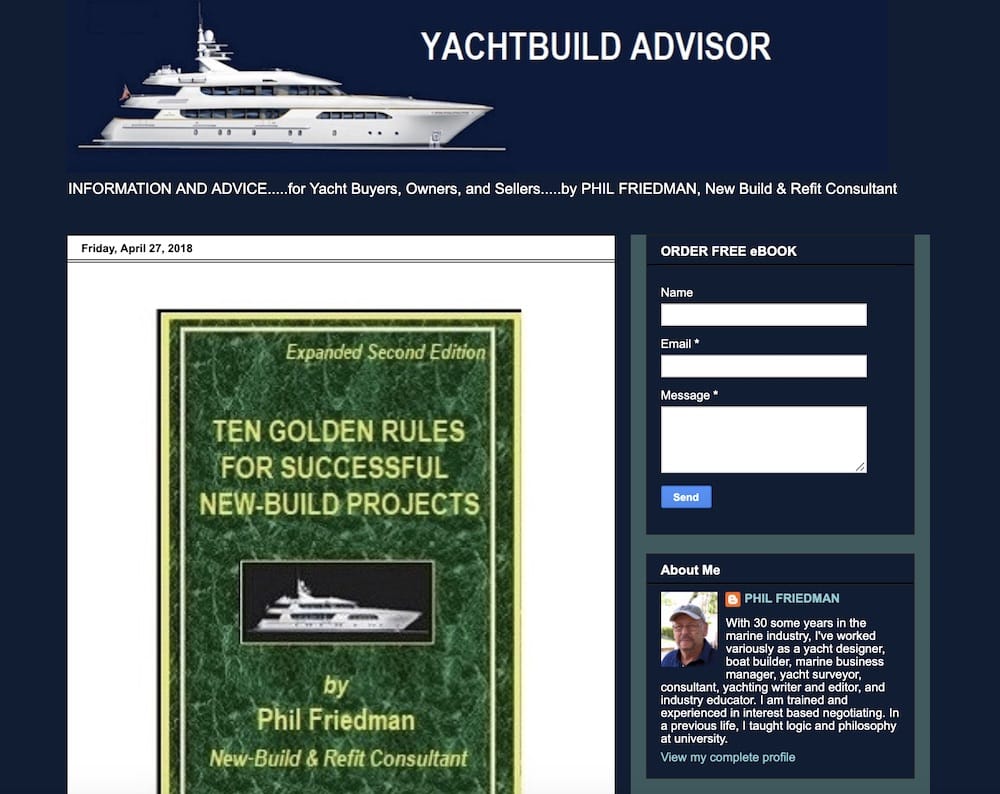 You don't get the kind of engagement that you are looking for, with your audience, if you are not being authentic and genuine with what you publish and if you don't have the expertise to back it up.
Phil's key success factor
Focus! I'm project oriented, and for the duration of the project, I can be incredibly focused on getting that project completed and meeting the project's goals.
Phil's mountain
Since we believe that the best way for entrepreneurs to get a fast, big, and sustainable success is by leading your (new) market category, and the entire entrepreneurial journey reminds me of mountaineering, or conquering the mountain; I want to ask you if there is a mountain you dream of climbing or a mountain you have already climbed.
I feel a little embarrassed to answer this question. When my wife and I have a vacation we generally head to the mountains, maybe because where we live even the hills are short. So we have been in many mountains, in the Rocky Mountains, mountains in Europe and we've been in the Alps, so we love mountains but, and this is why I said I'm a little embarrassed to answer this question, we don't climb up the mountains!
We always hike down. We find either chairlifts or tramps to take us up the mountain, and then we hike down. I guess you can say that I look for challenges that have to do with walking down the hill.
You'd be surprised how much you can see. If you're going up the mountain, you're always looking at the rocks in front of your face, but when you're going down the mountain, you're looking at the whole view. Maybe it's also a good metaphor.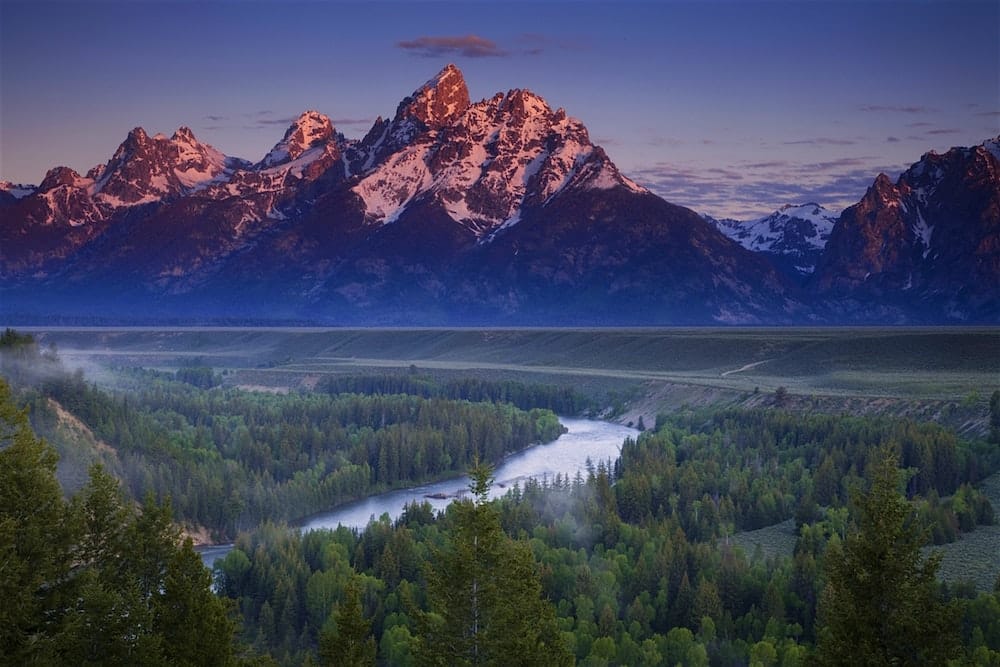 The best way to connect with Phil
More resources for Entrepreneurs
Don't Miss – Customer Focus Strategy & Execution: Market Analysis for Fundraising
Hayut Yogev's Latest post: Unfortunately, most entrepreneurs will continue to fail because of their endless "trial & error" marketing pattern