Ep. 113 – Ofer Shayo established his first very successful startup that was acquired after 7 years; Today he created a structured ideation process in order to find a new idea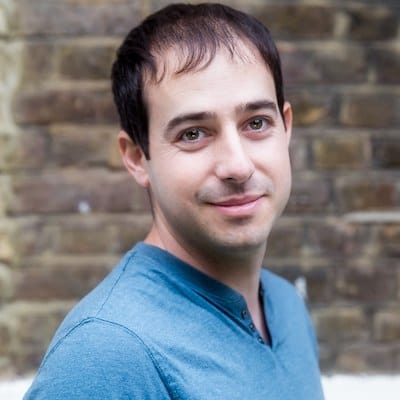 Ofer Shayo Show Notes
Ofer Shayo is a passionate tech entrepreneur with over 15 years of senior management experience focused on enterprise SaaS, mobile, social networking, and Cloud TV products with superior user experience.
Co-founded Tvinci in 2007 and built and developed a world-class team of talents with a diverse, innovation-driven culture. Tvinci was acquired by Kaltura in 2014, and today it serves Kaltura's customers under the name Kaltura Media and Telecom. Tvinci's Cloud-TV platform is serving today millions of Pay-Tv subscribers worldwide (Deployed by Vodafone, Veon, Turner, Viacom, KDG, Ono and MediaCorp).
Currently, Ofer is based in London with his family and is starting to build a new tech company.
What is Ofer most passionate about?
I defined myself as an entrepreneur almost from day one. A few months ago, I left Kaltura – the company that acquired my company five years ago – and I'm now in the Avery structured ideation process to find an innovative idea and establish a new company with my current co-founder.
In the beginning, for a few months, I started to look for my new startup idea without a structured process. I had a lot of free time, and since I'm based in London with beautiful parks around me, was sitting there and thinking of new ideas. Whenever I thought of an idea that seemed good to me, I said OK, let's do a proof of concept and research around it. I thought of three new ideas that way.
However, I realized it's not the right way for me. I want to be able to compare a few ideas, to make sure they have a big enough target market, and that we can lead the market in terms of the competition in a market that hasn't been destructed so far.
I have a few parameters on my list at the end of the process. I will choose an idea that most likely will be my day job for the next five to seven years.
The story of Tvinci
I met Ido Wiesenberg, my Tvinci co-founder, while we were on a trip walking on a mountain in Guatemala, and we talked about the opportunities for connecting Mobile, TV, and PC, the "holy triangle," and that was in 2004.
We were both students originally from Israel. When we came back, I joined the business Ido established a few years earlier as co-CEO. It was a kind of creative agency.
After a few years together, we reached some really big customers in Israel and outside of Israel. We decided that we wanted to build a product company. We made a clear decision that it would be in the video space.
This was right after Google acquired YouTube in 2006. We did some business research, and we built a sort of demo: a proof of concept of a kind of interactive player with social layers above it.
We shared it with a few prospective customers. One of them was Wacom in Israel. They liked it, they adopted it, and we built a product around it. We branded it as Tvinci, and we raised our seed money.
At the beginning of 2008, we already had a few customers, including Wacom.
The name came through our third co-founder Guy Barkan. In the beginning, we thought we are reinventing the TV, and the first entrepreneur in the world was Leonardo De Vinci so together it's Tvinci.
The product was a white label of Netflix. We approached mobile operators, TV cable operators, and media companies and allowed them to build their own TV business on the cloud.
Ofer's best advice about customer focus, marketing, and sales
Success is something personal. Our bigger success in Tvinci was building a powerful team and being able to choose the right people, and most of them came without early experience. After five years we sold the company, and these people are very successful. And I'm proud that we managed to put all these brains together to build it.
In addition to that and as a result of the work we did with Hayut from 2009 to 2011, was the fact that we decided in a very early stage what category are we going to lead. We recognized that it's going to be OTT (Over The Top) Pay TV.
We believed that in the close future people would actually consume TV content from… the internet. This is exactly what happened! And most of our prospects said it would only be a nice-to-have, or that it would be only for short forms, only for marketing, etc. It took us time to find the market fit.
Our early strategy was to focus on big customers with premium content. They believed they would serve their customers through the internet. This is exactly the same strategy that Kaltura has today for the group that is built on the amazing company that they bought from us five years ago.
So, the two pieces of advice would be to build a talented, strong team and to focus on defining the right strategy in the beginning.
Our biggest failure with a customer
We made many mistakes. We tried not to repeat them. Our biggest mistake was overselling. We didn't set expectations with our first customers. There were a few customers that were really excited about our solution, about our vision, about the team, and about the user experience they were going to get. And they got it – but, sometimes they got it a bit later, sometimes they got it with fewer features than they expected, and it took us time to close the gap and deliver the systems.
It was always very important to us to deliver what we promised, but you have to understand, it really was the early days of Over The Top TV.
But we definitely lost customers because of the lack of setting the expectations in the early days.
Our biggest success due to the right customer approach
From the beginning, we had the courage to approach tier one communication companies in North America and demonstrate the new solution to them.
We were lucky to win our first customers in APAC, competing with a "small company" called Erickson. They were a very big communication integrator, and they fail to deliver in this field of OTT. The guy that managed the OTT service for this giant media company decided to bet on us.
The entire company at that time was focused on this project to make sure we would give this giant customer tier 1 service like they expected to get from Erickson. He knew we were a small company; maybe he thought we had more employees than we really had. We were 35 employees by then, and with this project, we managed to double our team in six months.
And that was the point where we were no longer a small startup but a solid relatable startup that had managed to sign big tier 1 and 2 customers. At that point, we really understood we were on the right path.
Ofer's most recommended tool
I hope it's not too obvious, but now, when I'm in the early days of my new startup and we are only two people, I really love the platform I built based on monday.com. I like the speediness and especially the fact that it's so easily integrated with so many third partners.
Ofer's key success factor
It's a hard question. I'll give you an example. When the company was acquired, we had 75 full-time employees after seven years of being an active company. And I must say that even with the exit, the thing that I cared most about was taking care of the employees, and that meant the most for me. The fact that we managed to impact the lives of our people and help them with their career.
I think this is really a privilege for an entrepreneur. Being able to impact your teams, develop them, and keep them happy. And I think we did a good job and I'm very proud of it.
Ofer's Mountain
We believe that the best way for entrepreneurs to get fast, big, and sustainable success is by leading your own new market category. The entire entrepreneurial journey reminds me of mountaineering and conquering the mountain. Is there a mountain you dream of climbing or a mountain you have already climbed?
I have a great story because of the first and the last time I climbed a mountain in 2004. As I mentioned earlier, I met my co-founder Ido Wiesenberg on Tajumulco Volcano mountain in Guatemala, and while climbing this mountain, we discussed what largely became the basis of our startup, of Tvinci. And we didn't know of course that we would become such good friends and establish Tvinci based on our thoughts that day on that mountain.
The best way to connect with Ofer Shayo
More resources for Entrepreneurs
Don't Miss – Customer Focus Strategy & Execution: Market Analysis for Fundraising
Hayut Yogev's Latest post: "Cut to the chase! We need actionable steps for creating, growing, and maintaining a successful business!" So that's exactly what I did.