Ep. 082 – Mitch Joel "In a world filled with broken promises, Mitch Joel is the real deal. He lives the work he talks about, and he does it with generosity and insight." – Seth Godin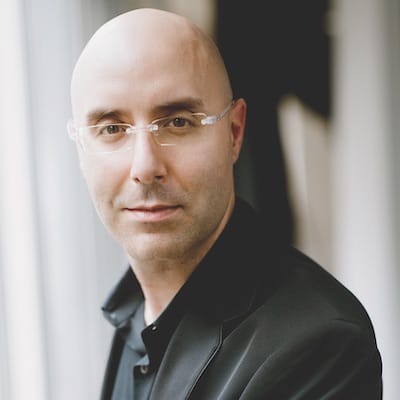 Mitch Joel Show Notes
Mitch Joel is Founder of Six Pixels Group – an advisory, investing and content producing company that is focused on brands, commerce and community.
He has been called a marketing and communications visionary, interactive expert and community leader (he prefers the title "Brand Hacker"). He is also an entrepreneur, author, journalist, investor, trusted advisor, and passionate speaker who connects with people worldwide by sharing his insights on business transformation and marketing innovation. He has been named one of the top 100 online marketers in the world, and was awarded the highly prestigious Top 40 Under 40.
Prior to Six Pixels Group, Mitch spent close to two decades building, running and (eventually) selling his business. He was President of Mirum – a global digital marketing agency operating in 25 countries with close to 3000 employees. Mirum is owned by WPP.
Most passionate about
Right now is an interesting time for me. I had been building and running with three business partners a digital marketing agency called Mirum that I recently left as of July 1st. I'm now in a new venture, which is called 6 Pixels Group, which is a business based off my blog and podcast, Six Pixels of Separation, but it's more of a holding company for a whole bunch of things I'll be working on.
Mitch's best advice about approaching customers
I've spent a lot of time out in the world, sharing and connecting, and I think that's the primary way people find and connect to me. I've spent a lot of time doing work for non-profits and volunteering. I've been very fortunate, and I'm playing a bit of a long game here, I'm really doing my best to not think immediately about what the issues are but instead how I can push things forward. Businesses need somebody to help them figure out how to get better consumers, and that's the type of game I want to be a part of.
I think you really need to understand and live your purpose. When you have a purpose that's very specific as a business, your values, your mission, and not just the pedantic words you put on a sign, but the ones you live and breath, those are the ways that people truly believe or see a level of differentiation. So, I try to figure out what the differentiation is; it's very hard to have something completely unique. Once you figure out what your angle is, it's easier to say no to the types of businesses that aren't right for you. I think, a lot of times, entrepreneurs get trapped because it's hard. I've started many ventures and I know at the beginning you want to take everything and go for everything and it's hard to do that really well.
Biggest failure with a customer
I was part of an agency business for over 15 years and you lose a lot more than you win, so I think the overall process of pitching would be the one. You have to have a very thick skin, you're looking at it from the prospective of 'you've answered everything perfectly, you've met them, there's good chemistry', but you still didn't win the business. So, when you're in the agency business, that question is a strange one because it's all about spending most of your days losing and not winning the client, and not being successful. Once you have the client, the challenge is keeping them and trying to maintain that level because other people are knocking on that door. So when you ask 'was there one failure?' There's many and they happen every single year because you're counting on that to grow and maintain the business. It's a constant slog when you are in the agency world.
Biggest success due to the right customer approach
Historically, over building the business that we did for over 15 years and trying to introduce different types of technologies and newer things to more traditional businesses. There's just a process in place. So, when you talk about an error that was made, once the error is identified, we would get on the phone right away, conversation, apologize, find the middle ground; how are you going to make good? How do we improve it? How do we fix the relationship? How do we follow up on it? Then, in the long haul, make sure the issue isn't fermenting and staying present.
On the winning side, it was similar; you put in the work, you have a win; it's all process and you're still pitching. How do you keep the client onboard in a positive way? How do you make them feel like they're part of the process, how do you really build the relationship so it's a true partnership because that's the only way you can act like an agent on their behalf.
Mitch's most recommended tool
Going to meals with clients, or taking them to an event, or spending time with them one on one socially, outside of work. That would be the best tool from my perspective.
Mitch's key success factor
I go back to playing the long game. I don't look at things as immediately what is the value of this relationship or phone call. I think I tend to be very early, and if you look historically when I've engaged with certain things, whether it was writing online, blogging, or podcasting.
Mitch's Mountain
Since we believe that the best way for entrepreneurs to get a fast, big, and sustainable success is by leading your (new) market category, and the entire entrepreneurial journey reminds me of mountaineering, or conquering the mountain; I want to ask you if there is a mountain you dream of climbing or a mountain you have already climbed.
I live in Montreal, which is in and of itself a mountain. I happen to live in the middle to upper part of that mountain and every morning I go for a long walk upwards into the mountain. Is it a mountain like Kilimanjaro or Mt. Everest? No, but I'm also not a fan of heights.
The best way to connect with Mitch:
Mitch Joel on social media:
More resources for Entrepreneurs
Don't Miss – Customer Focus Strategy & Execution: Market Analysis for Fundraising
Hayut Yogev's Latest post: The three free, most practical steps to researching and locating your market