Ep. 142 – Jeremy Goldman – You can't get your whole satisfaction from getting to the top – the satisfaction needs to be the whole journey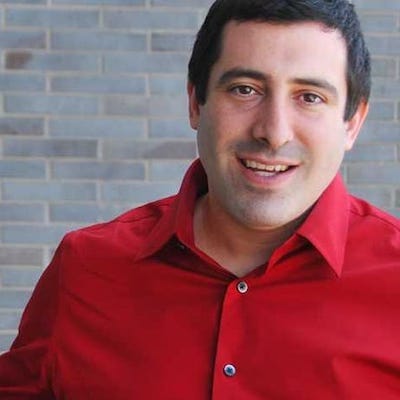 Futurist Jeremy Goldman has been working with companies looking to take their operations online and inject "social" into their processes for over a decade.
Under Jeremy's leadership, companies like Kiehl's, TEMPTU or the luxury division he helped Unilever to found, have had tremendous success and won the highest Awards and publications' mentions.
Jeremy earned his MBA in Information Systems and Marketing at the University of Maryland's Robert H. Smith School of Business. His views have been featured in publications such as Mashable, Wall Street Journal, Smart Money, and more.
Jeremy's first book, Going Social: Excite Customers, Generate Buzz, and Energize Your Brand with the Power of Social Media was released by AMACOM Books in November 2012, hitting the #1 spot on Kindle for social media and business.
In his spare time, Jeremy blogs and curates news daily to his Twitter following of 55,000.
Most passionate about
I had an interesting year. I sold my company, Firebrand Group, which I had started seven years earlier. After selling it, I took a little bit of time to figure out what I wanted to do next, what would be my next big challenge.
My wife was pregnant with our third child and I took some time to help her with our two other kids and with the baby. I felt very fortunate that I was able to do that.
One of the things I realized is that entrepreneurship is usually respected by some but not by everybody. The next thing I want to do is find a company that has an incubator or a venture fund that wants to launch new ideas and move things a little bit faster and that needs someone with an entrepreneurial background. So, I want to remain an entrepreneur but help other companies move ahead.
Jeremy's entrepreneurial journey
The decision to help other entrepreneurs was born out of some previous successes that I had when I went to Unilever, just before I established Firebrand. I was the first employee of a technology-based beauty startup that invented a luxury product Unilever tried to sell for $600, when they were known for five-dollar soap. It was a very disruptive idea.
It required a different skillset than Unilever had. Not only was it successful and not only did they sell it to another company with a pretty profitable exit, but it was the inspiration for them to launch an entirely new prestige division.
In Unilever, I was able to, in a short time frame, do something that was pretty impactful for them, something that made me think that if I could do it for them, maybe there were other companies with that desire to move quickly but that didn't have the skills and the ability. When you are a $60-billion consumer products company, generally you have a little bit more of a conservative mindset than the typical entrepreneur has.
When I launched Firebrand, I had a book called Going Social coming out. It was about teaching businesses how to prioritize social media and digital marketing, how to focus on the things that work instead of just the things that generate some buzz. A lot of companies are focusing on the wrong things.
I wrote that book and I realized that there are a lot of companies that need that kind of assistance. I took a combined approach of a consulting/agency mindset, which was that there are some clients that need us for a consult and advice and some clients that need us to execute. Some companies need us for "in between." I wanted to help them do what was needed and teach them at the same time.
The teaching aspect was probably one of the most impactful aspects of Firebrand. I'm a big believer in teaching. If I can help these people make smarter decisions, they will go on to be better marketers in the future. I take a lot of pride in that.
I established Firebrand Group and ran it for six-and-a-half years until I felt I needed to face new challenges. I realized that it was probably a good time for me to exit and to pass the company along to somebody who had the passion to take these challenges and move the company to the next stage.
What was your greater success at that stage?
My biggest successes were the companies that succeeded most and for which I was part of their branding process, like Mobileye. I developed some of their branding including the logo and colors and so on. Then they sold for $15 billion. It was great to be part of it (although I would be ridiculous for thinking that the logo and colors were responsible for their success).
Another successful company whose process I was part of was BECCA Cosmetics, a huge beauty company. Together with my team, I helped them develop a strategy for acquiring customers, which helped them grow their database almost 500% in a year. The end result was that they sold the company and that these data points that we were able to get for them wound up being talking points for them as part of their acquisition.
With all these successes, I think you have to acknowledge that you were not the person who was 100% responsible for any of them. I take some pride in these successes but I acknowledge that I was a portion of making these things happen, and the only driving force behind that.
Jeremy's best advice about approaching customers
There is a need to focus on the right things to do, to find the right strategy for the company—the strategy that will lead it to growth and success. You should be careful not only to follow the trends that the CEO believes are a "must."
I think the best advice I can give is to not overlook the customers that you have now. Most companies like to place a greater emphasis on customer acquisition vs. customer retention. It's very important to take care of the customers that you have now, make sure they feel well and delighting them.
You don't need to transact with every customer, especially in the B2B business. You can be selective. You should find out: Is this a customer that is going to be right for me?
Biggest failure with a customer
You have to make sure that you are working with ethical people. I had one customer that prided themselves on getting out of paying.
I got to the point that we were in a hole with them. They owed us money and I had to stick with them because if I walked away, I would lose all that money. So, I had to stick with a company that was giving me a lot of stress, and reach them, and do a good job for them, to get all that money.
The money was basically how I kept jobs, how I made sure that somebody didn't get laid off because I had done a bad job in selecting this client. In my desire to chase revenue and grow, I had picked up somebody that I never should have worked with … and then I had to keep working with them.
My job is to make sure we work with people that we will be proud of.
Biggest success due to the right customer approach
For me, it was the fact that I was able to build out something that was of enough value to sell. I think that really had to do with how we took care of the customers. We had a customer roster that the acquiring parties really wanted to acquire. Plus, we had the methodologies that people were able to acquire along with the customer list.
I'm happy that I was able to get the company to that point. None of that would have been possible if we hadn't had the right foundation. So, I would say it was a combination of everything.
Recommendation of a tool for customer focus, marketing, or sales
For me, it's email marketing. At the end of the day, owning your own list and being able to communicate directly is one of the most effective ways of getting in front of your customers. And just in terms of return on investment, it's a great thing if we are looking for the best way to market effectively.
Jeremy's key success factor
I think that my key success factor is knowing that there isn't one key success factor. It's to be able to not overrate one thing. I guess you can say that it's about having a bit of humility, to know that you are working with people who might be smarter than you are. The customers might have some really good plans. It's to know that there might be things that I'll do better tomorrow than I did today.
Jeremy's Mountain
Because we believe that the best way for entrepreneurs to get fast, big, and sustainable success is by leading your (new) market category, and the entire entrepreneurial journey reminds me of mountaineering, or conquering a mountain, I want to ask you: Is there a mountain you dream of climbing or a mountain you have already climbed?
My brain takes me back to yesterday. I was walking through a very hilly part of Atlanta when I got a call from my creative director, who is now the CEO of the company I sold. He was hearing my heavy breath and I realized, I'm so bad with the hill. But then I thought that there was an analogy there: It's the discomfort and the passing through it that really make the journey worthwhile.
In short, I haven't gotten up the mountain. I would be a big ball of sweat if I ever did. Even a hill makes me breathe like I'm 30 years older than I am, but I think that building a startup is really the same process of fighting through the discomfort. You can't really get your whole satisfaction from getting to the top of the mountain, the satisfaction needs to be the whole journey.
Jeremy's book
Best ways to connect with Jeremy
More resources for Entrepreneurs
Don't Miss – Customer Focus Strategy & Execution: Market Analysis for Fundraising
Hayut Yogev's Latest post: The super successful entrepreneur that followed his passions and invented a new market category