Ep. 214 – …"It's just a billionaire from America who has no idea about building cars." Did Simon Severino predict Tesla's success?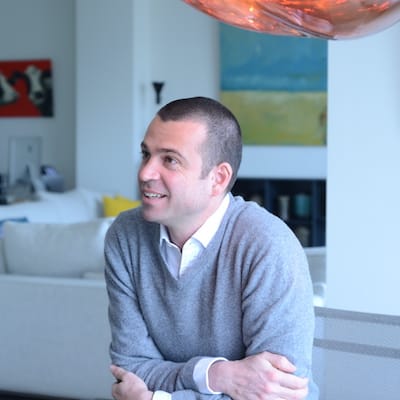 Simon Severino helps business owners in SaaS and services discover how to be able to run their company more efficiently which results in sales that soar. He created the Strategy Sprints® Method that doubles revenue in 90 days by getting owners out of the weeds.
Simon is the CEO and founder of Strategy Sprints which is a global team of certified Strategy Sprints® Coaches which has offers a customized strategy to help clients gain market share and work in weekly sprints which results in fast execution.
He is also a Forbes Business Council Member, a contributor to Entrepreneur Magazine, and a member of Duke Corporate Education.
Most passionate about
We are helping entrepreneurs navigate these funky times. The two things that they need most are time and cash. We help them improve the volume of their work to get them down to a healthy level of work per day, versus working too much. And we help them improve sales.
We are growing like crazy right now. I haired five new coaches to my team and I have onboarded a new head of sales and he will be recruiting salespeople in the next month. We are growing because we have a digital plug-and-play offer to help business owners. Since nobody can fly right now, because of COVID, companies need our help in generating sales.
Simon's career and story
I have been doing strategy consultancy for 17 years now.
I've done market entry strategy in New York, management system optimization in Beijing, and everything in between.
The first thing that I started doing was having my own little private practice as a coach. Then I went to a big consultancy, where I really learned the craft.
I was a junior consultant, senior consultant, then a junior project manager, senior project manager, principal, the whole ladder.
I was a young psychotherapist. It was not very impactful and was not the place where I was meant to be. My second try was as a leadership coach and leadership trainer. That was where I found my place.
Best advice for entrepreneurs
I would say, make a list of everything that you're doing. Cut the list in half. Then take this list, cut it in half again, and execute.
When you cut what you are currently doing, you will automatically ask yourself "What is the most important thing to do?" and "Now what will pop up as the most important thing?" The first thing will be your family, but then comes your customer. What is really helping your customers succeed? This is the most important question for a business owner: which of my activities are really helping my customer succeed? That should be one block of the things that you do every day.
The second one is "Which activities are really helping my company grow?" These are joint venture partnerships, working on the forms, the function of your sales and marketing system and the like.
The biggest, most critical failure with customers
The biggest failure was in 2013, when I was a strategy advisor of the BMW group.
We had a project of around one year to become number one in the world and to stay number one in the world. We started creating the Factbook and analyzing who are the competitors. They picked some competitors and we picked some competitors. One of these competitors was Tesla.
The CEO said, "No, we don't need to take them so seriously. It's just a billionaire from America who has no idea about building cars."
At that time, his assumption was "this is not relevant." Many years later, the I8 and I3 models are now on the streets. The strategy has been born electric in the history of the company.
The direction was fine, but my failure was not to validate assumptions.
What I learned from this failure and what I'm doing differently now in the strategy sprints method—you still get data every seven days, but whatever our assumption is, we will test it in three days.
Biggest success with customers
It's the same thing that I learned there. I then execute it every day. In 2013, I created the strategy sprint method, which really helps you to collect your data and test everything.
Simon's recommendation of a tool
CRM system and whatever app you use for CRM

That means mapping out how many people are slightly interested today.

HubSpot
Equalizer

It's a simple spreadsheet, but it's a Google spreadsheet. You can download it.
You can find out where to cut your costs by 20% every month, where to invest more, how to swim away from your competition, and how to make yourself immune to competition in half an hour.
Simon's one key success factor
I have three habits and they help me survive.
Daily habit

Write down how I use my time. Every evening, I ask myself two questions to learn from that.

Weekly habit

I get all my marketing numbers, sales numbers, and operations numbers and report them in one simple spreadsheet every seven days. That's the weekly habit.

Monthly habit

Once a month, I check from a higher level.
I do the equalizer from a higher level.
Are we still comparable to the competition? Who is our competition? What else can the clients do? What and where do we cut costs? Where do we invest in more?
Simon's Mountain
Since we believe that the best way for entrepreneurs to get fast, big, and sustainable success is by leading your (new) market category, and the entire entrepreneurial journey reminds me of mountaineering, I want to ask you: Is there a mountain you dream of climbing or a mountain you have already climbed?
My picture is like Tuscany. You have these small hills and every day I climb one hill.
Every day, I put myself into a situation where I have to get out of my comfort zone and stretch. From what I can deliver today, I stretch myself into the learning zone which I don't yet know how to do. It's bigger than what I can do. It's a little bit uncomfortable and even a little bit painful, but I will go through it. I will not give up. And in the evening, I will be proud of myself.
The best ways to connect with Simon
I'd like to invite you to a free masterclass about "7 practical free ways to get more customers"