Ep. 266 – From the biggest failure to the biggest success – the successful entrepreneurs that reached new success records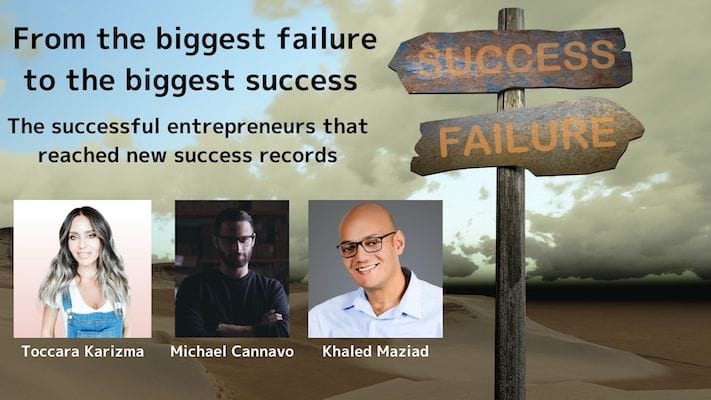 | | |
| --- | --- |
| | Toccara Karizma is a digital marketing consultant and business growth strategist. She is the CEO of Karizma Marketing, a full-service digital marketing agency dedicated to growing elite eCommerce brands online through email marketing, social media marketing, PPC, SEO, website conversion optimization, and more. |
Having built her own successful eCommerce business back in 2007, Toccara is now considered one of the world's top eCommerce marketing experts. Her out-of-the-box approach to digital marketing and expertise in the online business growth space is why I've asked her to join me today.
The biggest, most critical failure with customers
I have a two-fold failure.

The biggest failures are taking on clients without the bandwidth, without the support system that I need. We are in demand and are blessed to be in demand. At some points, we want to take on clients when we just don't have the right support team in place. And that's not a fair thing for us to do because when we do that, we don't give them the best results or the best client experience with us. We want to be the Four Seasons of ad agencies.
The second failure would be taking any client, especially when you're newer. That was when we failed because we weren't working with a partner that had everything in place. It was kind of like putting a Ferrari engine in a VW Bug.
Biggest success with customers
I stand for full reporting. When we talk to our customers, it's almost like we're flipping all the ways in which they were mishandled and mismanaged by other agencies and saying, "You deserve this."
We do full transparency. We'll tell you when we're wrong and when we've done something wrong. We want to meet with you regularly and build a long-term relationship. We're always on camera with them. So, it's doing business with people.
My son was working on a project at school. (He's in high school now.) He was using a video editing software. I looked up that video editing software's ads because I ran ads, and I realized that they were struggling. They just did not have great customer feedback.
I went directly to this company, it's a SAS company, and said, "Can I get connected with your director of digital marketing?" I got the client, and I think it's funny because I had just interviewed someone for my own YouTube.
| | |
| --- | --- |
| | Michael Cannavo started his career on social media. He was able to infuse his own understanding of viral content, social platforms, and demographic interests into Super73, causing it to accelerate the growth and visibility of the company. |
As the company grew, so did his social media presence. With 500,000 followers online, Michael has been able to pull back the curtain on what life is like within Super73, how the company has succeeded, and where it is going next.
The biggest, most critical failure with customers
I think it's a matter of really understanding what they want.
Early on, we had this idea of what we wanted to do, and we kept trying to insist to our customers, "Hey, this is what you want. This is the product for you." We were missing a few key features.
We heard that directly from the customers and I think it has really changed the way that we view our products, from designing to prototyping to testing it. We really engage with the customers now.
Biggest success with customers
We recently released a bike called the ZX. It's not necessarily too remarkable of a product, but it is a perfect product for a demographic that was asking for it for a long time. We really took into account what customers were saying in the comment sections, what they were saying on reviews.
That really created something so magical because it was exactly what our customer was looking for. When we released that bike, it was positivity across the board. Everybody was so happy. The customers were happy. Our design team was happy.
| | |
| --- | --- |
| | Khaled Maziad is a marketing consultant who specializes in the Psychology of persuasion and high-ticket sales. |
He helps coaches transform their uncharged-non-monetary offer into a high-ticket one without having Tony Robbins like Brand.
He shares his story on struggling to give away his stuff for free to charging high-ticket offers and helping his clients from all around the world do the same.
The biggest, most critical failure with customers
One of them was not testing offers before validating them.
I worked on a product once that I was perfecting and I didn't show it to anyone. I didn't get any feedback. I didn't ask anyone if they wanted it or not. I worked for about a month on it. When I put it out there, no one even cared about it. The tool was a really big failure.
Biggest success with customers
We had a product that helped people by working on their messaging. We did a beta test first at a lower price, just to test how it worked. When we took a small group for the beta test, we were surprised that the people got value from the test. When we published the course and pushed the program, some of the beta testers asked to pay full price.
I'd love to hear what are your favorite episode?