Ep. 195 – Especially for Christmas – Three entrepreneurial marketing miracles that can happen to you.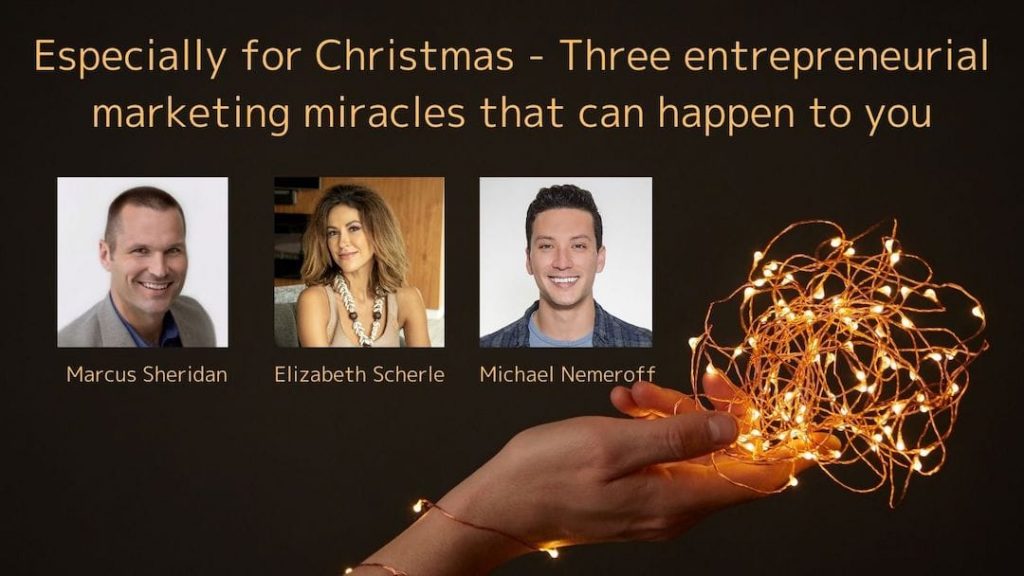 For many years, I've been saying that marketing is magic. I also say that this magic has very clear rules. Once you follow them, the magic happens…
Every one of the more than 180 successful entrepreneurs I interviewed for my podcast has had a moment or a time when the magic of marketing happened to them.
Today, I want to share with you three stories of entrepreneurial "marketing miracles" that show you how these miracles can happen to each of you.
The magic of finding the right customers for you

How to find the right customer for you

This is one of the questions I've been asked the most. Many entrepreneurs who struggle to attract customers are not sure whether they are targeting the right audience.
And they are right. Finding your customers is not about guesswork or addressing the customers whom your competition addresses.
You need to find the customers who are currently looking to solve the problem your product or service solves. To find them, you need to look for them in the right way.
Influenster focuses on two types of customers: the users who review products and the brands that are Influenster's clients.
In both areas, they managed to find the right customers for them. They conducted research and focused on the precise target audience at the right time.
Elizabeth Scherle is the Co-Founder and President of Influenster, the product discovery and review platform that enables socially-savvy consumers to find new products and get advice to make informed purchases. 
The company
We concepted the idea around 12 years ago. I was working at another startup – a fashion event company. My role was selling big events to brands in terms of sponsorships and putting their products in the gift bag. So, I knew a lot about product sampling, I learned a tremendous amount in sales, and I worked in a startup that was 10 people when I started and became 50 after five years. I felt I had learned almost everything I could and I was really itching to do something of my own.
At the same time, I met my current business partner. He was working at a more traditional marketing research firm, and he found that a lot of the studies they were doing were very costly and took months and months. I kept hearing from my clients (the brands) that they would like to get much more data about the customers that were getting their products in the gift bags.
So, we thought we could really modernize market research to create an online platform where we got a lot of data about people and sent them products that matched their lifestyle. Then our members would give feedback about the brands.
We didn't raise money; it was out of our own pockets. We built a very simple website with three pages. Then we tried it and had a response rate of over 90%! Normally it's about 10%. We made people answer a very long survey and we were really surprised that they were willing to share so much data about themselves as shoppers. Luckily, my partner knew how to analyze all the data. We shared it with the brands and they liked it. That's really how Influenster was born.
The customers
Influenster has two sets of customers. We have our user base, our members who sign up. They write reviews, test products, etc. We call them "" Then we have our other set of customers, which are our clients, our brands. We really serve two audiences with everything that we're doing.
In terms of knowing who the customers were, from the brands perspective, they were the Consumer Package Goods companies like food, beauty, and health. That's who we actually built the service for, since I had worked with them before we understood their need.
As to our other customer base, our members … people who like products, the "beauty junkies", they like to try everything new, want to share an opinion. That started seven years ago. With time, we saw that our members were sharing their opinions on social media without being asked, and making a buzz for the brands. We added that to our offer to the brands, so looking at people's social media scores, how many friends and followers they had, became a factor for our customer base as well.
One thing we really wanted to focus on from the beginning was not paying the members. From the beginning, it was all about authenticity, and that is still true today. So, in terms of customers, from the beginning we had a good idea of who we were looking for.
Elizabeth's best advice about approaching the customer
I think of my clients as the brands. The biggest thing we did that helped us succeed by far was our "give – get" approach. We targeted the right brands and we started to approach the consumers (our members) for free, without asking for anything from the brands. Then we came to them with the results and discussed it with them. And that worked.
My other piece of advice is to just listen. We focused a lot of attention on listening to our clients and our members. That creates opportunities for growth.
Biggest success due to the right customer approach
The biggest thing that made an impact on our business was really listening to the brands early on. We were not funded at the beginning. Everything came out of our pockets. We started the business, we tested it, and we knew brands liked it, but when we were actually trying to sell, we saw that some brands were not reacting to our sales efforts. It took a lot of research and questioning. Then we figured it was time to go big or go home … We were giving, like, 200 boxes to consumers, and in order to work with the big brands like P&G or L'Oréal it had to be thousands of people. We were funding that by ourselves and we were really stressed out. However, we decided to do a Holiday Box, and that went from 250 people to 5000. When we got to 5000, we started getting emails and responses from the brands. That single decision really made the difference for us. Otherwise, Influenster was probably closing its doors, as we couldn't make enough money because we weren't
Read my free guide about the three free, practical steps to researching and finding your market
Marcus Sheridan – The magic of attracting customers

There are many definitions of marketing

My definition is looking at things from the point of view of the customers.
This is probably one of the most important rules of marketing in general and of entrepreneurial marketing in particular.
So many entrepreneurs are sure that they know everything about their customers. When no one in the swimming pool industry published prices and facts about their pools, Marcus found out that their customers had many questions that they wanted to ask before looking for which company they should buy from. By answering these questions, Marcus attracted most of the customers to his company's site.
Called a Web Marketing Guru by The New York Times, Marcus Sheridan was able to save his swimming pool company, River Pools, from the economic crash of 2008. He has been featured in multiple books, publications, and stories around the world. His story was also the inspiration for his book, "They Ask You Answer."
Today, Sheridan has become a highly sought global speaker and consultant in the digital sales and marketing space, working with hundreds of businesses and brands to become the trusted voice of their industry when navigating the ultra-fast rate of change occurring within consumers and buyers today.
Most passionate about
"Nobody ever grows up and says they want to be a pool guy…" Marcus Sheridan believes he had to go through the crash of 2008, almost losing his swimming pool business, in order to become what he is today: a teacher trying to help companies and organizations see the world differently and see themselves as teachers in order to build trust.
 The next step
I think I had to do what I do today in order to get to where I want to be and talk about the intersection between personal and professional. There are so many principles to success that are relevant to our business life but they impact us just as much in our personal life.
Marcus wants to get to speak to even more and bigger audiences about how they can reach full fulfillment in their lives personally and professionally.
Company
Today, River Pools [Marcus's first company] is the most trafficked swimming pool website in the world. We went from being a struggling retailer to manufacturing swimming pools throughout the United States and having dealers looking for us. We install swimming pools throughout Virginia-Maryland and it's all because we said, "We are going to be the best teachers in the world for fiberglass pools." That's the thing that did it.
The Sales Lion started as a personal website where Marcus began writing his thoughts on sales and business. It all started in 2009 in order to save the swimming pool business, and it worked! He felt he needed to tell everybody about it…
For the first year, he didn't think anybody was listening. The site didn't get much traffic. Then, all of a sudden, people started to read and Marcus was invited to speak at an event and then two … It just snowballed … Today, The Sales Lion is a consultancy that helps small to medium businesses become leaders in their space and, thus, be the most trusted voice with what we call "social media."
Biggest success due to the right customer approach
The biggest success is exactly where the new book is: being willing to answer any question any customer asks. That was what made the change almost overnight.
Marcus decided, in 2009, to write his first article with the idea of "they ask you answer." He wrote an article about swimming pool prices, which customers wanted to know yet none of the players in the market talked about. That first article, which took Marcus 45 minutes to write, generated three and a half million dollars in sales for the company.
Michael Nemeroff – The magic of focus

Those who read my blogs or listen to my podcast know that I think focusing is the most important rule of marketing. When you are willing to focus, magic happens.
The rule of focus is challenging. I always say that it comes together with the rule of "giving up": When you focus on one thing, you must give up many other things.
Michael and his company, the RushOrderTees, are focusing on a very narrow line of products—and that is what has led them to such massive success.
Michael Nemeroff saved the financial future of the family and says: "We do one thing—quickly. That's our success." It called focus!
Michael is the CEO and co-founder of RushOrderTees, a fast growing eCommerce custom t-shirt printing and apparel company. Founded in 2002 when Michael was only 17 with his brother and sister, RushOrderTees specializes in screen printing and embroidering services for everyone from teams to small businesses to Fortune 500 companies.
Over the past 18 years, the company has focused on the customer experience by streamlining the entire process with its innovative design studio, incredible service, and the quickest deliveries in the industry.
Most passionate about
Being in this pandemic, probably what I'm most passionate about is getting the business back in shape after the huge decline we saw. Essentially, when the NBA shut down, we lost 80% of our revenue.
We want to be the most trusted place where you can get custom t-shirts and custom-printed apparel.
Right now, we're trying to do blocking and tackling better.
Michael's career and story
This is probably the third business that I started.
It was like a combination of being on the computer, being a fast typer, and getting lucky that my brother took the first design course, didn't want to do his homework, and gave it to me.
I turned it into affiliate marketing. I had a need to make money because that's what we needed to survive.
My dad was kind of done, shutting down his business with my mom and Ben, his friend said to him, "You're a great sales guy. Come on the road with me door to door. We'll sell shirts to pizza shops and restaurants. I'll show you exactly how it works, where to get the shirts, where to get them printed, and you can be making money this week."
Initially, my dad didn't have the mindset to do it but then my brother pushed him to do it. And he actually got in the car with them. In the first two days, they sold three different places. I think it was like making about $1,500.
I launched a website and a marketing campaign on yellowpages.com. The website just said, "Russia disease needs t-shirts, click" and there was a blinking phone
That was the entry into taking custom t-shirts online.
It was usually a localized business where you would go to a t-shirt shop and meet with the guy. He would tell you when you get them and you'd work out the design with him. So, the online t-shirt idea was a hit.
Biggest success with customers
We do one thing—which is custom t-shirts and apparel— That's our success.
We didn't really innovate, but in terms of the industry itself, like making something new, but we brought something to the industry that it didn't have because so we just deliver the exact shirt you want when you need it.
Michael's one key success factor
I've known this for a while because my biggest key factor to success is also my biggest weak
My ability to really focus on a problem and try to solve it is my strongest attribute.
Many entrepreneurs think that marketing is all about paid content, SEO, automation, and social media. The truth, however, is that marketing starts with making the right choices and creating the right strategy. Nothing will work for you if you choose the wrong customers or don't focus.
Choosing the right customers, attracting customers to you, and being able to focus are three key strategic moves that will create miracles in your business.
Want to learn how to start your Entrepreneurship?
Download for Free

HOW TO START ?
Want to learn how to choose the best Name and Logo? Not sure which customers to focus on right now and where they are? Want to build your website, or trying to figure out how and what content to share on social media?