Ep. 145 – David Meerman Scott "I think I'm successful because I have the ability to see patterns in the universe before other people see them"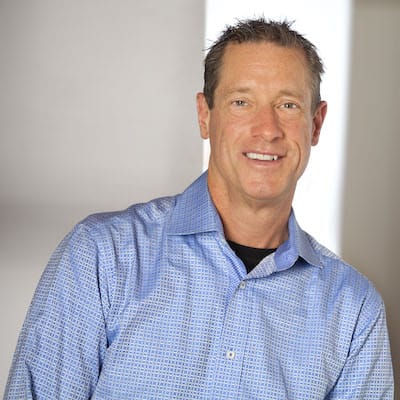 David Meerman Scott spotted the real-time marketing revolution in its infancy and wrote five books about it including The New Rules of Marketing and PR, with more than 400,000 copies sold in English and available in 29 languages from Albanian to Vietnamese.
Now David says the pendulum has swung too far in the direction of superficial online communications. Tech-weary and bot-wary people are hungry for true human connection. Organizations have learned to win by developing what David calls a "Fanocracy" — tapping into the mindset that relationships with customers are more important than the products they sell to them.
He is a massive live music fan, having been to 790 live shows since he was 15 years old, is passionate about the Apollo lunar program, and he loves to surf but isn't very good at it.
Most passionate about
Over the last five years, I've been thinking very, very deeply about what's coming next after the social media and real-time revolution. The reason I've been thinking so deeply about this is that The New Rules of Marketing and PR is the book I'm most known for. That book originally came out in 2007 and now it's in its sixth edition.
The New Rules of Marketing and PR has influenced a lot of people but it has also led to a new online world that I think is becoming more polarized. It's becoming a place where people are just trying to send another email, another piece of spam. They are trying to push out their content in inappropriate ways. There's even inappropriate use of artificial intelligence.
I was recently on a site and didn't even realize, until after a couple of minutes, that I was talking to a robot. And in the political world, the political discourse online is becoming so nasty and mean, even from the President of the U.S.
What I recognized is that the pendulum has swung in the direction of superficial online
. But people are hungry for a true human connection. So, I've been thinking deeply and writing and researching about how people can have a much more human connection with other people, as well as how businesses can have a much more human connection with their customers.
Aren't the connections between two human beings "human" anyway?
I don't think so. I think that when a company deploys artificial intelligence and pretends that you're talking to a human, or when a company puts 100,000 email addresses onto a single email, or when people are just being mean and nasty, this is not human. This is not a powerful connection. It's just doing something to sell a product or a service, and we don't want to be sold in that way. So, I think organizations that will be successful in 2020 and beyond are the ones that understand how to reach people in a way in which they are growing fans of their customers.
Five years ago, I was very focused on the idea that superficial online communication is no longer working for many people. But at the same time, people are fans of the things they love, like a sports team, classic cars, bird watching, or an artist. Everybody seems to have something that they are incredibly passionate about. Many people are incredibly passionate about the companies that treat them well, that treat them like human beings.
That's what led us to write that book that turned into Fanocracy— turning fans into customers and customers into fans. I wrote that with my daughter.
I can understand and identify with being a fan of a music band, or an author, or a sports team but it's not exactly the same as becoming a fan of a company. So, what should a company do to attract these fans?
There are a number of prescriptions that we identified. What was interesting about writing this book with my daughter is that she is a scientist. She got a neuroscience degree at Columbia University and is now in her last year of medical school. Of course, her fandoms are different from my own but she also understands fandom from the perspective of what is happening in your brain and from a near-science aspect.
A fandom isn't just for a rock star or a sports team. It can be for any kind of organization. For example, I was interviewing McKeel Hagerty, the CEO of Hagerty Insurance, an auto insurance company for classic (collector) cars. He told me about how he went out and specifically cultivated fans. The company has more than 700,000 subscribers to its YouTube channel and 600,000 members of its auto club. It gained 200,000 new customers this year. One of the chapters in Fanocracy is called "Give More Than You Have To."
David's best advice about approaching customers
I have two pieces of advice that are very important for entrepreneurs. As part of our research, we spoke with many entrepreneurs about how they developed fans. The first piece of advice is that you need to deeply understand the people you are trying to reach. I learned it deeply by having my daughter Reiko my co-author in this book. Reiko is an expert in a concept called Narrative Medicine that was developed at Columbia University, where she studied. Today she teaches Narrative Medicine at Boston University Medicine School. The idea behind Narrative Medicine is that in order to become a good doctor, you need to understand the entire patient and that patient's story, not just the symptoms of their disease.
The second piece of advice is that the closer you get to your customers, the more powerful the human emotion is. There are several zones of influence. The first zone is 20 feet or farther away—you know that other people are around but you don't really pay much attention to them. However, our brains start to track people when they are 20 feet or closer to us. That's called the personal zone. It becomes personal when people are less than 20 feet away from us, and even more so between a foot-and-a-half and four feet. That's a cocktail party distance. Our brains are wired to make a much more powerful connection the closer we get to somebody.
The idea is that when you have the ability to get physically close to your customers, you develop a much more positive human connection with them, because of this idea of proximity, which comes from neuroscience.
It might surprise you to learn that one of the most important things for digital marketing is physical conferences.
Tell me a bit about working with your daughter
It was great. My daughter is going to be a doctor; she is in her last year of medical school, so I thought she is the perfect person to write the book with, from all the reasons we talked about before. Reiko is so different, and yet she believes in the concept of Fanocracy and having fandom, just like me.
We had to decide together how is it going to work. It's been a really great experience, we've learned a lot about each other, we've become closer as a result. We've learned to trust each other in a really strong way because, when you give somebody your writing, it's something you worked very hard on, and they are going to criticize your writing. So, you have to trust them that they will say it in a way that keeps the book going forward, even though hurt your feelings because they will say something bad about something that you wrote.
It was a great situation to be able to write the book together, and now we are having fun figuring how to market it, and soon it will be out, and people will start reading it, so it's great doing it together.
Biggest failure with a customer
That was something that happened to me 17 years ago. I lost my job. I was working for Thomson Reuters and there were no jobs. I couldn't find a new job so I had to become an entrepreneur. It turns out that this was the best thing I could have done.
Building fans is an incredible way to grow your business but it's a long-term endeavor. You don't say, "I'm going to start building fans," and then, all of a sudden, you have a whole bunch of fans. It's going to take time.
A lot of businesses are looking for a short-term hit and that's not going to happen. However, if you follow the prescription that we talked about in Fanocracy, you will develop fans over time and they will grow to become the absolute most important asset in your entire entrepreneurial journey. They will be the ones who will buy your new product when you bring it out. They will be the ones who will share with their friends the fact that they love to do business with you. They will be the people who will buy from you again and again. They will be the ones who will share on social media that they love you. And that, over the long term, is incredibly powerful.
It's important for entrepreneurs to remember that fandom—and the concept that I call Fanocracy—is all about having long-term, sustained, dramatic success.
Biggest success due to the right customer approach
I have the ability to see patterns in the universe that others don't see. There were three times when this was really significant. The first time was 20 years ago. The whole world was talking about internet marketing as advertising but I had worked in the news business and I saw internet marketing as publishing content. I saw it completely differently. I saw a pattern in the universe that other people weren't seeing and that's what led me to write The New Rules of Marketing and PR. It was the very first book that talked about content marketing or social media marketing. It's arguably the most popular book on that subject; it has sold 400,000 copies in English and was published in 29 languages.
The second time I saw patterns in the universe that other people weren't seeing was 10 years ago, when a few things happened. One thing was that Twitter started to become popular. Twitter is a real-time social networking tool. The second thing was that Google started to index the search engine in real-time. I saw those two things as being unbelievably important. I wrote a book about it, called Real-Time Marketing and PR, and I invented the concept of newsjacking.
The third time I saw a pattern in the universe that other people weren't seeing was recently, around this new book, Fanocracy. I was seeing that the pendulum had swung too far in the direction of superficial online communications at a time when people were hungry for true human connection. I really wanted to dig into the subject of how people connect, and I recognized that people who are fans of something will become truly connected. That's what led to the book Fanocracy.
My "6 people" say that David is successful because he wrote these books. I don't think so. I think I'm successful because I have the ability to see things before other people see them and then I write about them. I get the idea out into the universe.
David's key success factor
When I think that something is important to do, I actually do it. There are so many people who tell me, "Oh, I had this idea too." There are millions and millions of ideas out there. It takes a true entrepreneur to actually execute on an idea.
David's Mountain
Because we believe that the best way for entrepreneurs to get fast, big, and sustainable success is by leading your (new) market category, and the entire entrepreneurial journey reminds me of mountaineering, or conquering a mountain, I want to ask you: Is there a mountain you dream of climbing or a mountain you have already climbed?
I have a very important relationship with some mountains. I'm part-owner of a 12,000-acre nature preserve in one of the most important areas of ecology in the world.
It's at the narrowest point between North and South America, and at the narrowest point between the Atlantic Ocean and the Pacific Ocean. Because of that, it's important for animal migration and bird migration.
This particular area of Panama was in danger of being taken over by cattle ranching. I got together with some friends and we bought 12,000 acres. It's also important to offset the carbon footprint.
David Meerman's Book
David Meerman Scott and Reiko Scott – "Fanocracy: How to Turn Fans into Customers and Customers into Fans"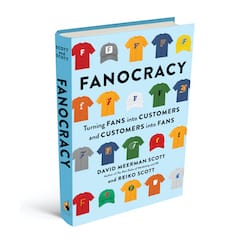 The best way to connect with Russell
Social Networks