Ep. 206 – David Jay best advice – When I was 16 my dad told me: "David, if you do your business about helping people, you always have plenty of work."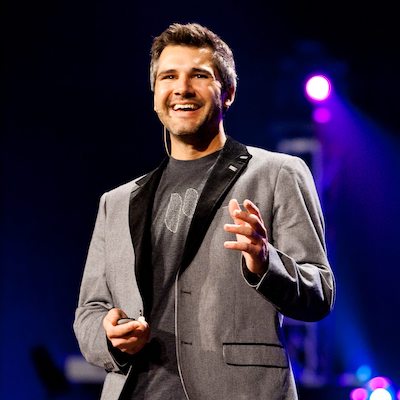 David is the founder and CEO of Warm Welcome and was recently named a Top 100 Tech Innovator and Influencer.
In today's market most businesses struggle to stand out in crowded markets. Warm Welcome helps businesses upgrade from boring text to personal video so they can build meaningful relationships that drive real revenue.
David has bootstrapped several startups into multi-million ARR. Revenues from Warm Welcome, along with his other four companies, exceed $6 million in 2020.
Over the previous years the pursuit of efficiency and automation has created a lonely world that is actually disconnected from what we need the most – people!
Most passionate about
First is my family; we just moved to Florida, and I have two young boys, two and four. So that's an exciting, exciting time of life.
My business babies and the startup guide; I have a few tech startups, and we're working on selling one of those and working on building one of those. The newest one is called Warm Welcome.
it's a way to personalize your business and build trust quickly through video.
it's a way to stand out in your market.
It is a way to make things more personal, more human by moving beyond kind of boring old texts, emails, or text on your website and putting a face behind it, putting a smile behind it.
David's career and story
I remember back in sixth grade, I went down to the store and started buying up candy bars on sale, Reese's peanut butter cups and everyone loves them. And I started selling those, and the school shut me down…
I saw problems back then and enjoyed solving them and enjoyed coming up with a better way of doing something or at least something that I thought was better.
So, then I went on to college and actually ended up dropping out of college and starting a service business of photography and love doing that for about 10 years; it hits all the typical scale problems that everyone has in the service business, whether you're a photographer or contractor.
So, I started to build communities around the software. One of my mentors, Tim Sanders, said, your network is your net worth. And I thought about that, and I thought I need to build a network: I need to build a community of people that knows me and trust me. Through the community, I started to hear other people's problems and try and come up with solutions for those. And so that's been what pulled me into tech.
Best advice for entrepreneurs
When I was 16 years old, my dad sat me down and said, David, if you do your business about helping other people, you always have plenty of work.
I think that's probably the best advice out there and something that we often miss when we're building a business or building a product; we tend to think a lot about our business and our product. Still, really we need to be thinking about the customer and thinking about the problem that the customer has and how we are going to help them solve their problem.
The biggest, most critical failure with customers
One thing that I've had a tendency to do is to take too much time building what I want to build, a product that I think is the right thing for the market instead of building an MVP or building a beta prototype that I can then take to the market and get their feedback on it earlier.
With green.com, I spent about a million dollars more than I needed to spend building that. It cost me a couple of million bucks to get that product going. Because we spent our whole first year building, building, building, building, building, and so what we were essentially doing was baking the product. And then by the time, we presented it to the customer and they gave us feedback on it, we couldn't re-bake it. And so, it almost cost me the entire business because, uh, we were running out of money.
Biggest success with customers
I'd probably say that the biggest success I've had has been in the photo industry, creating a new business model for the photography industry.
We created shoot and share, and this business model around sharing the photos instead of just selling prints.
Today we have a 50,000 person community of photographers who are all going about their business, that way, serving their clients, putting food on the table for their families.
David's recommendation of a tool
complete NPS net promoter score process: The best ways and strategies to keep yourself focused on the customer.
People answer 0 to 10, which creates an overall benchmark score for your business and how loyal your customers are. But then it asks a question just to open-ended question.
Best ways to build relationships with your customers because you're inviting them into your story and into your journey and into a kind of creating something together.
David's one key success factor.
I'm a connector; I'm a creative connector. And so, coming up with creative solutions to problems is what I really enjoy doing.
David's Mountain
Since we believe that the best way for entrepreneurs to get fast, big, and sustainable success is by leading your (new) market category, and the entire entrepreneurial journey reminds me of mountaineering, I want to ask you: Is there a mountain you dream of climbing or a mountain you have already climbed?
The toughest mountains to climb like Mount Everest, when you climb that you have a guide with you. And I think that is a really important piece of the puzzle.
When you're building a business, who's your guide. And if you're building a business that serves other businesses, then positioning yourself as the guide.
So the purpose of our business is not to be a successful business. The purpose of our businesses is to be a guide to help other businesses be.
The best ways to connect with David