Ep. 110 – At the age of 23, Antoine Martel is a very successful real estate investor with a business that buys and sales over 100 homes a year.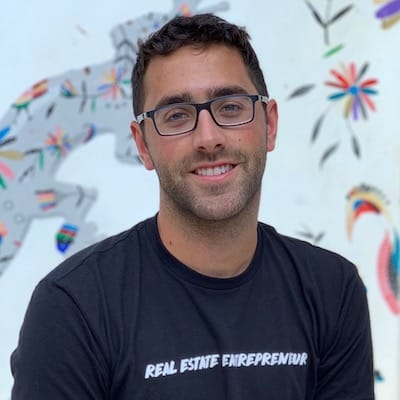 Antoine Martel Show Notes
Antoine Martel of Martel Turnkey is a real estate investment expert from San Mateo, California. As a licensed real estate agent and experienced investor, Antoine helps new and seasoned investors realize their financial goals. His proven real estate investment strategies have enabled countless clients throughout California to realize passive income and financial freedom through out-of-state turnkey rental properties.
While still a student at Loyola Marymount University, Antoine had already begun immersing himself in learning the real estate industry, absorbing everything he could about real estate investing; how to set up a team, networking, calculating the numbers, recognizing good deals, and much more.
Antoine Martel is now a nationally recognized real estate expert with tens of thousands of followers. He is an inspiration to both millennials and generations from every decade.
Download My Powerful Cheat Sheets to adopt today A Daily Routine of Successful Entrepreneurs
Most passionate about
I'm a real estate investor and I've been investing in real estates for the past 4 years. Before real estate investing, I was in college, in LA. While I was at university, I started investing in real estate, I planned to start my own company out of college, I never really wanted to work for anybody, so I thought if I started real estate early enough, I'd be able to do it full time by the time I graduated. That's exactly how it happened. After graduation, I started buying and renovating houses, renting them out, and then reselling them to people who want to own them as investments or as rental properties.
Antoine's best advice about customer focus, marketing, and sales
I think that I have an unorthodox way of attracting clients to my business. I'm the least salesman-like salesman out there; I think the best way to see is to not sell and to actually care about what's best for your client.
'Build a brand so you don't have to sell, make them come to you.'
It's all about building a brand, providing education, and truly caring about the end client, their goals, and help them achieve their goals. If your company is the best fit, sure, sell them on your product. But if it's not, refer them to someone else.
Don't be a salesman, learn as much as you possibly can about your product or about the niche that you're in, and provide value upfront to people on a mass scale.
Biggest failure with a customer
It would be following up. When I first started, the first two years, I would go to meetups, I would have coffee meetings with people and then I'd never follow up. I'd go and have a one hour meeting or lunch, coffee, or dinner with somebody and then I'd never reach out to them again. I wouldn't check in with them, I'd just let it be. There were hundreds of people I met one on one in my first couple years of doing this that I just never reached out to again.
Biggest success due to the right customer approach
My success has come from a whole lot of networking and not selling. I updated my website a couple weeks ago, and I talked with my dad and brother, and said, 'Hey, I want to add something on my website so that people can buy a house from our website in one click. They click a 'Buy Now' button, they fill out a short form, and the contract is sent for that property, and they fill out the contract.' So, without any interaction from me, somebody could buy a property from my website. My dad and brother said there was no way that will work, and just as marketing always works, it's never what you think is going to happen that actually happens. I put the button on the website and a week later, someone came to the website that I'd never met before. They filled out the form and I saw the email coming through. All I did was send them the contract through an email and an hour later, they signed the contract and I was blown away! It was because I'd built the brand first. So, this person I resell to them later on, and I asked them, "Why did you trust us so much and why did you buy a property you hadn't asked anything about it?" And he said, "I was referred by one of your past clients and this house is down the street from my friend's house, so I thought I should buy it."
Antoine's most recommended tool
I have been using for the past year text message blasts. Everybody still uses email campaigns, where they send off a huge email blast to their whole mailing list. But I've found that a lot of people's emails are actually loaded with 50 thousand emails that they haven't read yet. But, everybody reads and replies to their text messages. The amount of people who have even one unread text message on their phone is a small amount of people. So, what I started doing was collecting phone numbers from everyone I had meetings with. I collected 10 thousand phone numbers over a couple years and I started doing text message campaigns about new properties that were listed on the website. The first two campaigns that I sent out, my website crashed because I had too many people on the website. Out of 10 thousand people, within a couple seconds, we had a thousand people on the website. That's a 10% click through rate.
The website I've been using is called Textedly. That's the website I used to text out to all of my clients or leads.
Antoine's key success factor
I have three success factors… My key success factor is how I was raised. Both of my parents are very entrepreneurial, they always told me I didn't need to go get a job; they never told me that I had to do certain things. They supported my entrepreneurial signs, like the classic lemonade stand.
But entrepreneurship is also about doing the work and I have a very strong work ethic. I've worked since I was very young and never stoped.
And, the last thing is that nothing stops me… I just never stop and if there is a road block I'll find a way to go around that.
Antoine's mountain
Since we believe that the best way for entrepreneurs to get a fast, big, and sustainable success is by leading your (new) market category, and the entire entrepreneurial journey reminds me of mountaineering, or conquering the mountain; I want to ask you if there is a mountain you dream of climbing or a mountain you have already climbed.
My dad is a very outdoorsy guy. He used to do bike races for 24 hours straight through the mountains. Growing up, we spent a lot of time in the mountains. I was born in Toronto, but really grew up in the San Francisco Bay area. Once a year, we'd go to Lake Tahoe and go hiking and mountain biking. I spent a lot of time in the mountains.
Recommended tool
Textedly – SMS Marketing, Text Messaging Services, Mass & Bulk Texting | Textedly.
The best way to connect with Antoine
More resources for Entrepreneurs
Don't Miss – Customer Focus Strategy & Execution: Market Analysis for Fundraising
Hayut Yogev's Latest post: I preach nonstop about following Entrepreneurial Marketing Rules. However, it's the creativity that we win for
Download My Powerful Cheat Sheets to adopt today A Daily Routine of Successful Entrepreneurs