Ep. 197 – 3 priceless tips about sales for entrepreneurs – From 3 Sales wizards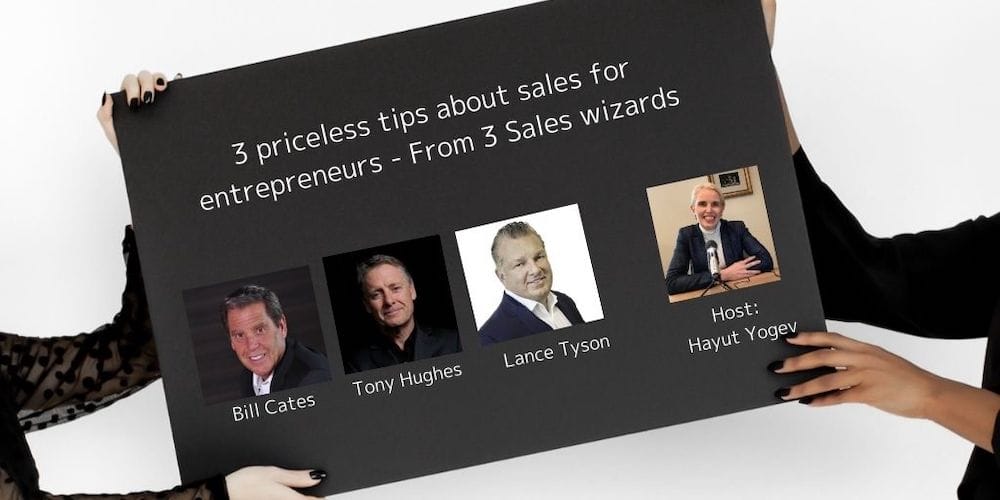 The number one challenge entrepreneurs say they struggle with is getting more customers. Getting more customers is at the heart of any business, right? Many factors in your business will affect your ability to get new clients however, the skill you would need most is the ability to sell.
The process of sales starts with the first interaction with your prospect and ends with closing the deal, and then, delivering the product or service and supporting your clients.
Many entrepreneurs lack this skill. In today's episode we will hear the best pieces of advice from three entrepreneurs who focuses on sales.
Listen to their advice, find the best one to implement in your business, and start gaining many more clients, and revenue.
Tony Hughes: "marketer, salesperson, and entrepreneur needs to view what they do through the eyes of their customers. Content is king, but audience is queen".

Tony Hughes has thirty years of corporate and sales leadership experience with unbroken personal and team sales records.
He is:
Currently ranked #1 sales blogger globally by both Top Sales Magazine and Best Sales Blogger Awards
Rated as the most influential person in professional sales within Asia-Pacific by Top Sales World
Currently ranked #3 sales expert and thought leader globally by LinkedIn
Tony is also a bestselling author and the most read person on LinkedIn on the topic of B2B sales leadership. He has more than 400,000 followers on his blogs. The American Management Association published his most recent book, COMBO Prospecting.
Most passionate about
The thing I'm most passionate about today, in business at least, is helping organizations solve their revenue problem. Revenue is like airspeed, if you don't have enough, none of the other controls seem to work. Businesses are relentlessly pursuing growth, and are facing more and more competition. Also, the failure rate of sellers, especially in the B2B market, is increasing. So, my passion is about helping salespeople become successful and helping organizations sell with a real sense of purpose.
Tony's best advice about approaching customers
One of the things that every marketer, salesperson, and entrepreneur needs to do is take themselves out of their own world and view what they do through the eyes of their customers. Content is king, but audience is queen.
Biggest failure with a customer
When I was 25, we sold the manufacturing business in Australia and I took the business to the USA; I was convinced I'd be a multimillionaire by the time I was 30. I felt confident, but the truth is my confidence was misplaced and I think every entrepreneur when they start out, is excited and confident that they are not going to be one of the statistics, that they are going to succeed. But what I realized was, I hadn't done enough market research. I'd undervalued the importance of being able to sell, and when I came back from America a few years later, that was what prompted me to get into sales. The thing I say about selling is it's a skill that nobody wants and yet everyone needs.
Tony's key success factor
We must be true believers in what we're doing. If you don't truly believe that you make a positive difference for customers, if you don't truly believe in the integrity of your own company and in the value you provide, you shouldn't be here; so the first thing is we need a high level of belief in what we're doing.
The second thing is we need to be very good at creating value for people. Value in conversations and value that can be expressed in a business case for someone changing the way they are doing things
The third thing is we have to be good at building trust. No business is done without trust and the pace at which business gets done depends on the level of trust.
So, be a true believer; create real, genuine value for people; and make sure you build trust.
Lance Tyson: "People buy emotionally but justify it logically. Entrepreneurs sell thanks to their enthusiasm, but they need to find the logical reasons for people to buy."

 
A born entrepreneur and self-starter, Lance Tyson is an authority in the sales world with a passion for developing strong business leaders. Lance has worked with some of the biggest names in sports and entertainment, including the New York Yankees and the Dallas Cowboys. After leaving school to start his first business, Lance began working for Dale Carnegie. He rose through the ranks eventually building the most successful Dale Carnegie operation in North America.
After a fifteen-year run, Lance sold his interest in Dale Carnegie in order to form a new company, Tyson Group. The focus of Tyson Group is to diagnose your sales team and propose solutions that deliver results that make sense for your organization and needs. We aren't just a company that provides training—we are a partner that provides solutions
Lance's best advice for entrepreneurs
Entrepreneurs must understand that the sales process is the buying process inverted. I would say to entrepreneurs that they need to find out who would want their product and why they would want it.
Entrepreneurs manage to sell thanks to their enthusiasm. The Latin root for enthusiasm is "enthuse," which means "possessed by a god." The last four letters are IASM – "I Am Sold Myself," which means the logical cause that drives people to buy something.
As an entrepreneur, you need to find the logical reasons that will drive people to buy, beyond your enthusiasm. Remember: When people buy things, they buy emotionally but justify it logically.
So, when you think of your sales process, you need to think about the logical reasons why somebody would want to buy your service or product. This will then bring up the reasons they wouldn't want it.
Biggest failure with customers
There are several. I wish I could say there is only one. There is a company in the U.S. called Asplundh. It's an international company based in Philadelphia. They cut trees around high wires, so they work with utility companies.
I was a young up-comer to Dale Carnegie and I had a chance to sell a very large consulting and training. At that point, it would have been the biggest thing I'd ever sold. It would have been wonderful.
I met with this guy, Billy. We had coffee and I had a great conversation with him. We were able to move the deal to another step, meaning he was bringing his boss. Billy was very particular that everything was bottomed up. Everything felt smooth. He was a pro, and little things were important to Billy.
When I came to the meeting with his boss, the people he reported to, and him, I prepared a proposal. I decided to change his name from Billy to William on the proposal. Clearly, on his card, it said "Billy" and not "William." I decided to make it what I thought was more formal and appropriate.
When I came to the next meeting, Billy was quick to point out that his name wasn't William, that his family name was Billy, and it was named after an important proactive. He made a very big deal about it.
I didn't get the business. I don't know if I didn't win the business because of that, but I would say that the little things are everything. My not getting to know him and to know how important the name is – that's everything in business. We sell to people, we do business with people. A person's name is the most important sound to that person; when we miss that, we miss everything.
Lance's key success factor
It's a quote from Albert E.N. Grey in the 1940s: "Successful people form habits to do things unsuccessful people don't like to do." For me, it's the driver. My motivator is that I'm willing to do what it takes to be successful.
Bill Cates: "For me, success means abundance in my life. Money is OK, as long as it doesn't own you – as long as you own it!"

Bill Cates is an internationally recognized client-acquisition expert, author, and speaker who motivates others to take action with proven strategies.
A successful entrepreneur, Bill started and sold two book publishing companies. Turning his attention to help other businesses grow, Bill has written four best-selling books: Get More Referrals Now, Don't Keep Me a Secret, Beyond Referrals and Radical Relevance.
Bill is also somewhat of an adventurer. He has trekked through the Himalayas of Nepal and the Andes of Peru. He has lived on a houseboat in Kashmir, India, climbed Machu Pichu, reached the summit of Mt. Kilimanjaro, camped in Arctic Circle… and Bill has toured the country as the drummer in a rock and roll band.
Bill's best advice for entrepreneurs
The second rule in my book, Radical Relevance, is to give your customers or clients a seat at the table. What I mean by that is to not ever develop a product or service or any marketing or sales messages without first talking to your customers or clients.
We think we know what's in their heads and hearts, and to some degree we do. We think we have empathy for them but there is nothing like talking with them. What happens is that we start learning things and getting phrases and words and expressions that we can use and that we wouldn't have thought of.
One of the great questions to ask our clients is, "What do you value about what we do and how would you describe to other people what we are doing?" When I asked that, one of my clients said, "You make asking for referrals as natural as breathing."
Biggest failure with customers
…It was when I didn't follow my own advice. I developed a product for the banking industry but I just didn't search enough. I did some business with the banks and I thought I knew them but it didn't succeed—it wasn't what they needed. It was a product based on CDs and DVDs. Two years ago, I threw away 60,000 CDs and DVDs that cost at least a dollar apiece. That happened because I didn't invite my customers to sit at the table.
Biggest success due to the right customer approach
The first one was when I had my publishing company. I didn't consider myself to be a salesperson, as I didn't like to sell. But I did push myself and managed to sell one of my books Hook Down Sea Food. Several months later, a man came into the store. He was the president of the world's largest tuna factory. To make a long story short, Bumble Tuna bought 400,000 copies of the book. That was a big success. The reason why it was such a success was because I went through a lot of fear. That's what made the success sweeter.
The second success is this business. I wasn't at all sure that I could help other businesses. I wasn't sure I could succeed as a speaker, a coach, a consultant. However, my friend's faith in my abilities was strong, so I let their estimation of my abilities run me for a while. I faced my fear and started this company, which has done extremely well over the last 25 years.
Bill's key success factor
I think that I am just driven to be successful and I love what I do. When you run a business, you will never love to do everything and you can't be good at everything that should be done in a business. I try to focus on the things I do best, which are writing and working directly with my customers. So, I try to find employees who are effective at the things that I'm not good at or don't like doing.
Consultants often like to say, "What are your weaknesses? Let's work to make your weaknesses stronger." My attitude is a bit different. I want to make my strengths stronger and find other people to handle the weaknesses.
I'm driven to be successful; for me, success means abundance in my life. I want to have an abundance of success, of relationships, of money. I want to have abundance in my spiritual life. To me, that's what success is like. It's the balance. Money is OK, it's a tool. There's nothing wrong with wanting to make a lot of money as long as it doesn't own you—as long as you own it!
I hope you loved the lessons of these three sales wizards; Getting more customers is at the heart of any successful business.
I'd like to end this episode with what Elizabeth Scherle – The successful Co-Founder and President of Influensters told me when I asked her about her key success factor
"Personally, the key to my own success was learning to sell. I kind of got forced into doing sales in the startup I worked for. And it forced me to get into a zone where I was really uncomfortable, but I tried. And I think if you can do that, you can sell everything and as an entrepreneur, you're constantly selling yourself, even if you're not 'doing the sales. Whether it's talking to an investor, to a new partner, even getting an employee, you need to be able to communicate clearly the benefits of your company. I think that if you have confidence for doing sales you can definitely win."
I'd like to invite you to a free masterclass about "7 practical free ways to get more customers"