"It's lonely at the top only if you were also lonely at the bottom."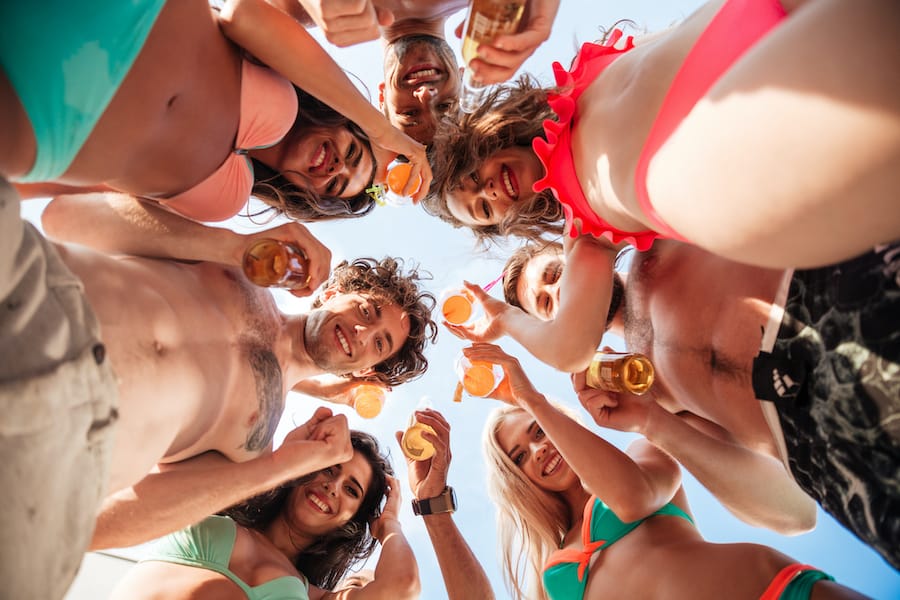 This young entrepreneur succeeded through the most recent (and maybe the only) winning business strategy.
Shama Hyder established her company when she was 22, right after her graduation. "when starting something new, you have more passion than experience, with time, the experience catches up with the passion."
I had a very special guest on my podcast this week. Shama Hyder is one of the most awarded and honored young entrepreneurs I've met.
I believe that what brought Shama to such success at a young age is a combination of a character and strategy – Having the courage and strength to start as a leader from her first steps (and make the mistakes that come with that), and her personal and professional generosity.
It's fascinating to read Shama's biography to learn about her journey. You can find the bio at the end of this post.
Shama is implementing what the leading marketing influencers today see as the next inevitable step in marketing "only the most human companies wins," Mark Schaefer wrote in his book, Marketing Rebellion. The consumer controls the agenda today, and they buy from those they care about most.
"I started my company when I was 22, right after my graduation," Shama told me, "part of not having a job in an organization then was that there weren't many organizations that specialized in social media and digital media. And at the same time, it was also the time of recession in the US and jobs were even more limited than usual.
I started with digital marketing. I saw the difference between us, new entrepreneurs, and the traditional organizations that had to pivot and start learning the digital language. The fluency that is required has always been very native to us.
I love what are doing today; we work with B2B clients around the world, delivering everything fro launches to influential marketing to digital PR. We combine passion and delivering, so every day is a mix of technology and communication."
But mastering the technological marketing recent world isn't enough to win the market. I asked Shama what is har one key success factor:
"The thing that helps me and really motivates me on a daily basis, she said,  is that I love to contribute, I love to give back. For me, that's a big driver, the way I do business, the way I am with my family, all contribute to our success. I feel like generosity is a strategy."
The way Shama leads her business is the way leading marketing influencers like Mark Schaefer, David Meerman Scott, Chris Brogan, and very few others see as the only strategy that can help companies ( and entrepreneurs) to win and lead their market: Be Human.
A game changer – Marketing is all things human
I learned about Mark Schaefer on my first visit to the SMMW (Social Media Marketing World conference, back in 2015, and admired his capabilities to master both – the traditional marketing and the secrets of influencing customers' behavior, together with impressive knowledge and understanding of the new technological and digital marketing world.
Yet, it was his book 'Known' that really affected the way I looked at my business and customers.
I interviewed Mark for my podcast, REACH OR MISS, about the customer-focused entrepreneur, last year. I wasn't surprised by his opinions about the changes and challenges in the marketing industry. I follow Mark on Twitter, read his blog, and we share opinions about the damages of automated marketing on customers' trust and business success.
I was surprised by how concerned he was about the effects of these new marketing perceptions on customers' behaviors, and therefore on businesses' ability to succeed:
"Marketing is sick right now," he said. "The idea that I have is that marketing is too tech-centric instead of human-centric. We don't want to talk with our customers anymore; we just want to monitor them on Twitter. We automate everything and we are losing our hearts, our souls, and our way."
I found his new book, Marketing Rebellion, remarkable and I think it's a game changer in both the worlds of marketing and business.
Mark was the closing Keynote speaker of SMMW19. He spoke about the research that lead him to realize the changes in people's reactions to marketing efforts and he talked mainly about the customers' need to belong and about the total control of customers of business behavior and sales.
The most important message Mark Schaefer managed to convey was the obvious failures of the existing automated marketing and sales and the need for a more human approach.
2 actionable strategies would help entrepreneurs get on top of their competitors
What should you, as an entrepreneur do to win the customers and lead your market category? Two things:
Master the digital language of marketing today
Adopt the human approach to connect and engage with your customers
How to do that? I don't have a secret recipe, but I would recommend you 4 blogs of the biggest marketing influencers that worth reading frequently:
And I would like to end this post with Shama's answer to my "Mountain question."
I don't think that I'm a big mountain climber, but one of my favorite songs has to do with mountains. It's called "The Climb" or 'There will always be another mountain by Miley Cyrus. And it says, "There's always gonna be another mountain. I'm always gonna wanna make it move." And that's so true. As an entrepreneur, whatever you do, I think it's so important to enjoy the journey.
If you feel like that when you'll get more, you'll be happier you're not kidding yourself.
You know, there is an adage – It's lonely at the top, I think that's true but only if you were also lonely at the bottom.
I'm continually looking for what my next goal, my next challenge.
For me, it's always about realizing that the bar is going to keep moving and asking myself if I am also fully enjoying the journey.
Shama Hyder's bio:
Shama Hyder is a trailblazing, award-winning entrepreneur who has built a global audience and is known for helping brands succeed in the digital age.
Shama is a visionary strategist for the digital age, a web and TV personality, a bestselling author, and the award-winning CEO of Zen Media – a global marketing and digital PR firm. She has been named the "Zen Master of Marketing" by Entrepreneur Magazine and the "Millennial Master of the Universe" by FastCompany.com.
Shama has also been honored at both the White House and The United Nations as one of the top 100 young entrepreneurs in the country.
Shama is the bestselling author of The Zen of Social Media Marketing, now in its 4th edition and Momentum: How to Propel Your Marketing and Transform Your Brand in the Digital Age.
As a result of her success, Shama has been the recipient of numerous awards, including the prestigious Technology Titan Emerging Company CEO award. She was named one of the "Top 25 Entrepreneurs under 25" by Business Week, one of the "Top 30 Under 30" Entrepreneurs in America by Inc. Magazine, and to the Forbes "30 Under 30" list and more.
To listen to my podcast's episode with Shama Hyder:
Shama Hyder: "It's lonely at the top only if you were also lonely at the bottom"