How do you get more paying Customers?
Whether you're an entrepreneur, startup founder, or a business owner, isn't that what we all want for our business? Finding those tools and routines that will help you stop chasing customers and start consistently attracting them instead.
Over the last 10 months of my podcast, I have interviewed more than 30 successful entrepreneurs and opinion leaders and asked them about their successes and failures with customers and their best advice to other entrepreneurs building their businesses.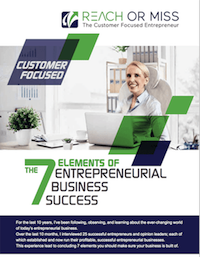 The 7 elements above were collected from these interviews along with my 32 years of business and sales experience with leading brands, small businesses, and entrepreneurs.
Want more tools, ideas, and guides to attract content leads and paying customers? Grab your free copy of my guide The 7 elements of Entrepreneurial Business Success through being customer focused.
Building a successful business enables you to get leads that are interested in what you have to offer, and paying customers that want to buy because they want what you are offering. Get your free copy right here!
And then, please leave us a note with your questions, thoughts, and advice on the ideas above. 
Want to put an end to the usefulness banners, expensive promotional campaigns, and hours of trial and error cold calls?  Please share this post with your network. I believe they'll thank you for sharing.