Christmas in London and what happened to entrepreneurs over the last 12 months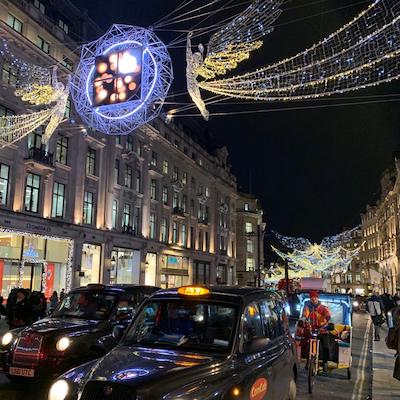 Christmas in London and what happened to entrepreneurs over the last 12 months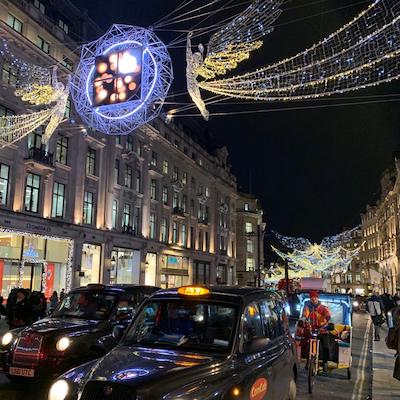 London is sparkling with decorations and lights, which makes me feel as if I was in Wonderland or waiting for Cinderella's fairy godmother to change my taxi into a glass carriage.
I don't celebrate Christmas, but I fell in love with the atmosphere and beauty of Christmas, and it has become a habit to summarize the last 12 months in a special way (not the formal business summary and next year's plan, which is ready from November).
 I'm talking about an opportunity to celebrate achievements, figure out the drawbacks, check the wounds, and make the most important promises for the new year.
I found that this promise to myself is the highest peak I dare to look at and the highest objective I have a good shot of achieving.
I guess that, like most of you, since becoming an entrepreneur, the boundaries between my personal wishes and my career /business wishes have blurred.
In January 2008, I established my new and totally surprising (even for me) company, aiming to help startups and entrepreneurs breakthrough into international markets.
I've been doing it for more than twenty years in the brick and mortar world in executive marketing and sales positions.
I was looking for new, exciting objectives to aim at and felt that it would be challenging to help entrepreneurs shape perceptions and habits that don't yet exist. I believed, and still do, that the more entrepreneurial businesses succeed, the higher the world economy will get, and it will positively affect the lives of many people.
These are the five shifts that happened this year to entrepreneurs:
The magic vanished. It didn't happen in one year, but this year it became clearer than ever; entrepreneurship no longer has the halo effect.
The percentage of failures among entrepreneurs is well known. And looking at many of this years' headlines shows us that we tend to be much more cynical and much less patient towards inventors and entrepreneurs.
"Elon Musk Is Not the Future. Tech CEOs are out for themselves, not the public good.
These fantasies of wealthy tech CEOs are just that: fantasies. None of these technologies will come to fruition in the way they promise – if they ever become a reality at all."
(The Wire. 08 Nov 2018)
"Why Elon Musk isn't the hero we imagined. We all dreamed of different Musks.
And in a way, Musk's reputation is shaped by pop culture as much as it is by the man himself."
(Engadget. Daniel Cooper, 07.20.18)
"Facebook CEO Mark Zuckerberg has had a difficult 2018;
The social network has been criticized for enabling the spread of hate speech and fake news."
(Forbes 12/18/18)
Small offices, as we know them, are disappearing. What started as a cool place for rich startups became the ultimate place for small offices. It's much cheaper then hiring an office, you enjoy all management services, and the locations are usually great. Often, it's good place to find new clients.
"COWORKING IS THE NEW NORMAL, AND THESE STATS PROVE IT
Fast forward to 2018 and coworking is a full-blown industry that has disrupted the real estate industry and the way people work.
There are currently 14,411 Coworking spaces in the world today
Shared workspaces have grown at an incredible rate of 200% over the past five years. In global cities like London, New York and Chicago they are expanding at an annual rate of 20%, making coworking an institutional part of the market"
(All Work. March 15, 2018)
Anyone can choose to be an entrepreneur. The days when only those who had a great idea or invention chose to become entrepreneurs are over.
The number of people who are looking to leave their "nine to five" jobs and start an entrepreneurship is growing fast. It seems to have become a legitimate option and an attractive alternative to corporate jobs or being an employee.
Influencers like John Lee Dumas, the host of the most successful podcast for entrepreneurs (and those who wish to become entrepreneurs), EOFire, built a site and business, with Kate Erickson, that focuses mainly on helping entrepreneurs find their way and put their entrepreneurial hopes into practice.
There is a new kind of entrepreneur. They are building businesses around their unique skills, and by doing so, are creating new market categories. They start from scratch, and unlike the earlier model of startup founders, they are not looking to raise someone else's money, instead, they build their businesses aiming to gain income and profit quickly.
You might enjoy reading my post: There is a new kind of entrepreneur. If you are reading this, you are probably one of them
Having more than 100,000 followers in Twitter doesn't mean you are an influencer. Two main groups enjoy very high level of followers:

Those who became famous through their success as entrepreneurs and who have become inspirations and role models.
Those who became experts in marketing automation and social media, and managed to create large numbers of followers.
Make sure to not confuse them.
However, I do believe any entrepreneur can become a leading influencer of their market category. See my last post
How entrepreneurs can and should become a leading influencer of their market category
We are less than one week before Christmas and the new year of 2019. I wish you all lovely holidays. I'm sure 2019 will be a great year for entrepreneurs!